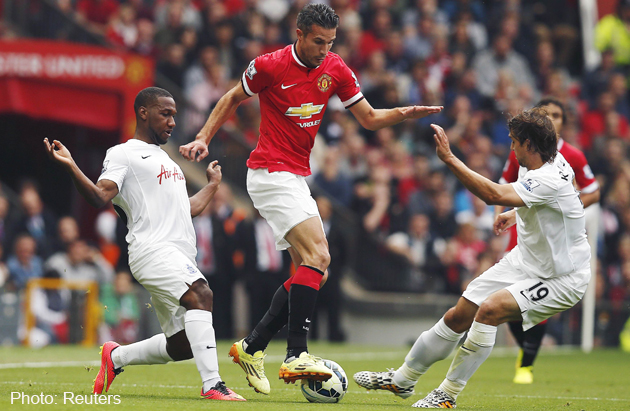 Jump on board the bandwagon. Manchester United are trundling away with the Premier League title. Their slalom around static poles posing as Queens Park Rangers footballers has fuelled frenzied talk of Premier League resurrection. But are they legitimate title contenders?
WHY MAN UNITED... ... CAN WIN THE PREMIER TITLE LEAGUE
1
Imposters are being outlawed
Let's dispense with sentiment immediately. Maybe they were not utilised properly, but Shinji Kagawa and Tom Cleverley never fulfilled the uncompromising criteria unique to Old Trafford.
Sir Alex Ferguson often spoke mystically about signing only "Manchester United players"; men blessed with distinct qualities of mental fortitude, physical tenacity and inventive talent. Kagawa and Cleverly (and even Danny Welbeck for that matter) ticked all three boxes occasionally, but never consistently.
Welbeck and Cleverley's passport colours and Kagawa's past achievements in the Bundesliga clouded sentiment and obscured reality. They were not Manchester United players.
Nor is Marouane Fellaini for that matter, but he's currently injured and Louis van Gaal can only take one chainsaw at a time to deadwood.
More importantly, superior replacements have been secured. Daley Blind and Angel di Maria are United players in the old, fearless, trophy-hungry, Fergie-era sense. Along with Radamel Falcao and Marcos Rojo (the jury is still out on Ander Herrera and Luke Shaw), the names on the back of their jerseys are finally worthy of the one on the front.
2
Angel of the North
He's wafer-thin, but runs like a whippet. He's light, but swerves, bends and spins like a plastic bag dancing in the breeze, always on the move and hard to catch. With each colourful explosion of pace, di Maria evokes sepia-tinted images of George Best and Ryan Giggs; wiry wing wonders who relied on superior speed of thought to defeat men of muscle.
The Argentinian excites. He's an unshackled animal who lives to torment would-be jailors. He scored one and set up two others against Queens Park Rangers, but it was his outrageous flicked pass over the defence to Robin van Persie that will be replayed by the coaching staff of Manchester City and Chelsea. Such improvisation is tough to contain.
True genius has no boundaries, making it almost impossible to trap or encircle. Like Best and Giggs before him, di Maria's greatness is inspirational. He makes those around him want to play better.
With every magic trick, his teammates believe. His inspiration is infectious. Like van Persie two campaigns ago, he can be the man for a title-winning season.
3
Fantastic four
Van Gaal's stubbornness is legendary. The Dutch coach claimed that injuries forced him to play four at the back, rather than three or five, but the move immediately offered greater defensive solidity. It's often overlooked that Rafael da Silva is a relatively experienced United campaigner and successfully sandbagged the right flank, providing cover for Herrera. Rojo swatted aside QPR's minimal presence on the other side to free di Maria and Daley Blind was an impenetrable rock in front of penalty box.
Necessity is the mother of invention and Chris Smalling's injury gifted his manager an excuse to gain a defence without losing face. Van Gaal must go forth with four.
4
Diamonds are forever
Diamonds are Juan Mata's best friend. Without them, he loses his lustre on the bench. With them, he sparkles.
The Spaniard wasn't flawless, but he was industrious and involved. At the tip of a diamond, he had a licence to kill space and feed the front two (and pick up a goal for himself).
His freedom was granted by Blind, who already seems at home on the Old Trafford range. Di Maria makes mischief on the left. Herrera makes up the numbers on the right.
A slight question mark remains over Herrera, but this diamond really could be forever.
WHY MAN UNITED... ... CANNOT WIN THE PREMIER TITLE LEAGUE
1
No prizes for taking out trash
Tottenham also stuffed QPR by the same scoreline, but Spurs are not mounting a sudden charge for the Premier League summit.
Harry Redknapp's misfits were hopeless. Rio Ferdinand's pre-match presentation and handshake with Sir Bobby Charlton was the closest he got to a United legend all day.
QPR failed to find any of United's pressure points; the suspect defence, the newcomers' lack of experience and the central midfield gaps.
Everton, Chelsea, Manchester City and Arsenal come calling in quick succession from Oct 5 onwards.
They will provide a more accurate barometer for United's progress than Redknapp's bowling pins.
2
Still a flabby behind
David de Gea's reflexes and reliably bendy legs were still required to keep out a QPR side that had less artillery than a toddler armed with a pea-shooter.
Gaps remain between the centre backs. Jonny Evans and Tyler Blackett may be generous to a fault against Chelsea, Arsenal and Manchester City - the games that will determine the title.
3
RVP gone AWOL
Robin van Persie's close relationship with his club manager is something of a mixed blessing.
Van Gaal knows his striker walks a tightrope with a brittle body. He either dominates or drifts.
The Dutch forward has long struggled to function in the middle ground. Career-defining seasons for both United and Arsenal were sandwiched between injury-wrecked ones, his talent diminished by his inconsistency.
He's still without a goal this season, a nagging statistic that will soon be rectified.
But there's a creeping suspicion that Falcao was signed not to play ahead of Wayne Rooney and sideline Mata.
The Colombian could be a sticking plaster to cover the expected absences of van Persie.
United won the title with him; they probably can't without him.
4
Best not good enough
United's best is already a vast improvement on Moyes' maddening era.
Unfortunately, their title rivals are not the United's of campaigns past, but Chelsea, Manchester City and Arsenal.
The Gunners' defence is less fragile. City boast a resolute spine in Vincent Kompany and Yaya Toure and Chelsea's central midfield pair of Nemanja Matic and Cesc Fabregas are beyond compare.
The Blues also have a veritable beast within the six-yard box.
Still, United are without European distractions. That's a straw for supporters to clutch.
They may not win the race, but they have a ticket to ride now. The Red Devils are coming.
Their title dream may be a faint one, but at least the nightmare is over. 

This article was first published on Sep 16, 2014.
Get The New Paper for more stories.