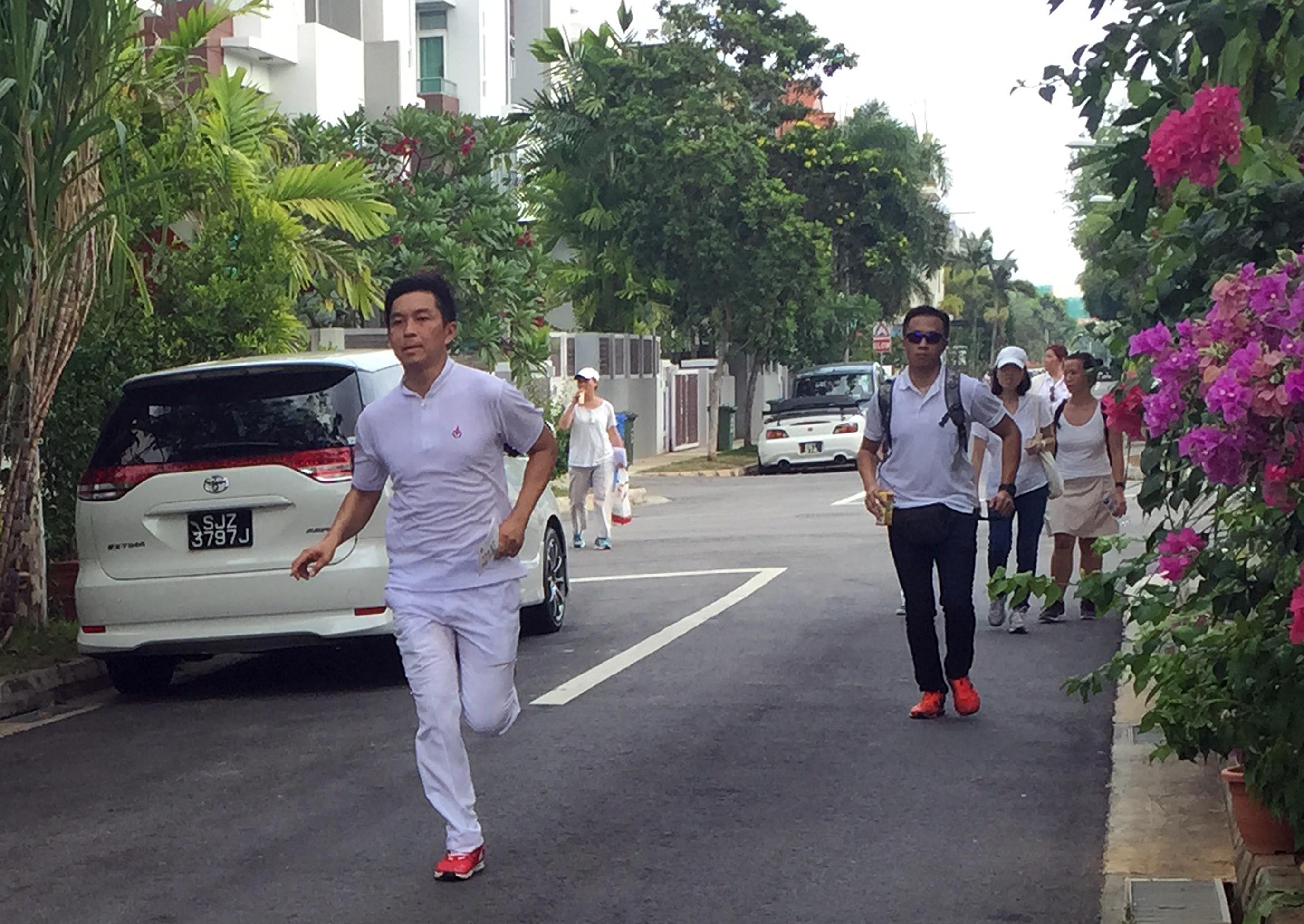 Even before the sun rose, candidates were out and about yesterday to squeeze the most out of the first full day of campaigning.
With only nine days of electioneering, the aim was the same: reach out to as many people as possible at high-traffic spots such as malls, hawker centres, MRT stations and, in yesterday's case, even fast-food outlets.
To catch commuters on their way to work, the People's Action Party's six-member Pasir Ris-Punggol GRC team was at Pasir Ris MRT station at 6.45am to distribute fliers - jumping at the chance to introduce the group representation constituency's two new faces.
Also out early was the five-member PAP Bishan-Toa Payoh team, which converged at Bishan MRT station at 7am before heading to a nearby coffee shop for a breakfast of nasi lemak, otah and teh tarik.
Over in Marine Parade, PAP candidate Tan Chuan-Jin hit the ground running, literally. He was seen sprinting from house to house in Lorong Melayu estate to canvass for votes in customised red track shoes with the words "maju" and "lah" printed on them. Within 21/2 hours, he and his group of 12 activists and volunteers had covered about 10km and met residents in some 86 households.
The anchor minister said he has been running during house visits since the 2011 General Election and in the past four years during house visits as an MP.
"I want to be able to meet more residents in more homes and also don't want to keep residents waiting," said Mr Tan, 46.
Some residents were seen offering drinks to Mr Tan and his entourage. Ms Chong Sian Kwan, 62, who has lived in the estate for 28 years, said: "He seems very gung-ho to be running around like this but what's more important is that he is willing to take time to chat and listen to us."
Mr Tan's GRC mate, Emeritus Senior Minister Goh Chok Tong, was also out and about at about 6.30am, meeting residents along Haig, Onan and Ceylon roads.
Jalan Besar GRC's anchor minister, Dr Yaacob Ibrahim, was armed with campaign cards with voters' names and addresses on them so he could greet them by name during house visits; and Potong Pasir single-member constituency's (SMC) PAP candidate Sitoh Yih Pin danced a jig with residents on a basketball court in Toa Payoh.
"Going into elections is like sitting an exam, just that this time round, the student is the candidate and the voters are the teachers," Mr Sitoh told The Straits Times. "We hope that this election, my teachers can give me a good score as I sit this exam."
The day was no less busy for opposition candidates.
Workers' Party's (WP) chief Low Thia Khiang, who is contesting Aljunied GRC, started off at a wet market in Hougang to a warm reception, with residents shouting his name as he walked past. In 2011, he had made a surprise move from Hougang SMC, where he had been MP for 20 years, to lead his party's charge in Aljunied GRC.
The Singapore Democratic Party (SDP) team for Holland-Bukit Timah GRC was at Empress Road and Adam Road food centres from 7.30am to past 9am, shaking hands, selling their newsletter and handing out fliers; and three members of National Solidarity Party's (NSP) five-member team in Tampines GRC started out at a coffee shop, flanked by supporters chanting "Singaporeans should not feel like foreigners in their own home" in Malay.
One NSP activist, however, was heckled when he tried to hand a flier to a resident. "I would vote for you but you all are spoilers wanting a three-cornered fight," said the resident, who looked to be in his 30s, referring to the party's decision to contest MacPherson SMC after saying it would not.
Over in Ang Mo Kio, Reform Party's campaign was off to a rocky start as well when one of its candidates for the GRC, Mr Jesse Loo, accidentally shouted for voters to support the Workers' Party as he handed out fliers at Ang Mo Kio MRT station.
Across the island, vehicles made their rounds along the poster-lined streets, blaring campaign slogans.
Several residents took the chance to voice their specific concerns.
One in Hong Kah North SMC invited PAP candidate Amy Khor into her flat to show her a leaky ceiling; and Sheng Siong employee Ning Li Feng, 44, rushed over to Deputy Prime Minister Teo Chee Hean at Loyang Point to ask him to help her appeal for citizenship.
The Chinese national, whose son is Singaporean, had applied for citizenship six times to no avail. "I saw him and I thought this would be a good chance to ask him. You don't get that many chances," she said.
In Bukit Batok, PAP candidate David Ong's calling card with his face on it greeted resident Lawrence Pang's three children at their play area after they returned from school because the 37-year-old photographer "wanted to show them his picture and that is the first place they go".
Hougang resident Jessie Yeo, 75, who met WP's Mr Low while she was buying vegetables at about 8.45am yesterday, said they were "like old friends".
"I've known him for more than 10 years now," said the retiree.
Ang Mo Kio resident and first-time voter Alex Chia, 21, said he was happy to meet Reform Party's six-member team during their walkabout yesterday.
"I just found out about this group today. Maybe they are a new party so some people might not have heard of them. But it's good to have a contest," said the student.
RP's Ang Mo Kio candidate Gilbert Goh admitted that "some residents still might not know us".
He said: "I think the elderly don't know us as well, the younger residents are good and respond to us, the older ones we need to work harder. We might distribute groceries to the rental flats (to let older residents get to know us better)."
The candidates were out in force again as the sun began to set and residents streamed out of MRT stations on their way home from work.
The PAP's East Coast GRC team led by Manpower Minister Lim Swee Say was out greeting residents near Simei MRT station.
"We've changed the way we reach out to the ground," Mr Lim told reporters. "The response from the ground has been very positive, but we'll never know for sure until the outcome of the polls."
limjess@sph.com.sg

This article was first published on Sept 3, 2015.
Get a copy of The Straits Times or go to straitstimes.com for more stories.