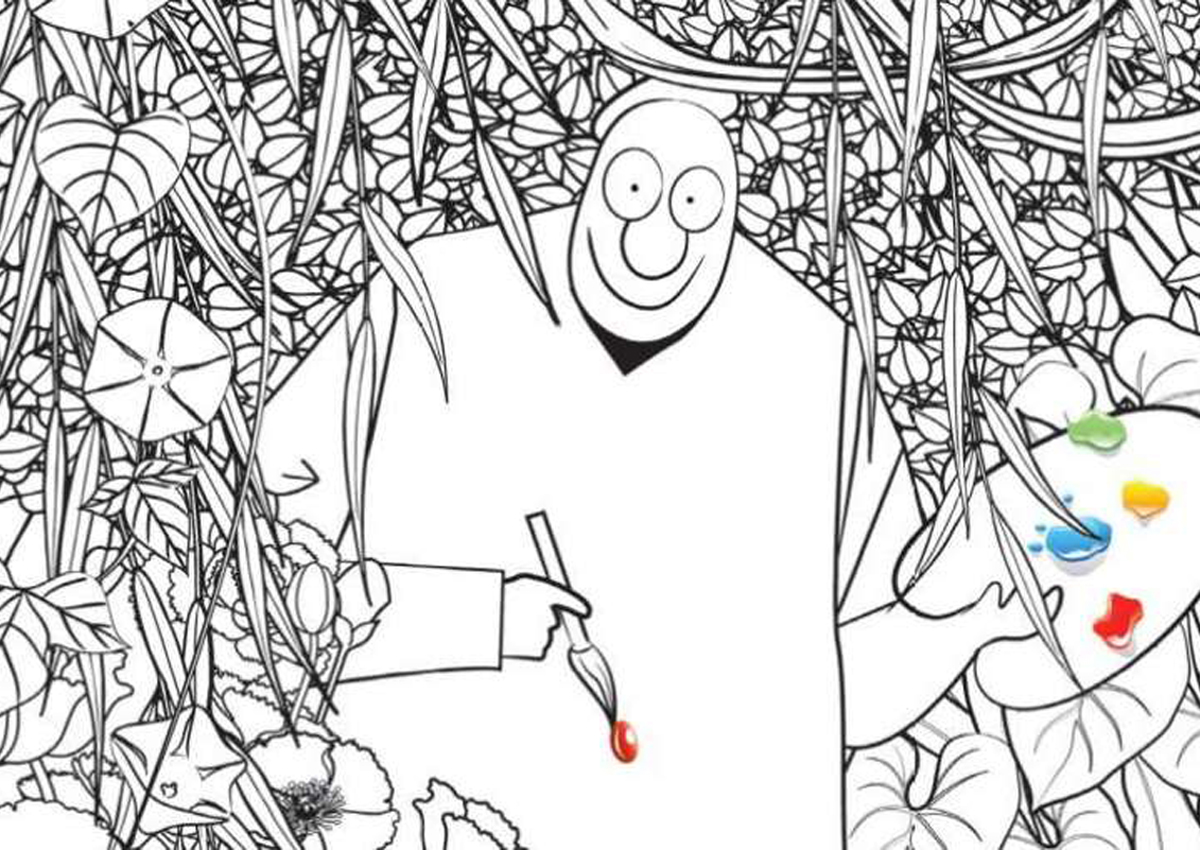 Of all the crazy fads that have come and gone, none has been more intriguing to me than the current popularity of adult colouring books.
As I write this, the Harry Potter Colouring Book is No. 2 on the Amazon.co.uk bestsellers list. At Amazon's American store, adult colouring books occupy four of the Top 10 slots.
Two of those slots are occupied by Scottish illustrator Johanna Basford, who has sold more than 10 million books in just over two years. Mind you, that is mainly on the strength of two titles - Secret Garden and Enchanted Forest.
Her third, Lost Ocean, was released just three months ago to a raft of global news stories in the 30 or more languages her books have been translated into.
That was roughly when I could not take it any longer and felt I simply had to go and investigate this strange phenomenon.
Having been told by some colleagues that there is now an "entire wall" of colouring books at Books Kinokuniya that will leave me paralysed by indecision, I decided to pop down to the more modestly sized branch of Popular at my neighbourhood mall.
What I found left me quite speechless.
A huge table filled with every type of colouring book imaginable greeted me at the entrance. About 3m away was another huge table of colouring books, all in Chinese, including a repeat of the Basford titles which have apparently sold two million copies in China alone.
I spent almost an hour looking through the pages of what was a bewildering (and frankly frightening) array.
What in the world would a 43-year-old grown man like me want to colour?
Fairies, bears, otters, monkeys, wolves, starfish, fruits and flowers... there was a book for everyone, however you might be inclined.
After much thought, I decided to go for a home-grown title. William Sim's Colouring The Lion City had a glorious cover with the Merlion riding on the crest of a wave, atop a mechanical wind-up fish that was swimming amid a lush underwater garden of Vanda Miss Joaquims and corals in the shape of the Raffles City towers.
But choosing the book was only the beginning. When I wandered over to the section that stocked colour pencils, another difficult choice awaited.
Do I go for the snooty brands that my parents could never have bought for me in my childhood, like Caran d'Ache and Faber-Castell, with their lovely tin boxes emblazoned with great masterpiece paintings? But that would mean sinking a big investment into an activity I was not entirely sure I would enjoy.
In the end, nostalgia got the better of me and I narrowed it down to two relatively cheap and cheerful choices.
Staedtler Luna was my first set of coloured pencils, with the "moonlight sailboat" box design that took me right back to those Saturday art classes at the foot of Block 14 Holland Avenue.
But it had only 24 colours, and vaguely remembering the advice of another colleague who had written about colouring books and colour envy earlier that year, I went for the other childhood favourite.
The Japanese-made No.785 Colleen coloured pencil set looked exactly as it did in the 1980s, with the clever twin-tipped pencils that doubled the colour count to a very awesome 48.
I will spare you the details of my search for a pencil sharpener, which took another 20 minutes.
But I will tell you about my first colouring experience, which happened only weeks later. The year-end period for me was unexpectedly busy and I found myself actually having to schedule some time off to do colouring.
That day was Christmas morning and, like a child, I took out my new shiny purchases and sharpened my first coloured pencil - pink, if you have to ask.
This is a bit silly, I thought, as I went to work on the edge of one of the Merlion's scales.
But then a funny thing happened as I moved on to the next scale and then another.
I was intending to give the Merlion a "technicolour dreamcoat" of random colours (having had 48, you see), but I started seeing how I could alternate the scales in different colours to form a patterned print.
Before I knew it, an hour had passed and this Peranakan boy had sheathed the body of the Merlion in a kind of modern-day sarong kebaya.
Two hours later, the mane of the Merlion was gold and silver dreadlocks and from its blue face and open mouth, rose syrup was spewing over the blue, red and yellow Esplanade - Theatres on the Bay.
Three hours later, I was already psycho-analysing myself and the activity.
True, I may go a little wild choosing unorthodox colours, but I also prize orderliness and keep my eye on the big picture to ensure that everything is in harmony.
I also generally follow the rules. That means colouring strictly within the lines (always sharpen your coloured pencils, people) and using a different colour for each demarcated segment.
And finally, I am slightly OCD.
This was evidenced by the loud Hokkien expletive I emitted - and feelings of self-loathing that followed - when I was painstakingly colouring every alternate triangular panel of the Esplanade roof in blue and shaded one tiny panel wrongly. (Luckily it was a small mistake that did not blemish what was overall a good job done.)
Behaviour much like Singapore itself, I wryly noted. Which probably makes adult colouring either the perfect pastime or the perfect metaphor (you decide) for inhabitants of this tiny and efficient city state.
When I showed the finished work to some friends at a party later that evening, they were generally full of polite praise.
In true Singaporean style, we were already on our smartphones: (a) referencing other friends who had also caught the colouring bug, (b) appraising their Facebook pictures of their work and (c) discussing potential hardware upgrades ("I heard the best pencils are from Derwent, which people say you can only buy at specialist shops like Art Friend").
But my oldest friend, and probably the one who knows me best, drily added: "Talk to me when you have finished the entire page."
Frankly, even though I have started on the aquamarine and silver fish, I am not at all sure I will finish.
Adult colouring is a great mindfulness exercise - and it also trains strategic thinking and perseverance to boot. But shading all those tiny panels is also quite painful for fingers that have long become accustomed to tapping and typing on computers and phones.
The key, I think, is do what many of us simply cannot do in busy and achievement-oriented Singapore: to let all these reasons for and against go, and embrace purposelessness in its truest form.
Oh, and to get a proper electric pencil sharpener, of course. Apparently, there is a website dedicated to reviews.
ignatius@sph.com.sg

This article was first published on December 27, 2015.
Get a copy of The Straits Times or go to straitstimes.com for more stories.