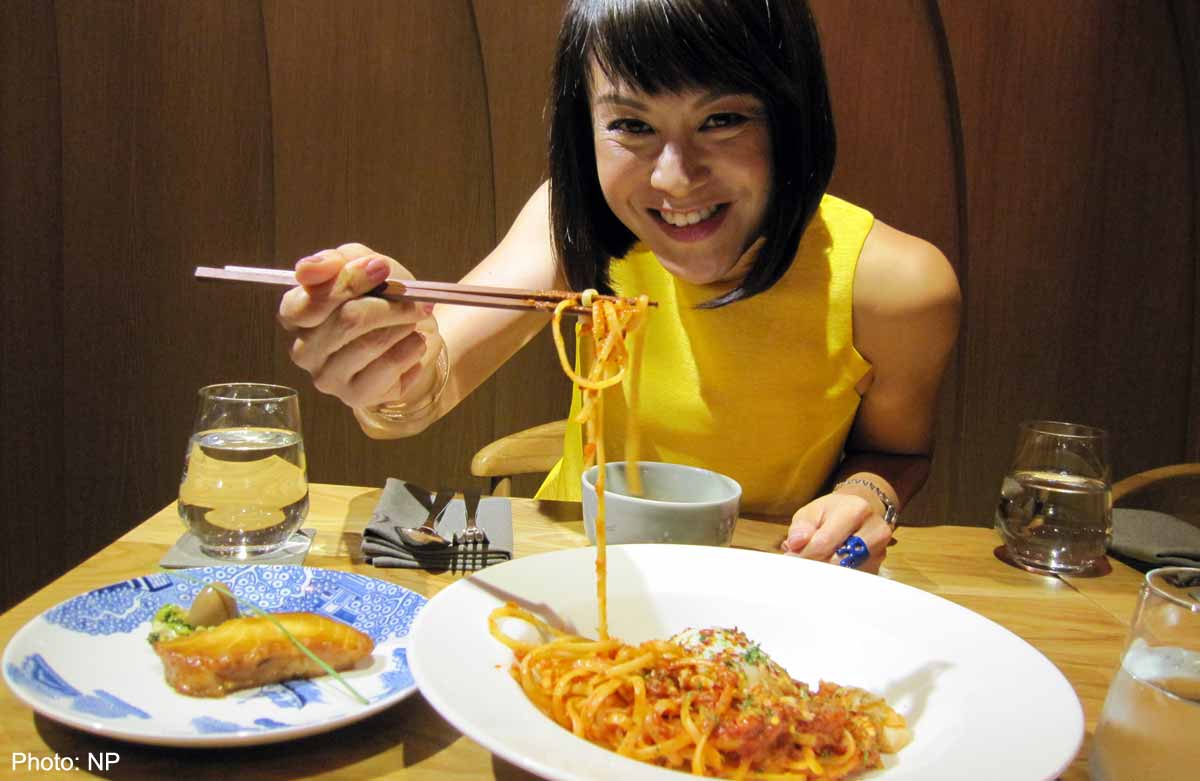 Former Nominated MP Janice Koh was a champion for the local arts scene.
Last Thursday, the 41-year-old local actress told M that she's also a champion of homegrown culinary talents.
"It's important to support Singapore chefs. The food and beverage industry is challenging, it takes guts to set up your own eatery. In Singapore, many restaurants open and close every year," said Koh at chef-owner Willin Low's restaurant Wild Rocket at Mount Emily.
Low and Koh were schoolmates in Victoria Junior College and she has been following him "since his apprenticeship days at (modern French eatery) Gunther's Restaurant".
Koh, a Fly Entertainment artist, is in local director Ken Kwek's M18 dark comedy Unlucky Plaza - currently showing here - playing the estranged wife of restaurateur Onassis (Epy Quizon).
She's also in Channel 5 series Zero Calling Season 2, co-starring Pierre Png and Cynthia Koh, airing every Monday at 9.30pm.
"I play an Interpol agent who has to hunt down a legion of cyber-terrorists. The role is very physical," recalled Koh.
"It's the first time I've had to torture and interrogate people, and get punched up on TV. We do a lot of our own fight sequences."
Spanner chilli crab linguine with onsen egg, and salmon red rice and baby octopus donburi. Are these your Wild Rocket favourites?
I enjoy eating chilli crab. It's a unique Singapore dish. Some days, I get my hands dirty at a place like Jumbo Seafood, cracking crab shells and licking my fingers. On other days, like today, I can enjoy a chilli crab without the mess.
Wild Rocket used to serve a brilliant dish, laksa pesto linguine, which was so delicious it inspired me to make my own. It's pasta with a pesto made from candlenut and laksa leaves.
I later found the recipe in a (food writer) Sylvia Tan cookbook. This pasta recipe is wonderfully Asian.
Do you and your family have any favourite restaurants?
Because my domestic helper cooks so well, my family and I don't eat out a lot. We love eating at home. When we do go out, we are creatures of habit and end up going to our usual favourite places. Our kids love Japanese food. And since we live in the East, our default go-to place is Wahiro, a modest Japanese restaurant at Roxy Square. We go there every other week. We get our usual table and the staff members probably can predict our orders.
My kids are at an age where they can't quite appreciate fine-dining just yet, so we rarely take them to fancy restaurants. I don't think we need to.
Do you go on date nights with your husband (Singapore Tourism Board chief executive Lionel Yeo)?
We attend many evening events in the course of our work, so going out for a date night or a meal together is quite rare. When we have the chance, I like to try places. These may be new, trendy joints that have opened to good reviews.
One example is (bar and grill) Burnt Ends. When there's a special occasion and we want to celebrate with something fancy, it might be a nice meal at (restaurant-bar) The Tippling Club.
Do you consider yourself a foodie?
On the contrary, I would say I'm quite a health nut.
For almost 20 years now, my diet has consisted of mostly vegetables and fish. I don't eat a lot of meat, especially red meat.
My whole family has also switched to organic wild rice and I do a lot of juicing. With my slow juicer, we've stopped buying packet juices from the supermarket, we make our own vegetable and fruit juice at home. Now I can't get through my day without it.
I started cutting down on meat for health reasons but with time, my tastebuds changed and it's became a habit.
That doesn't mean I don't enjoy my fair share of char kway teow and Hokkien mee. I still do, but in moderation, it's few and far between.

This article was first published on April 29, 2015.
Get The New Paper for more stories.