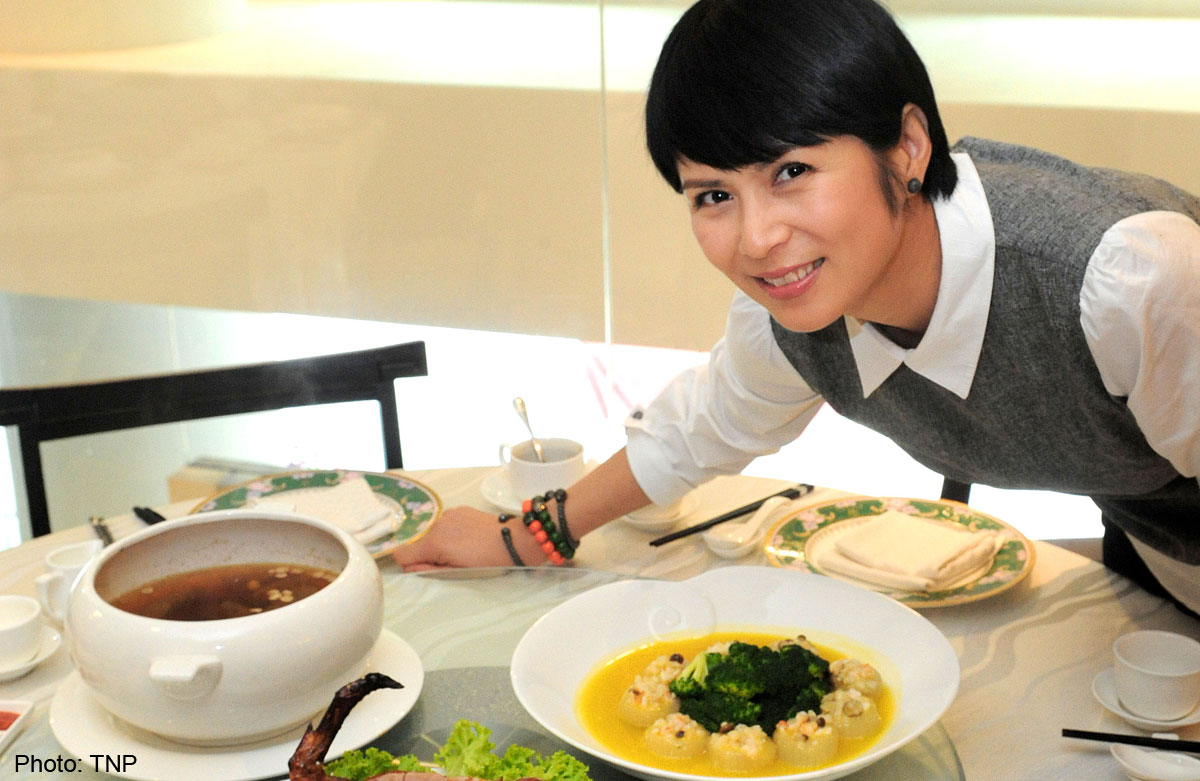 To Pan Lingling, discovering that she had cancer was a wake-up call.
The 44-year-old local actress made headlines earlier this year when she went public about her battle with Stage 1 breast cancer.
"I used to be a huge lover of meat, junk food and deep-fried fare," she told M over lunch at Jia Wei Chinese Restaurant at Grand Mercure Singapore Roxy on Friday.
"I was over-indulgent when it came to enjoying such stuff. Now, having a healthy, balanced diet is extremely important to me."
She added: "I count my calories and plan menus for my family. Last time, I hardly cared, I allowed my kids to eat what they liked. I also make it a point to drink fruit juice regularly. For example, every morning, I'd down a glass of ABC (apple, beet and carrot) juice without fail."
Today, the spunky mother of two - Beckham, 15, and Kynaston, 12 - is cancer-free, has undergone a partial mastectomy, breast reconstruction surgery and chemotherapy.
She is also relishing brand new challenges on the work front.
After 26 years in showbiz, the TV veteran has taken on her first English-speaking role in period police drama Mata Mata 2: A New Era, which will air on Mondays, 8pm on Channel 5 from Sept 1.
As she tucked into double boiled fish soup, braised fuzzy melon and roasted duck with glutinous rice, Pan recalled fun times on the set of the show.
"In Mata Mata 2, which is set in the 1970s, I play a Chinese domestic servant," she shared. "When filming started, my face was still pretty round and chubby. (She had gained 10kg as a result of chemotherapy and medication.)
"Everyone joked that my character must be a very fortunate servant!"
After your episode with cancer, are there any foods you've struck off?
There aren't any foods I strictly cannot consume, but right now, I don't dare to eat lingzhi (medicinal mushrooms). Lingzhi is great for cancer prevention, but for people with or who had cancer, it's not suitable.
I also try to reduce my intake of chicken as some have been found to be injected with hormones. I fear that might trigger a relapse.
You are a self-confessed "former carnivore". Was it hard embracing a healthy balanced diet?
It wasn't difficult. Oddly enough, after my chemotherapy treatment, I lost my sense of smell of almost everything except vegetables and fruit. I used to adore spicy food but after chemo, I became super sensitive to foods with chillies and even resisted it. Post-cancer, I've set aside two days every month to go vegetarian.
I never thought my eating habits would affect my health, but now I know they do.
Do you cook? Any signature dishes?
My boys love Western food, so I usually do steak, french fries, baked potato, broccoli and baby carrots, spaghetti and lasagne for them. As for Chinese dishes, I can do most usual fare. I like to boil soups and make porridge, such as pork ribs porridge or porridge with sliced fish and clams.
Do you allow your kids to enter the kitchen?
Of course! They've been cooking since they were children. Because both my husband and I were working, they had to eat to survive. (Laughs)
Once, we were so touched by our kids because they cooked a full dinner for us by themselves. We returned home after filming to see a table of roti prata, sausages, scrambled eggs and coffee. I was very impressed, as my elder boy was only 11 then.
Do you and your family have any favourite eating haunts?
My boys love Jack's Place. They could have the lobster bisque there all day. As for hawker food, they like chicken rice, nasi lemak, fish sliced soup, lots of things. We usually go to the food centre at Block 628, Ang Mo Kio Avenue 4 as it's near home.
Any memorable overseas food encounters?
When I'm overseas, everything tastes nice because I'm in a holiday mood! (Laughs) When my family and I were in Hokkaido, we really enjoyed the crabs, barbecued prawns, clams and scallops.
Everything just tastes better when you're on vacation, don't you think?

This article was first published on Aug 13, 2014.
Get The New Paper for more stories.