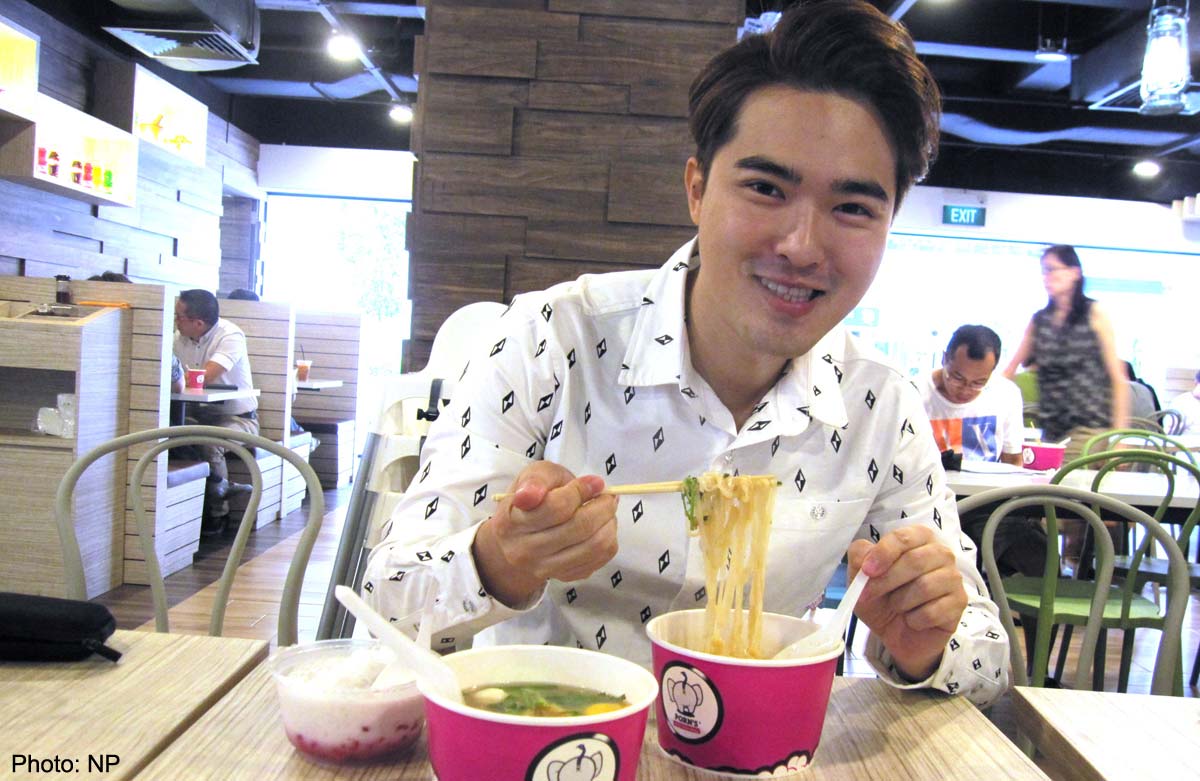 Same, but different.
That is local television host Lee Teng's impression of Thai cuisine, which he has grown to love after shooting the 2011 Channel 8 travelogue Rail Thrill in the Land of Smiles.
"A few years ago, I spent a month in Thailand, criss-crossing the country and visiting many rural areas," recalled the 31-year-old over lunch with M at Porn's Thai Boat Noodee in Kitchener Complex. It is a new casual Thai eatery owned by Lee's good friend and fellow TV presenter Pornsak Prajakwit.
"The food we ate in Thailand was very simple and authentic, it reminded me of home-cooked fare in Singapore.
"I've observed that the styles of Thai cooking, especially frying, are actually pretty similar to Chinese cooking, it's just that the spices are different."
In Rail Thrill, Lee and Thai-Chinese co-host Pornsak eschewed the hustle and bustle of urban Bangkok, and instead chose to visit several off-the-beaten-track places like Farm Chokchai in Nakhon Ratchasima, Death Railway across the River Kwai and The Monkey School in Kanchanaburi.
Added Lee: "Thais like to use coriander and their food flavours are often a blend of spicy and sour."
The affable entertainer, who is signed to talent management agency Left Profile, is in the running for Best Variety Show Host and Top 10 Most Popular Male Artiste at this year's upcoming Star Awards.
"If I can snag only one award between the two, I will choose the hosting award over (the) Top 10," he said.
"Getting into the Top 10 is just as prestigious, but the Best Variety Show Host accolade is like the Holy Grail for local TV hosts."
We're having Beef Kway Teow Soup and Suki Chicken Glass Noodles Soup, and Red Ruby for dessert. How do you like these dishes?
Red Ruby is one of my favourite Thai desserts. The other is Mango Sticky Rice. When it comes to meat, beef is right up there at the top of my list. I love beef in any form, whether it's beef slices, beef balls or beef cubes.
I'm a fan of Thailand's street food. Not too long ago, I was in Bangkok and I loved the city's steamed corn.
This is the fifth outlet under Pornsak's Thai restaurant chain Porn's. Has he inspired you to venture into the food and beverage industry too? After all, you are also an entrepreneur. (Lee owns fashion boutique Ground Zero at *Scape.)
Unfortunately, F&B is not my strength. I'm definitely more confident in the fashion department as my mum is a fashion stylist.
I was influenced by her since I was a kid. I dare say that my opinions on fashion are aligned with the general public's. I know what consumers like.
But when it comes to food, I'm not confident about giving my take on many matters, for example, creating new dishes. My ideas might not be what the public wants.
You were born in Taipei and you moved here with your family at the age of eight. What is your favourite Taiwanese dish?
Whenever I go back to Taipei, I have to have lu rou fan (stewed minced pork rice). There is a restaurant in Yonghe District, Taipei, that serves fantastic lu rou fan. The pork knuckle is amazing too, the meat is so soft it literally melts in your mouth.
Do you cook? Any dishes you've mastered?
My aim is to be able to cook before I turn 35. (Smiles)
Over the past few years, I've been hosting so many food and cooking shows and it's kind of embarrassing that even after all these hosting stints, I still cannot whip up any dishes.
So yes, lately, I've been picking up cooking skills from my mum. The most recent dish I learnt was green bean soup with barley. I also know how to do my mum's signature dish, sesame oil chicken. I believe it's a Taiwanese delicacy but in Singapore, it's more like a post-pregnancy confinement dish!
What are the other types of cuisine you like?
I like Japanese food, be it soba or sashimi. Japanese cuisine is generally healthy. Nanjya Monjya at Grand Copthorne Waterfront Hotel has very good okonomiyaki (Japanese pancakes).
There is a hot plate in front of you and you get to cook the pancakes yourself. Dining there is quite an interactive experience.
Favourite hawker stall in Singapore?
I've been working out to get a good physique over the past few months. As part of my diet, I've been eating a lot of chicken breast.
I like most of the Hainanese chicken rice stalls at Maxwell Food Centre.

This article was first published on April 1, 2015.
Get The New Paper for more stories.