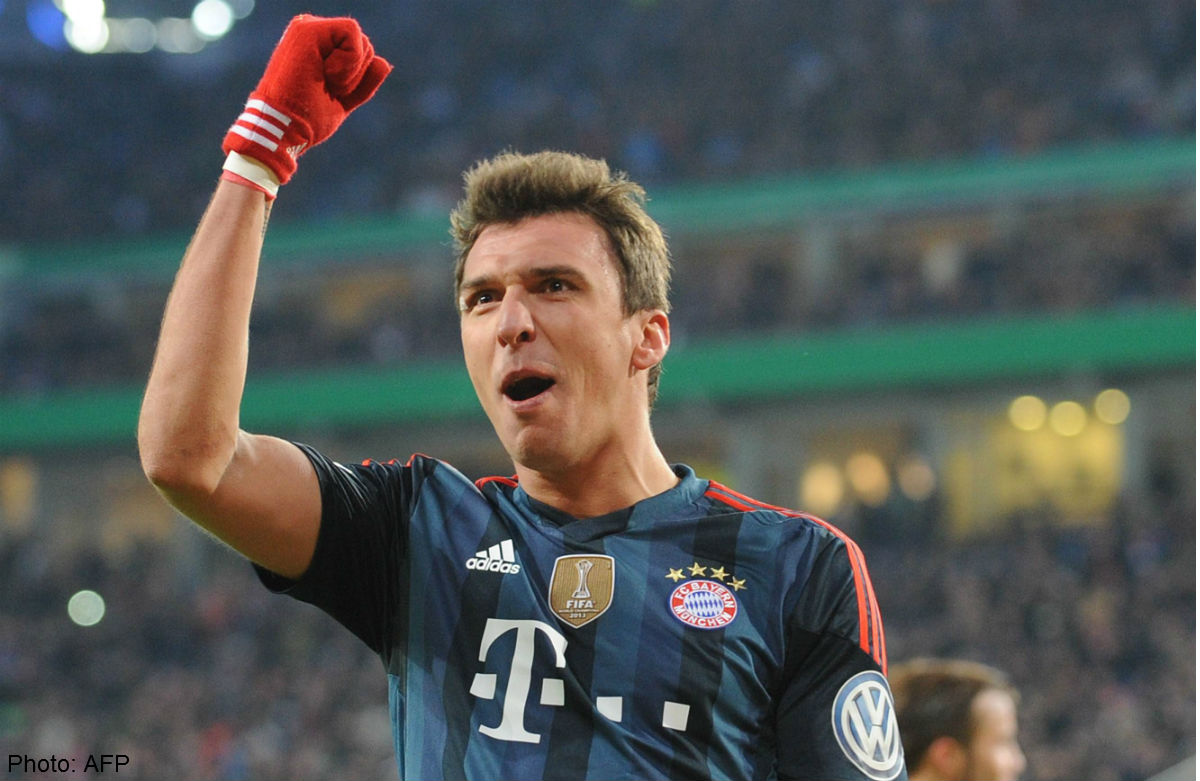 LAST 16, FIRST LEG
ARSENAL v BAYERN MUNICH (Thursday, 3.40am, SingTel mio TV Ch 111)
Arsenal have overcome many challenges this season. When people suggested they were too weak to challenge for the title, they led the league for much of the season.
When people claimed their 3-6 defeat by Manchester City marked the end of that challenge, they held their nerve, drew with Chelsea and then won five league games on the bounce.
When Liverpool annihilated them at Anfield, they responded a week later by knocking them out of the FA Cup. But Arsenal haven't yet faced a challenge like Pep Guardiola's Bayern Munich.
Jupp Heynckes' Bayern Munich were bad enough. Exactly a year ago, they wiped the floor of the Emirates Stadium with Arsenal, the 3-1 scoreline scarcely reflecting their dominance.
Arsenal would go on to win 2-0 in the Allianz Arena, a result that kickstarted their recovery, but Heynckes' side were complacent.
Having shipped an early goal, they were content to rest on their laurels. Guardiola doesn't do complacency.
"He is obsessed about football," said Bayern's chief executive Karl-Heinz Rumminegge this week. "He is always thinking, 'what can I do new?' to surprise his opponents or his own team.
"I have been in professional football for 40 years, but I have never had a coach like him."
Mathieu Flamini has insisted that this Arsenal team are as mentally strong as the team that won the 2005 FA Cup, the Gunners' last trophy.
"I see a great commitment," the French midfielder said after Sunday's victory over Liverpool. "I see everyone working very hard on the pitch and helping each other."
HARD WORK
If Arsenal are to take anything from this tie, they will have to work as hard as they have ever worked.
Bayern are a monstrous team; quick, intelligent, skilled and ruthless. They have no clearly defined tactic, they are as deadly with one striker as they are with none.
When Mario Mandzukic was deemed to be offering less than his best in training last month, Guardiola dropped him out of the squad entirely and played Thomas Mueller as a false No. 9 against Borussia Moenchengladbach. Bayern won 2-0 and Moenchengladbach barely had a touch.
Bayern's form is extraordinary. If you ignore their defeat by Manchester City in the Champions League, a dead rubber on which nothing depended, they haven't lost in any competition since the German Super Cup game last August.
They haven't failed to win since Bayer Leverkusen held them in the Bundesliga on Oct 5. They haven't conceded a goal in four games this month, but they've scored 16.
It's amusing to recall now how many of us doubted Guardiola, or questioned what he could possibly do to improve the treble-winning side that he had inherited from Heynckes.
It seemed like a man erecting scaffolding inside the Sistine Chapel and announcing that he was just going to try and improve the painting on the ceiling.
Yet, somehow, Guardiola has made Bayern a better team. The decision to switch from two defensive midfielders to one has certainly helped, though it is the work rate of the players that makes it possible.
All over the pitch, Bayern's stars are as determined as they are talented.
Fullbacks play as wingers, centre backs as midfielders, midfielders as attackers, attackers as midfielders. Containing them is the challenge of a lifetime.
Arsene Wenger was able to rest a number of players on Sunday and still secure passage to the quarter-finals of the FA Cup.
Jack Wilshere should be fully fit and ready for the test. His tenacity will be vital if Arsenal are to keep hold of Bayern's fluid midfield.
When this draw was made, there was a feeling among some Arsenal fans that their club were fortunate to avoid their old tormentors Barcelona.
That feeling was misplaced. Bayern Munich are better than Barca. They will take some stopping.
npsports@sph.com.sg

Get The New Paper for more stories.