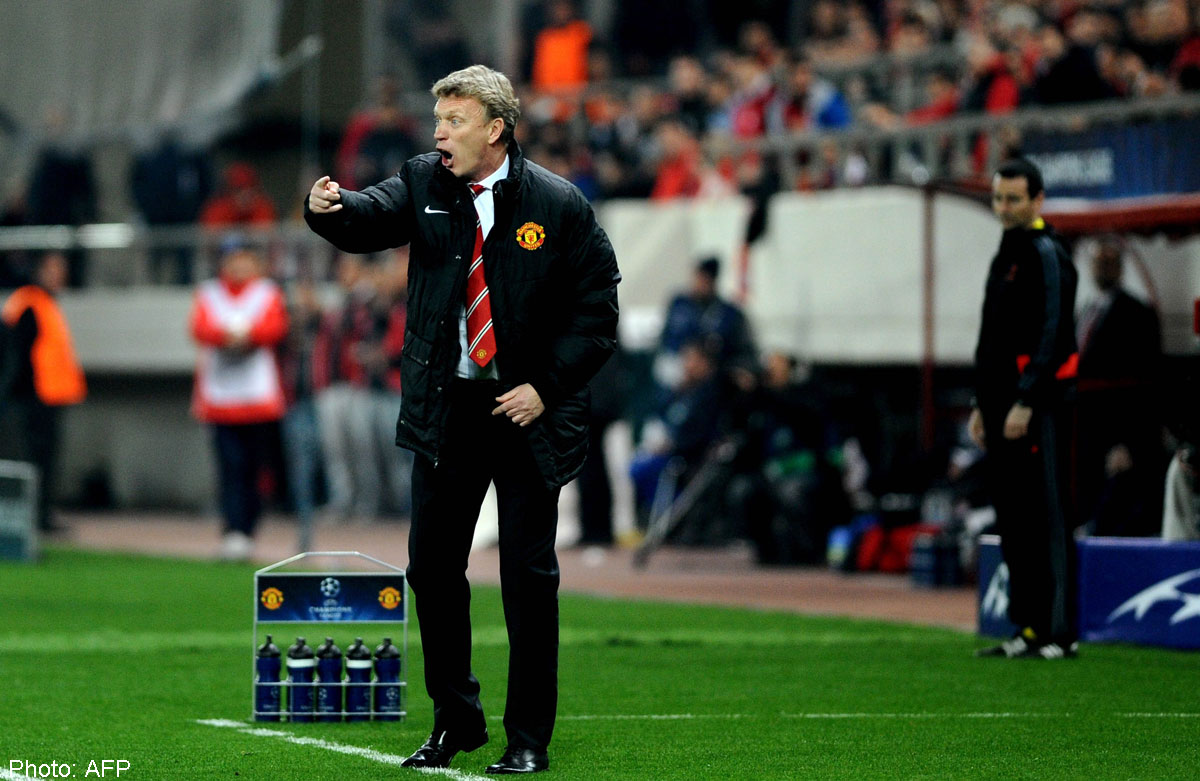 CHAMPIONS LEAGUE LAST 16, FIRST LEG
OLYMPIAKOS 2 (Alejandro Dominguez 38, Joel Campbell 55) MANCHESTER UNITED 0
Two words sum up Manchester United's performance in the 2-0 away loss to Olympiakos on Wednesday morning (Singapore time): Utter rubbish.
The fortunes have been flipped.
Where once a mere mention of the Red Devils struck fear in opponents, now a meeting with the defending English Premier League champions is met with relish.
United manager David Moyes finds himself sinking deeper, and rapidly, into football's quicksand.
Patience with the man, so passionately urged by Sir Alex Ferguson in his departure speech, is wearing thin.
With one foot out of the Champions League door, and hopes of a Premiership fourth place dangling off a cliff, Moyes is walking on thin ice.
The number of fans wishing to see the Scot out of Old Trafford is growing exponentially and cannot be ignored anymore, not after the many abject displays that continually boggle the mind.
Ex-United players and pundits are generally becoming increasingly critical of him.WASTED?
The coming month will determine if United are still moving in the right direction under Moyes, or simply wasting their time on the wrong man.
The fans have already earmarked March 16 as the day they discover their domestic fate.
A home clash with Liverpool, whom they lost to in the league earlier in the season, will decide whether the fight for fourth spot is a lost cause.
For now, Brendan Rodger's men hold that position, one which promises a route to the Champions League qualifiers next season provided an English club doesn't win the European competition and finish outside of the Premiership top four this term.
Liverpool have an 11-point lead over Moyes' side in the standings.
Even if United beat them, they still face an uphill task to overtake their arch enemies, but at least hope remains.
Draw, or lose the game, and United will be better off regrouping and preparing an assault next season.
Three days after that, they get the chance to make amends against Olympiakos in the Champions League return leg.
It doesn't look good.
The last time United came back from 2-0 first-leg deficit was in the Cup Winners' Cup in 1984, against Barcelona.
But given their meek and appalling response in Athens, what are the chances of that happening at Old Trafford?
Then the Manchester Derby beckons on March 25.
The last time they met, City walloped them 4-1.
Moyes faces the challenge of lifting a team of players devoid of confidence.
He needs to start making the tough decisions.
Should United continue with their pragmatic approach to games, like how the team were set up to counter Olympiakos but ultimately failed?
Is it time to drop the under-performing players, and if need be, replace them with inexperienced but willing heads?
Chris Smalling, Tom Cleverley, Ashley Young and Antonio Valencia were hopeless yesterday, yet Moyes delayed making his two substitutions only until close to the hour mark.
Or is his training regimen too intensive, as reports have suggested, for the players' own good?
It's obvious from United's abysmal performances that something has to be done.
Moyes needs to find out exactly what.
If not, in a month's time, he will be staring down the barrel of a loaded gun.
WHAT CRITICS SAY
"This was a horrible, aimless, passionless performance from United. This was a display riddled with errors from the players and the manager, David Moyes. United were too cautious in design, clueless in possession and too generous with space, seemingly inviting Olympiakos to score. Beware Greeks exploiting gifts." - Henry Winter in the Daily Telegraph
Humiliated! - Daily Mail
Clueless, Aimless and Hopeless - Daily Telegraph
Greek Clods - Daily Mirror
"Some players let the shirt down - no question. The performance was desperately poor. In terms of a European performance it was pathetic. Were United lacking leadership, fight, team spirit? I'd say they lacked all three." - BBC pundit Robbie Savage
"We've been brainwashed that the Premier League is the best in the world - nonsense. It's the best brand in the world but they have fallen behind, United more than most. They need six or seven players to rebuild the club." - Former United captain Roy Keane
"United who? Legends of Europe, Olympiakos! The real Red Devils made United look like also-rans with an epic display." - Turkish tabloid SportDay
"We have another match at Old Trafford, and what more can a person ask for? I'd gladly swop places with any of my players, so we'd have a grandfather playing at Old Trafford." - Olympiakos coach Michel, 50, a former Real Madrid midfielder
Get The New Paper for more stories.