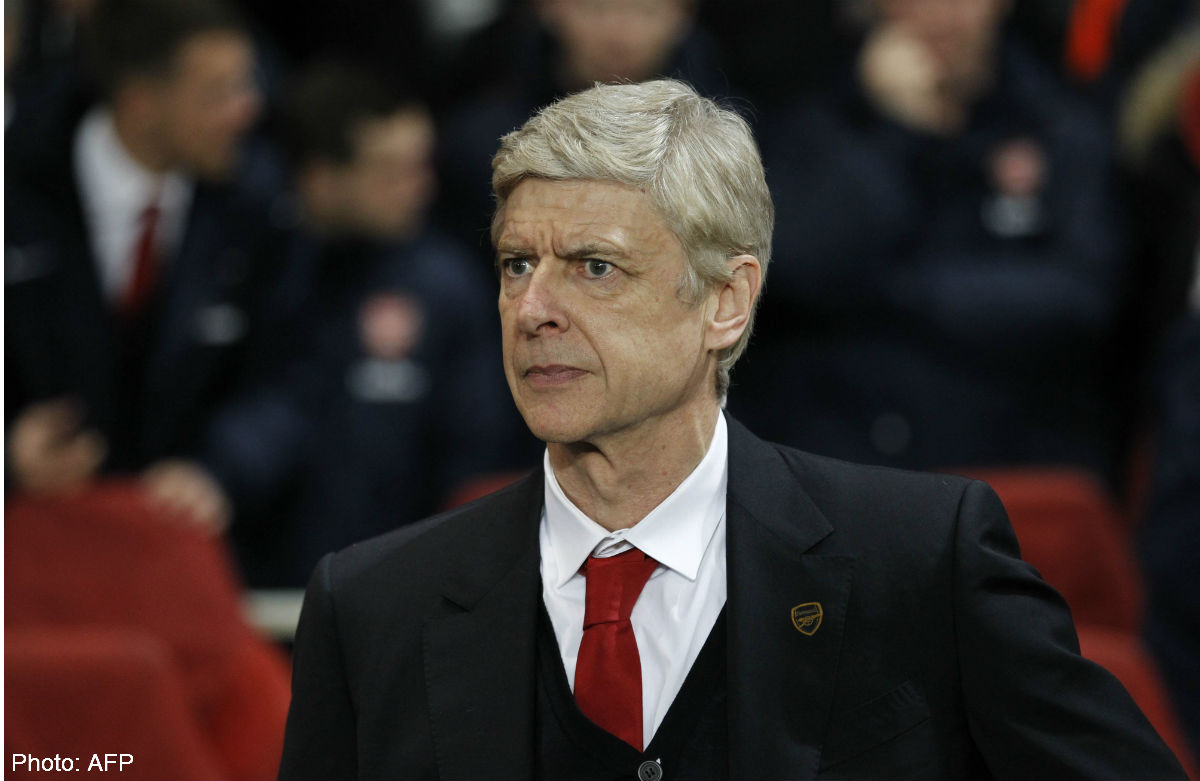 With Arsenal preparing for their biggest game of the season against Bayern Munich Thursday morning (Singapore time), manager Arsene Wenger sat down with assistant Steve Bould to talk tactics and avoid the F word.
Wenger: Right then, Steve, this Champions League game means everything after we lost in the FA Cup.
Bould: We didn't lose in the FA Cup.
Wenger: Yes we did.
Bould: No, we didn't.
Wenger: But we always lose against big sides in the big games that really matter. We've been doing it since 2005. Nobody does it better. Makes me feel sad for the rest.
Bould: I think you're singing a James Bond song now.
Wenger: I got distracted. For a minute, I thought you said we beat Liverpool.
Bould: We did beat Liverpool. We're in the FA Cup quarter-finals.
Wenger: I just assumed we lost... For Your Eyes Only.
Bould: Was that the James Bond song you were singing?
Wenger: No, here's the team-sheet for Bayern Munich. I'm thinking of making maybe seven changes after the Liverpool loss. I mean, win. Wow, it's like Tourette's Syndrome.
Bould: Maybe Jose Mourinho was right, boss, maybe you are a bit of a specialist in failure.
Wenger: Don't say the F word! That word is banned around here. We do not specialise in failure. We are not obsessed with failure. We do not go into games against top opposition assuming we are going to lose, just because we lost to Liverpool.
Bould: We won, boss.
Wenger: Yes, that's right. We won. Sorry. No more mentions of the F word.
Bould: Got it. We are specialists in success at Arsenal.
Wenger: That's correct. Now, after we lose at home in the first leg...
Bould: Wait. Isn't that a tad defeatist? We just beat Liverpool with a weakened 11 and we can field a strong side. Jack Wilshere, Santi Cazorla, Kieran Gibbs, Olivier Giroud, Wojciech Szczesny, Bacary Sagna and Tomas Rosicky could all be included.
Wenger: I know, but I'm worried we don't have enough firepower. How did Bayern manage to snap up Robert Lewandowski for next season? Why didn't we buy Lewandowski?
Bould: Borussia Dortmund wouldn't let us have him on a free transfer.
Wenger: Greedy Germans. How are we getting on with Schalke and Julian Draxler. Same deal?
Bould: Yeah, the club are claiming our initial offer didn't match their valuation.
Wenger: What did we offer?
Bould: Fifty bucks and Nicklas Bendtner.
Wenger: Outrageous. There's just no value in the transfer market anymore. I can remember the good old days when a player cost...
Bould: Hang on, boss. Sorry to interrupt, but Mourinho has just insulted you again in a press conference.
Wenger: How many insults is that?
Bould: By my reckoning, he's insulted you 27 times in the last hour.
Wenger: And did he?
Bould: Yes, he mentioned the F word again. He said the updated Longman's dictionary intends to include the words "Arsene Wenger" under the entry for "failure".
Wenger: He is silly and disrespectful. Anyway, getting back to Bayern, I'm thinking of going with three defensive midfielders to nullify the triple threat of Arjen Robben, Thomas Mueller and Toni Kroos. That way, we can take a smaller margin of defeat to Munich.
Bould: Do you not think that might be too negative? We did beat Liverpool. We are at home. We do have pace in Alex Oxlade-Chamberlain.
Wenger: We also have an awkward giraffe in Per Mertesacker at the back.
Bould: Fair enough... but we're playing Bayern. They beat us at the Emirates last year and the loss killed our season. We need to send a really strong statement.
Wenger: You're right. Send this statement... "I think Jose Mourinho is an idiot."
Bould: No, send a statement to Bayern that we're not afraid of them.
Wenger: We are a little bit. Every time I think of Bayern's squad, I need the toilet.
Bould: But it's a different mentality now, right? We've banned the F word and everything.
Wenger: Absolutely. No doubt about it. We're going to be fearless and forceful... and maybe play five at the back.

Get The New Paper for more stories.