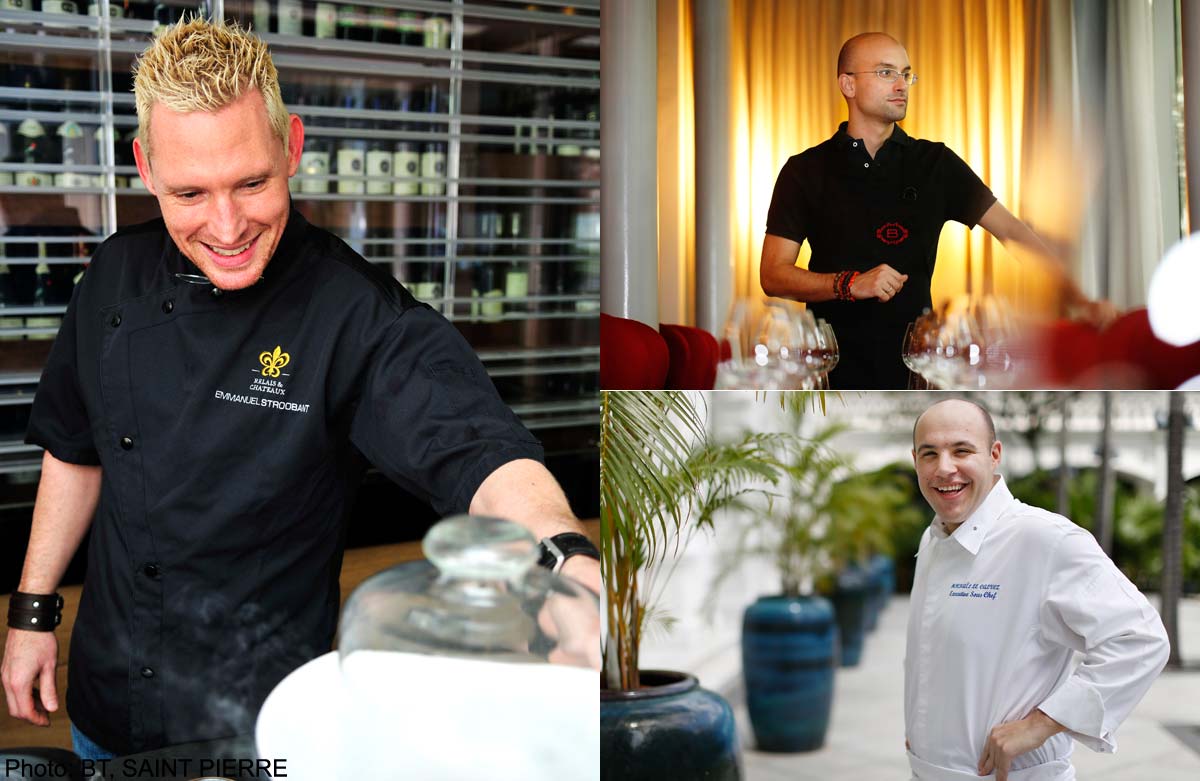 Four chefs in Singapore share how a transformation in their lifestyles has also changed how they cook and what they serve in their restaurants.
Mickael Le Calvez
Executive sous chef, Raffles Singapore
ABOUT a year ago during a busy dinner service, executive sous chef Mickael Le Calvez felt a sudden tightening around his chest. The pain went away, but it troubled him. It didn't help that the 29-year-old also suffered from sleep apnea. He had sought medical help for the condition, but "the doctor said surgery wouldn't help because of my size", says Chef Le Calvez.
He decided he needed to do something. Today, the 1.8m-tall chef is not yet at his ideal weight, but over the past year, has lost a whopping 50kg. He declines to reveal his current weight, but says: "I still have about 10kg more to lose." With his now much smaller physique, the chef has dropped five pants sizes, and now likes what he sees in the mirror: "I often ask myself, why did I wait so long to lose the weight."
Chef Le Calvez, who started his career at La Cotriade in Paimpol, France, before moving to the three Michelin-starred Aubergade de Michel Trama in the Perigord region, lost the weight through the good ole' combination of exercise and diet.
He does judo about three times a week, in between work hours and sometimes after work. He used to be on the French national team. He also runs and attends boxing classes at the gym. "I used to not be able to run for five minutes, but now, 90 minutes is not a problem," he says.
And while he used to eat throughout the day, Chef Le Calvez now sticks to three meals a day. "And my last meal is before 7pm." He eats his meats and fish for lunch, and it is mostly vegetables for dinner, and "no carbs after 6pm".
He's also cut out sweets and soft drinks, and instead snacks on fruits and nuts, if he gets hungry later in the night.
Chef Le Calvez had previously worked in Hong Kong, Shanghai and Ho Chi Minh City before starting at the Raffles Singapore about 18 months ago.
His change in lifestyle and eating habits have also changed the way he cooks. His dishes are now lighter, since he has cut out cream and reduced the amount of butter used. "I use more lime to bring out the flavours, and more almond milk in place of cream," he explains.
Two new dishes he has introduced to the Raffles Grill menu are a king crab dish, and a pork cutlet dish. In the former, a king crab leg is steamed, and half the flesh is mixed with chopped almond, green apples and radish, and mixed with yuzu, bergamot and almond milk. The flesh is then placed back in its shell and topped with the other half. One sauce is made using kumquat, and another, with bergamot and almond milk. The dish is garnished with pink and black radish.
The pork cutlet dish uses a lean cut cooked sous vide for six hours, before being seared. It is topped with asparagus that has been lightly cooked with a little olive oil and vegetable stock to retain its flavour.
The feedback for both dishes has been positive, and the chef has plans to introduce more healthy dishes on the menu.
As Raffles Grill is more known for its traditional French cuisine, Chef Le Calves acknowledges that it will take time to change the entire menu "to a modern one".
While watching his diet and exercising is now a priority, Chef Le Calves admits that there is one food item he cannot resist. "I have to control my cheese intake," he says, of his love for brie and other creamy cheeses.
"There are 48 types of cheese on our menu, and I have to taste them all. I have to make sure they are all top quality," he quips.
By Tay Suan Chiang
THE VEGETARIAN ROUTE
Emmanuel Stroobant
Saint Pierre
31 Ocean Way, #01-15 Quayside Isle
Tel 6438-0887 | saintpierre.com.sg
Open Mon to Sun, 5.30pm to midnight. Sat and Sun, 11.30am to 3pm
IT'S tough to be a vegetarian chef heading a restaurant that serves meat, especially when you still have to taste everything you cook. But for Chef Emmanuel Stroobant, his personal diet choice has had its perks.
"I actually find my cooking has improved, as I can taste meat more distinctively and subjectively," says the 47-year-old, who switched to a vegetarian diet in 2011. This is reflected in the menu at his 15-year-old French restaurant, Saint Pierre, which is now located on Sentosa. Almost half the a la carte menu at Saint Pierre is vegetarian, and there are even full vegetarian options for the degustation and set menus.
According to Chef Stroobant, this wasn't always the case. He used to live a much less healthy lifestyle, while his menu used to carry a lot of food that was "robust with creams, cheeses, and a lot of sauces".
"I used to always need to go out to unwind after work, which resulted in late nights and excessive drinking. While unwinding, I would go through half a bottle of vodka every night - something that I can't fathom myself doing now," he says.
What made him recognise the need to change his lifestyle were two key events that happened between 2007 and 2009 - a health scare and the birth of his first daughter.
"I realised that even though I was exercising daily, my lifestyle was taking its toll on my body. All the late nights, excessive drinking, and my love for shellfish and meat were accumulating and becoming hazardous," says Chef Stroobant. In addition to his high cholesterol, he also discovered that he was born with "bad genes", and was "at high risk for cancer" later on in life.
So by the time his daughter was born, Chef Stroobant had developed a new perspective. He says: "I realised that if I wanted to live longer to witness all the important milestones in my daughter's life, I needed to start eating right and living a healthier lifestyle."
His first step was to cut meat and shellfish from his diet, while at the same time minimising drinking. However, as his cholesterol levels did not drop to the level he desired, he eventually decided to go full vegetarian, and took on yoga as part of his lifestyle.
"I wanted to organically fix my issues to avoid taking tablets," he explains.
Of course this also influenced his cooking at the restaurant, so Chef Stroobant started cooking cleaner and with purer flavours, with less use of creams and cheese. Now, he describes his food as more subtle and refined, and although sauces are still used, they are "lighter and more broth-like".
"I realised that I just want to focus on creating food that people will enjoy. I do not find meaning in creating wildly inventive dishes just for the sole purpose of impressing a few gourmet connoisseurs; food has to be created for happiness, enjoyment, and fulfilment," he says.
By Tay Suan Chiang
TREAT YOUR VEGETABLES
Ivan Brehm
Bacchanalia
23A Coleman Street Tel 6509-1453
bacchanalia.asia
Open Fri, noon to 3pm. Mon to Thu, 6pm to midnight. Fri to Sat, 6pm to 2am
WHEN Ivan Brehm first met his wife about five years ago, it changed both his personal life, as well as his professional one.
Not only did he become interested in cooking more often, he also started learning to cook vegetarian food - because she was vegetarian.
"Often people don't realise vegetarian meals can be a lot more complex in terms of flavour combinations, because you're playing around with things that have very distinct characteristics," says Chef Brehm.
"You have to really think well and construct a dish that will be harmonious without it just being a pile of vegetables thrown together for no reason," he adds. So when he opened his own restaurant, Bacchanalia, in Singapore three years ago, he decided that one main goal would be to provide well-balanced meals and always cater to vegetarians.
Which is why about a quarter of the menu is dedicated to vegetable-centric dishes, such as a cauliflower gratin made with deep fried cauliflower florets, white truffle and cheese foam (S$18), the mushroom fantasia which features four types of mushrooms cooked in four ways and served with a sweet corn veloute (S$18), plus what he calls a "different vegetable salad" consisting of organic Cameron Highland greens and seasonal root vegetables, braised banana hearts, and banana puree (S$20).
Owning his own restaurant has also in turn affected his personal lifestyle and diet, says Chef Brehm. Before moving to Singapore, he was living and working in Europe and "ate very greasy food, at very unreasonable hours, and had a scattered and inconsistent schedule".
"It was either carbs or cheesy stuff, anything from burgers to fried foods, loads of french fries - comfort food, that's what it was," says the self-declared "French fry fanatic".
After moving to Singapore and starting his restaurant, however, Chef Brehm realised that his old lifestyle had to stop, because waking up in the morning feeling fatigued and bloated was no way to run his own business.
"As a chef working for a restaurant (when I was in Europe), my preoccupations were very limited to my section. Heading my own restaurant on the other hand, I now feel responsible for everybody who works here, so I want to be able to make the best calls for everybody," he says.
According to Chef Brehm, the main thing it took for him to be able to change his cooking, and his subsequently his lifestyle, was simply a shift in mindset.
"You need to have it planted in your head that you should not treat a vegetable like a supporting actor, you want to treat it like the main star of the show. The moment you take the meat out of the equation and treat the vegetable with that same kind of attention you do meat, you'll realise they are amazing - you can achieve an array of different textures and flavours with one single product," he says.
By Rachel Loi
GOING GREEN
Anthony Yeoh
Cocotte
2 Dickson Road Tel 6298-1188
restaurantcocotte.com
Open Mon to Thu, noon to 2.30pm, 6.30pm to 10.30pm. Fri to Sun, noon to 3pm, 6.30pm to 11pm. Closed on Tues.
CHEF Anthony Yeoh comes from a family who loves their comfort food - roast meat and potatoes were a norm at dinners on special occasions. In recent years however, these dinners have become more balanced as vegetable dishes are making a more regular appearance.
Says the 33-year-old: "My dad especially, loves his meat and carbs, and my brothers are the same way. Previously I was happy to cook a roast beef and a bunch of roast potatoes, with some peas as an afterthought. Now there's salads, and a medley of roast vegetables, so it's a much more balanced meal."
The cooking at home slowly changed about two years ago, when the menu at his restaurant underwent the same change. It all started when Chef Yeoh was approached by an acquaintance who wanted to do organic farming in Cameron Highlands, and asked if they could work with him and his restaurant - Cocotte.
So instead of ordering vegetables from the usual suppliers who would get them imported from overseas, Chef Yeoh decided to take up the opportunity to work with the farm, which was just an eight-hour drive away.
He explains: "Usually in Singapore, people don't know where their vegetables come from, you just write a list and the supplier delivers it to you. We wanted to change that. I've been up to the farm, brought my staff, and we've plucked the vegetables ourselves, so we know how it's growing and how tasty it is."
In addition, having the vegetables delivered via a truck twice a week leaves less of a carbon footprint than when it's flown halfway across the world, not to mention the produce is much fresher by the time they arrive.
"In Singapore, we're so used to getting this very manicured product, so when my staff first saw this, they complained about bugs in the vegetables. I told them look, this is what it means to do farm to table. There are going to be bugs, soil, and they come with their roots - they're so fresh that they're still alive," he says.
Over the last two years, they have been slowly incorporating these organic vegetables into their menu, and now one of the highlights at Cocotte is their Weekend Brunch Trolley, where diners pay a flat rate and get to pick brunch dishes off a trolley that moves around the restaurant - dim sum style.
It's a great way to come up with creative uses for the vegetables especially when there's excess during a certain week, since that menu is flexible and can change whenever necessary, says Chef Yeoh, who has personally lost a lot of weight since changing his diet and lifestyle.
His challenge down the road however, is to incorporate more organic vegetables into the dessert menu, so that his menu can be as organic and sustainable as possible.
"It's not about being a calorie-conscious restaurant, but a restaurant that focuses on the source of the vegetables and what goes into them... We have a basil ice cream now, and they grow mint so we incorporate that into our mint chocolate cake.
We're being a bit creative with what we can get from the farm every week, instead of making a list and asking them to send me what I want," says Chef Yeoh.

This article was first published o April 4, 2015.
Get The Business Times for more stories.