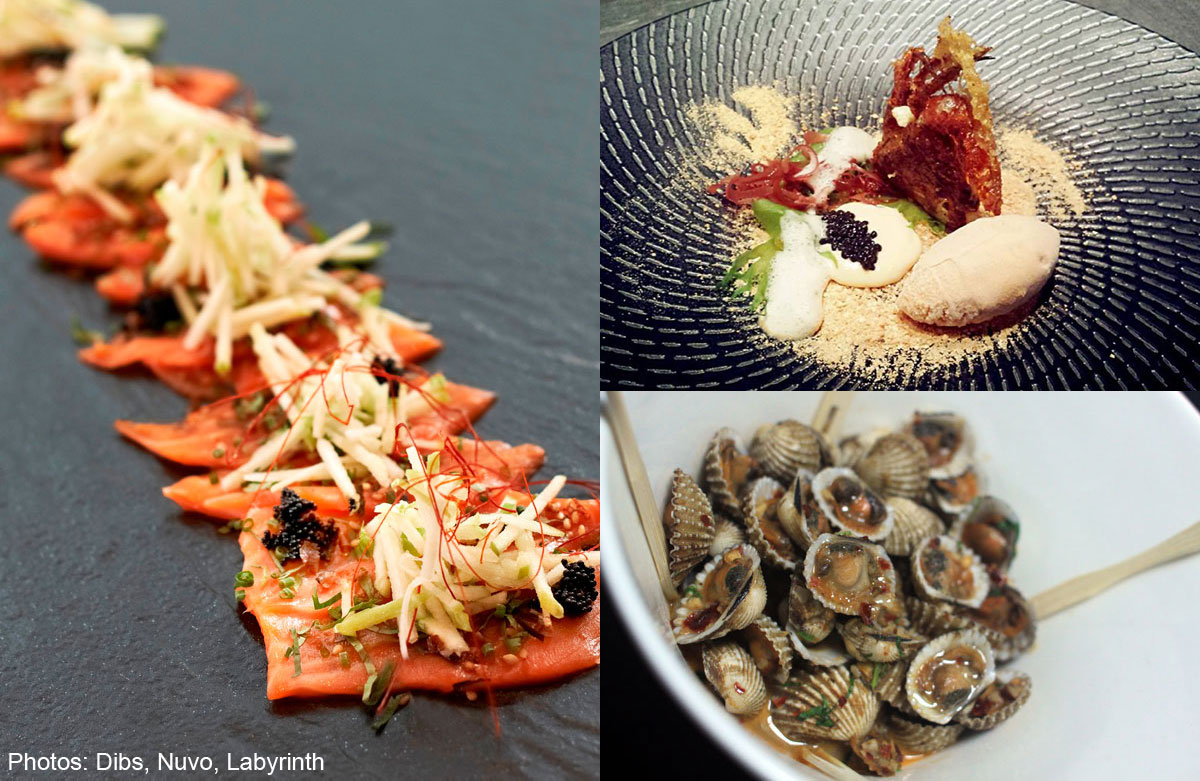 Mod Sin cuisine, European with Asian accents or - that dirty word - fusion? A new breed of young, local chefs are looking East rather than West in their mission to create category-defying, progressive cooking.
Labyrinth
5 Neil Road
Hours: 7pm-11pm (Tue-Sun)
6223 4098
It's been almost a decade since Willin Low first coined the term "Mod Sin" to describe his style of fusion cooking, and even the definition of the modern Singaporean, it seems, has been slowly evolving in that time. "The new modern Singaporean is highly globalised," says Han Li Guang. "He or she didn't just grow up on hawker food but on burgers and fries, too. He is more knowledgeable about food and has been to the top restaurants around the world. He's probably tried the bacon ice-cream at The Fat Duck, and is far more receptive to new ideas than the Singaporean diner of 10 years ago."
Mr Han should know - he's checked off all these boxes. The 28-year-old left his corporate banking job two years ago, and after a stint of eating around the world and apprenticing under Michelin-starred chefs, he's now head chef and owner of week-old modern experimental restaurant Labyrinth on Neil Road.
On his menu: avant-garde interpretations of Singaporean classics such as a piquant chilli crab ice cream served with soft shell crab and seaweed fronds on a bed of mantou sand, and siew yoke fan manifested as roasted pork belly on a bed of risotto cooked in ramen broth, and topped with pork scratchings and a sous vide quail egg.
The initial plan was to open a dessert bar, reveals Mr Han, an avid baker since his university days, "because I enjoy the technical, scientific approach that doing pastry requires". That idea soon morphed into a dining in the dark concept, which was eventually scrapped - though the goal to do familiar local flavours with a novel twist stuck.
Named for the "adventure through a gastronomical maze that we will lead you through", the menu at Labyrinth is, aptly, degustation-only. Dinners cost $78 for five courses and $118 for the eight-course option. Lunch, to be introduced in a month, will be priced at $35 and $45 for three and four courses respectively.
The open kitchen 14-seat counter concept (there's a regular table for six by the entrance for bigger groups), meanwhile, was borne out of a lack of staff, he readily admits, but the upside is that Mr Han's thoughtfully designed creations are best appreciated with direct explanation from the chef.
And that's when the fun kicks in. In line with what Mr Han calls "DNA cooking", or cooking based on cultural relevance that go beyond mere appearances, dishes are crafted with not just local ingredients but local eating rituals in mind.
A chendol xiaolongbao, for instance, contains grass jelly cubes and red bean and coconut spheres encased in a thin green pandan skin. You eat it by going through the traditional motion of first dipping it in a dish of gula melaka syrup, which you tip out of a vinegar bottle.
"Fusion is only confusion when it is not well thought out. A lot of restaurants out there are mere copycats. You have to first understand your ingredients to put them together in a reflective way," he says.
Rather than bank on pricey imported meats, Mr Han prefers to work with local produce, ones that he personally handpicks every morning from a local butcher and a chicken supplier in Shunfu market that his grandmother has been pastronising for the last three decades. "Sure, we can use Iberico pork from Spain but it tastes better in Spain - not after a 20-hour flight to Singapore," he explains.
Likewise his insistence on keeping to his category-defying East-West cooking rather than venture to make his mark in classical French or European cuisine.
"There's a need to differentiate myself. If I do European cuisine, I will be fighting with chefs who have European heritage and who have many more opportunities to be trained under the great classical cooking chefs," says Mr Han, who helped out in the kitchen when visiting chefs Mauro Colagreco and Tom Kerridge were in town. Sous chef Christopher Lim previously toiled at Les Amis and now-closed Mod Sin restaurant, Wok and Barrel.
"In this new media age, recipes are out there on the Internet, you can learn anything you want to. (Bo Innovation's) Alvin Leung is not a trained chef - maybe that's why his dishes are so unique."
However different in form, he's still shooting for comparisons with the local torch-bearers, at least in terms of calibre, he states candidly: "We've got big ambitions. We want to be right up there with Iggy's or Justin Quek one day."

Dibs
51 Duxton Road
Hours: 12-3pm,6pm-12am (Mon-Fri), 6pm-12am (Sat)
62233784
The most fail-proof way of running a restaurant these days seems to be: order in a chunk of premium wagyu, mindlessly toss it on the grill (how bad can good wagyu turn out?), slap a high mark-up on it, serve.
But then again, where's the fun in that?
That is why budding local chef Leong Khai Git, 29, and his team behind three-week-old restaurant Dibs on Duxton Road set themselves up to do just the opposite. Their aim: to present inexpensive, off-cuts of meat in unexpectedly delicious ways.
A platter of beef short ribs ($34) is cooked sous vide for 24-hours to accentuate its tender marbling; a slab of pork cheek ($28) is dusted with a panko crust and served on a bed of pea and horseradish puree.
If it all sounds a tad Fergus Henderson to you, it actually is. For Cordon Bleu-trained Mr Leong admits to being enamoured of the nose-to-tail cooking philosophy, though not quite taking it to the extreme as Mr Henderson's St John's restaurant does.
So while you won't find any lungs or intestines on the menu at Dibs, neither will you get prime sirloin or tenderloin. It's not all bottom-of-the-barrel picks, either: the short ribs are from Black Angus cattle while the cheeks are from black pigs (kurobuta).
But the best part of the menu at Dibs is how the Asian elements play out in subtle, creative ways, such as a drizzle of fish sauce or gula melaka in the salad dressing, or a chicken roll with ginger, burnt rice and cucmber ($25) that's like a modern take on chicken rice. A starter of "meat butter", or bone marrow ($15), is laced with teriyaki sauce and bonito flakes for that extra umami and the bowl of smokey cockles ($8) is adapted from the favourite beer snack of kopitiam uncles, but dressed up with bacon dashi and a lively kick of smoked chillis.
The benefits of running a small restaurant is that new dishes are always being tinkered with, and the menu will evolve gradually, says Mr Leong, who previously worked at Italian restaurant Gaia at the Goodwood Park Hotel and Quest, a molecular Asian restaurant in Abu Dhabi. His two other partners, Jonathan Wee and Lawrence Lim, work in the finance and start-up industries respectively.
The restaurant currently seats 40 on the first floor, while a soon-to-open lofty second floor is used as a private events space for now. The trio also hope to open a second concept when things stabilise, such as a winebar offering homemade charcuterie, says Mr Leong.
Nuvo
Marina Square, 6 Raffles Boulevard, #02-100
Hours: 11am to 11pm daily
6822 2098
He's youthful, brimming with brazen ideas, and most importantly - he's back. After a two-year hiatus as the head chef of modernist restaurant Keystone, which closed last year, Mark Richards has resurfaced on the local culinary radar. This time, he's heading things up at five-month-old Marina Square eatery, Nuvo, and his first task at hand: to give the menu a spiffy reboot.
Gone are the heavy pastas created by the restaurant's outgoing Japanese head chef, and in their place, lighter plates bearing mixed heritage - as though an Italian married a Japanese and bore local school-enrolled, Singlish-speaking children.
The Angel Hair Wakame ($18/24) is an Italian capellini sprinkled with Japanese seaweed and tossed in chilli oil like you would a bak chor mee. The Green tea Pan di Spagna ($12) is a matcha cake with the moist density of a nonya kueh, and is served topped with a comforting banana jam and a crumble of Hello Panda (yes, the chocolate biscuit you may still remember from your childhood). Likewise the Ricotta Cheesecake ($15), which bears a characteristically Japanese melt-in-your-mouth lightness and is served spiked with chocolate Pocky sticks.
"I've missed the kitchen - all the buzz and the noise in it. That was what drove my decision to return to the motherland," says the 38-year-old Eurasian chef, who spent his break consulting on restaurant projects in China, Mongolia and Russia. "Plus, I really liked the concept. Singaporeans are crazy about their Japanese food and their Italian food, so it's a no-brainer to come up with a menu that brings together both cuisines."
On his obsession with scientific cooking techniques - about 90 per cent of his dishes are sous vide, including the risotto - Mr Richards says it's something he picked up while working in Hawaii in 2003, and he hasn't looked back since. "It's a practical way of cooking, it gives a better, consistent result by eliminating human error, and you are giving more justice to the produce," he explains. "But at the end of the day, the base has to be in classical cooking, and then we evolve the food from there."
Fans of his bold, experimental strokes at Keystone, however, should be prepared to find a more restrained hand at Nuvo.
Instead of pureeing and dehydrating fresh squid into squid ink crackers as he would have done at Keystone, for example, they are deep-fried as crowd-pleasing calamari rings and served on a bed of rocket leaves with compressed watermelon. "As a mall restaurant, our food has to be easily relatable to everyone. I don't want to scare the aunties and uncles away," he laughs.
Still, to please the most ardent of his followers, Mr Richards can design degustation menus for 10 diners and above with a fortnight's notice. The 150-seater restaurant's cocktail lounge will double as a swish private dining area after its refurbishment later this month.
debyong@sph.com.sg

Get The Business Times for more stories.