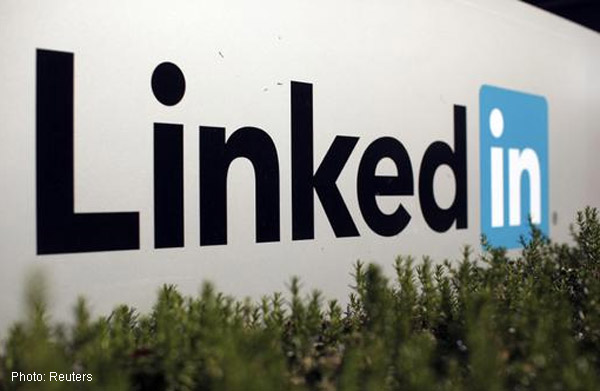 BEIJING - After taking a social media drubbing in the West for accepting self-censorship in China, jobs networking site LinkedIn Corp faces bigger obstacles to growth in a market it is counting on - local rivals and a unique workforce mindset.
LinkedIn is intent on making the kind of breakthrough in China that eluded Internet giants like Google Inc, Yahoo Inc and Amazon.com Inc. To do that, beyond coping with censorship, it must match big domestic players, already tuned into a generation of self-styled Internet"losers" with their own, irreverent take on corporate culture.
Earlier this month, the West's most popular online career network censored posts from users in China marking 25 years since Beijing's crackdown on pro-democracy activists in Tiananmen Square. If that earned LinkedIn scorn on Western social media, it passed largely unnoticed within mainland China, and Wall Street investors were unmoved.
"The LinkedIn mission is to connect all the world's professionals, and the country with the most professionals in the world is China," Reid Hoffman, the co-founder of the firm based in Mountain View, California, said at a Shanghai presentation last month. Established local peers like Dajie, Wealink and Tianji - with over 60 million members between them - stand in the way.
The stakes are high for LinkedIn, which launched in China in February saying it would co-operate with the censorship climate that global social media sites like Facebook Inc and Twitter Inc have shunned.
The company said then a localised site would help it reach 140 million professionals in the world's second-biggest economy - a boon for a company seeking to expand its current audience of 277 million members as it saturates developed markets.
Some 10 years after it was founded as a site to connect jobseekers with recruiters, LinkedIn's net income rose by a quarter last year to US$26.8 million (S$33.53 million). A year earlier, it nearly doubled.
The newcomer's strategy for China appears deceptively simple - to offer Chinese-speakers professional networking on a global scale in their own language. It's a strategy viewed with scepticism by rivals - and by some of LinkedIn's own existing members among China's skilled workforce, fluent in English and already accessing the site for contacts with the rest of the world.
"I don't see any necessity for the switch from English to a Chinese version because 99 per cent of Chinese users of LinkedIn are very high level and English language is not a problem to them," said Xia, who works in public relations and has used LinkedIn for four years. Xia declined to give his full name, citing censorship sensitivities.
Asked to comment on prospects and local competition in China for this story, LinkedIn said it was focused on localising its site for Chinese professionals and connecting them with other professionals around the globe.
NETWORKING 'LOSERS'
Localising effectively is a gambit that attempts to do what Google and others could not. "We're currently trying hard to break the spell of international Internet firms struggling in China," Derek Shen, LinkedIn China's president, said at last month's Shanghai event.
LinkedIn has added 1 million users since its high-profile launch of Chinese-language operations and now has more than five million members on its China site.
That leaves it a long way behind still-growing local professional networking sites such as Dajie (27 million members), Wealink (20 million members) and Tianji (14 million), as well as jobs boards like 51job Inc and Zhaopin. In the same period as LinkedIn grew by 1 million users, Dajie said it had added 2 million.
Domestic competitors like Dajie agree localisation is crucial. But they are unsure if the company's Western image will appeal to China's Internet-friendly workforce, many of whom proudly refer to themselves "diaosi", or "losers" - an expression of a more detached attitude to work and careers than is usually made public by ambitious professionals in the West.
"Really, Dajie's and LinkedIn's models are similar, but there are very big differences in the actual products and operations," said Susan Wang, Dajie's chief executive, in an e-mail to Reuters.
"Dajie works to satisfy the needs of the post-80s and post-90s 'loser' generation of users, and pays more attention to the freshness of the product, and the need to feel lively," Wang said. "LinkedIn tends more towards satisfying users who are in the more cautious traditional European and American business systems, a logical social networking attitude, focusing on coldly benefiting users' careers to drive the site."
On top of professional networking, Dajie differentiates itself by letting users publish commentaries on companies, make fun of their workplace, evaluate their employers and "fool around", said Wang.
LinkedIn may not yet be doing enough to connect with the professional Chinese audience it is targeting, according to Wang Xiaofeng, a Beijing-based analyst with Forrester Research. "When they entered China officially they used a Chinese name, 'Lingying', and used a Chinese version of the website, but there's still not much Chinese content available," she said.
Wang said LinkedIn still has a lot of potential in China, but the key will be offering more Chinese content and industry-specific networking for professionals, something it has so far failed to do.
GOOGLE LESSON
Censorship remains an area to be negotiated with care. China's demands on Internet firms wanting to do business there have seen off, or damaged the reputations of two of Silicon Valley's big hitters, Google and Yahoo.
Like LinkedIn, Google agreed to censorship when it launched its China search site in 2006. But its fortunes quickly waned after a 2010 dispute with the government on self-censoring search results. It decamped to Hong Kong and by May this year Google had less than 1 per cent of China's search engine market, according to Beijing-based data firm CNZZ.
Yahoo suffered damage to its reputation and share price at home after it was revealed the company had handed over a Chinese dissident's e-mail details to Beijing in 2004. "While technologically and financially you are giants, morally you are pygmies," the then-chairman of the House Foreign Affairs Committee, Tom Lantos, told Yahoo executives in a Washington hearing in 2007. Yahoo's share price fell 10 per cent in the week following the hearing, after having already lost 13 per cent of its value the preceding week.
Back in China, views on how censorship might affect LinkedIn's prospects reflect the way members of jobs networks use the sites. "I don't know if there are people posting some sensitive content on LinkedIn and I don't see why," said LinkedIn member Xia. "For me, it is only a platform to find a better job. I never read other things on it."