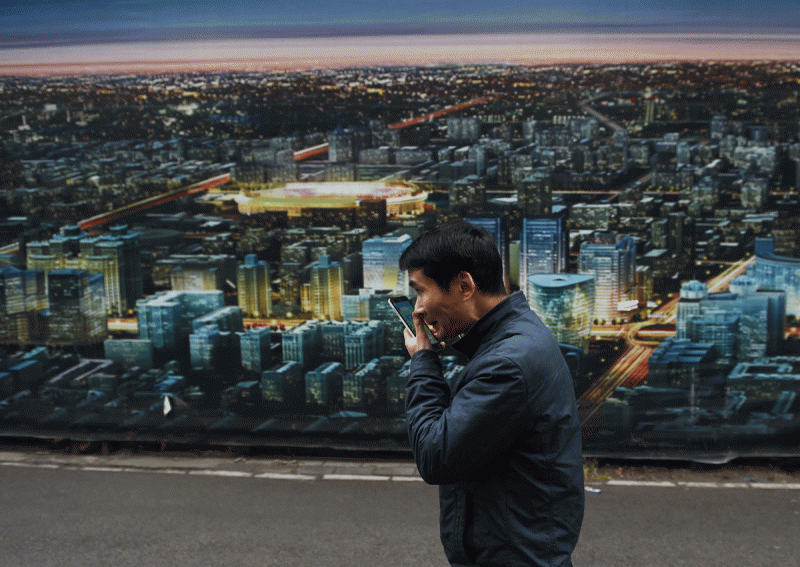 SHANGHAI - Chinese markets were flat on Tuesday as data confirmed the Asian giant expanded at the slowest pace in nearly seven years last quarter, underlining the uphill task Beijing faces in stabilising activity while reforming its economy.
There was fleeting relief that the reported growth of 6.8 percent at least matched forecasts, even if it was down a tick from the previous quarter.
Yet growth of 6.9 percent for 2015 as a whole was still the slowest in a quarter of a century, while monthly readings on industrial output and retail sales missed expectations.
Output rose 5.9 percent compared with December 2014, while sales growth confounded analysts by edging back to 11.1 percent. The latter disappointed those counting on the consumer to be the engine of growth while world trade remains becalmed. "I want to caution that China is in a debt, deflation-led economic slowdown, and the process is very difficult for traditional monetary and fiscal policy to change the trend of the growth path - that is continued slowdown in the coming years," said Liu Li Gang, an economist at ANZ in Hong Kong.
Offshore investors were clearly unimpressed and took to selling the Australian dollar as a liquid proxy for expressing bearishness on China.
Asian equity markets were mostly in the red while safe havens such as the Japanese yen found favour.
China's own stock markets barely budged on the news, but are notorious for sudden swings in sentiment often late in the trading day.
The Shanghai Composite Index was up 0.2 percent in midmorning trade, while the CSI300 index of the largest listed companies in Shanghai and Shenzhen was all but flat.
The People's Bank of China (PBOC) did its bit to try to calm nerves by keeping the yuan largely steady, setting the currency's midpoint fix at 6.5596 per dollar.
That followed news of plans requiring overseas banks to hold a certain level of yuan in reserves, a move that could raise the cost of wagering on further falls in the currency.
The spot yuan was at 6.5793, little changed from Monday's close, but offshore it weakened more than 100 pips during the morning to 6.5975, nearly 0.3 percent adrift from the onshore rate.
Confusion over China's currency policy and its commitment to reforms has sparked mayhem in financial markets in recent weeks, as the PBOC allowed the yuan to fall sharply in early January then switched to aggressive intervention to steady it.
Likewise, concerns have mounted that the economy's troubles might be beyond Beijing's ability to fix.
Markets have long harboured doubts about the veracity of China's growth data, given their habit of closely matching official forecasts year after year despite wildly changing circumstances at home and globally.
Investors used to comfort themselves with the assumption that the authorities, while often inscrutable, were competent managers who could be trusted to ultimately guide the economy to a more consumer-driven model.
That trust has been challenged by perceived policy missteps over the yuan and stock markets, giving weight to a voluble clique of China bears who claim high debt levels and massive overcapacity are bound to end in tears.
Even relative optimists are worried. "A recent trip back to China suggests the economy remains in a rather bad shape. Public confidence and expectations are very low," says Wei Li, China and Asia economist at Commonwealth Bank of Australia.
"Faced with rising non-performing loans, banks are cutting credit lines despite policymakers' calling for more support. New credits are mainly used to repay existing debts, rather than flowing into new investment projects."