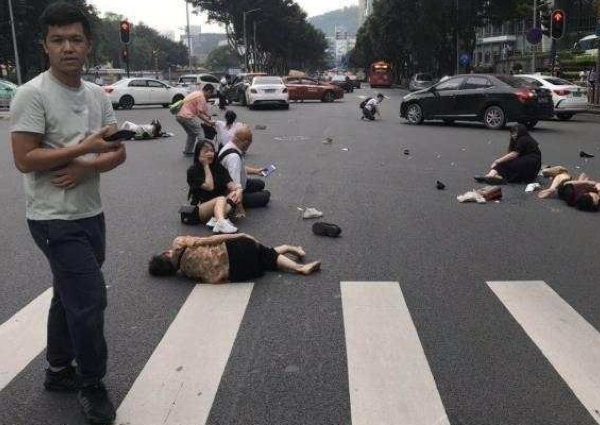 A Hong Kong senior government press officer was among at least 13 people injured when a car ploughed into pedestrians in the southern Chinese city of Guangzhou on Tuesday morning.
The car pulled away at a red light in Tianhe district at about 8.50am and drove through a pedestrian crossing, hitting a number of people who included Raymond Wong Wai-keung, principal information officer of the Hong Kong Economic and Trade Office in Guangdong. The car then collided with two other cars.
Wong was among those taken to hospital, two of whom the Guangzhou police bureau described as being in critical condition.
Police said they had detained the driver, a 45-year-old woman surnamed Ding, and later posted an update on Weibo, China's equivalent of Twitter, saying tests had shown Ding was sober.
The update said Ding had told the police the incident happened when she retrieved her water bottle from the back seat while waiting for the lights to change, but the car was still in "drive" mode.
News outlet Beijing Times published a photograph showing a woman stepping from the car after the incident wearing a pair of platform shoes.
The crash took place at the crossroads of Linhe Middle Road and Linle Road, near Citic Plaza where the Hong Kong Economic and Trade Office is located.
Wong said: "A lot of people were crossing the road together. A car stopped in front of the zebra crossing, then suddenly plunged into the pedestrians."
He said he had sustained minor hand and leg injuries, and after being treated at the Third Affiliated Hospital of Sun Yat-sen University was heading to the police station to help the investigation.
A witness who told The Beijing News she had telephoned for ambulances said: "A girl was dragged by the car for a few metres, and an elderly person was knocked down along with many others."
This article was first published in South China Morning Post.