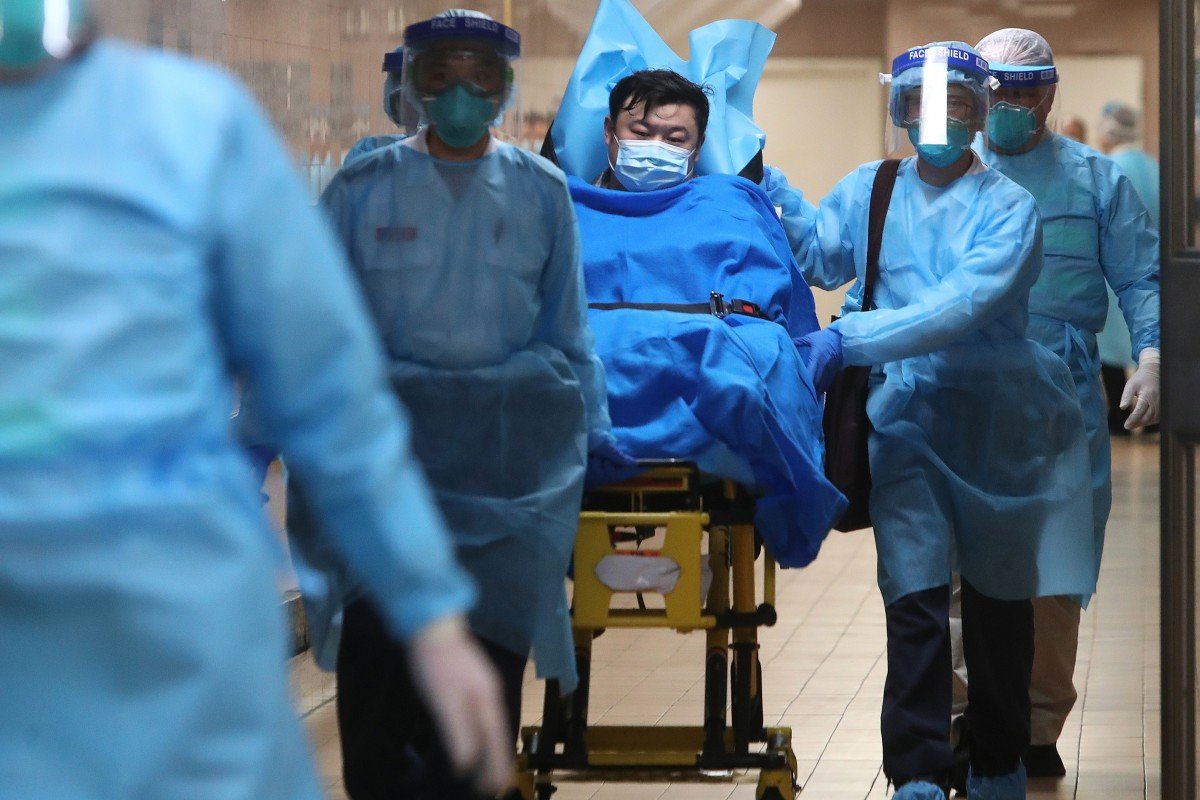 Hong Kong reported its first two cases of coronavirus infection on Wednesday, as mainland China's death toll from the virus almost doubled in one day.
Authorities were also scrambling to track down four family members of one of the patients in Hong Kong, who had continued their journey to the Philippine capital, Manila.
A mainland Chinese tourist, 39, who arrived at the high-speed railway station in West Kowloon on Tuesday returned positive test results at Queen Elizabeth Hospital, while a source told the Post a 56-year-old man who had visited Wuhan - the city at the epicentre of the outbreak - also came back positive in an initial test at Prince of Wales Hospital. Both were moved to Princess Margaret Hospital, where the Hospital Authority Infectious Disease Centre is located.
As the city ramped up preparations to ward off possible contagion, health authorities in mainland China rolled out strict quarantine measures to try and choke the spread of the Wuhan coronavirus which had claimed at least 17 lives, as of 8pm.
Nine people had been reported dead from the virus on Wednesday morning. Official reports at 11pm said all the fatalities were in Hubei province and that there were a total of 541 confirmed cases.
The man in the first case is a resident of Wuhan and was found to be suffering from a fever on his arrival at the rail terminus in West Kowloon.
Sources told the Post the man had undergone two tests that confirmed the infection, while the result of a third test involving gene sequencing was still pending.
Secretary for Health Sophia Chan Siu-chee described it as a "highly suspected case" of the new virus with another test result due out on Thursday morning.
Chan said the man had first boarded high-speed train G1015 from Wuhan to Shenzhen North, then taken train G5607 to West Kowloon.
He sat in seat 10D in carriage three for the first leg of his journey, then in seat 2D in carriage two for the second part to Hong Kong.
The MTR said the affected train had already left West Kowloon station before it was notified by Hong Kong's port health officers, but that it had immediately notified relevant units on the mainland to clean and disinfect the seat and carriage where the man sat, as well as spaces nearby.
While he was stopped by port health officials because he was showing signs of a fever, his wife, two sons and mother-in-law, showing no symptoms, were all allowed through.
Chan said they stayed in the Empire Hotel Kowloon in Tsim Sha Tsui before taking Cebu Pacific flight 5J111 to Manila on Wednesday morning.
A hotline has been set up by the health authorities to trace passengers who were on the same trains as the patient.
The Director of Health Dr Constance Chan Hon-yee said people in close contact with the patient would be sent to quarantine camps.
"Generally speaking, [those sitting] in the same row, and the two rows in front and behind will be regarded as in close contact," she said.
She added that those who had sat further away would be advised to monitor their own health and seek medical attention if they experienced symptoms.
Television footage showed both men, wearing masks, being transferred to Princess Margaret Hospital on stretchers pushed by several healthcare workers in full protective gear.
Another source said the second man, from Hong Kong, went to Wuhan on January 10 and returned on January 19, when he visited Prince of Wales Hospital claiming to be unwell. Hospital staff did not find any symptoms of fever or pneumonia.
He returned to the same hospital two days later, when hospital staff identified some shadows in a lung X-ray. The man was sent to an isolation ward and tested positive to the new coronavirus in an initial test.
Earlier on Wednesday, health chief Chan had said two public holiday campsites managed by the Leisure and Cultural Services Department could be ready within hours for quarantine in case of a local outbreak. She named Lei Yue Mun Park and Holiday Village as one of them.
The department confirmed in a reply to the Post that Lady MacLehose Holiday Village had also been suspended for recreational use since Wednesday.
"Once we have confirmed a case in Hong Kong, the Centre of Health Protection will first of all identify their close contacts and put them under medical surveillance," Chan said.
"All those close contacts will be isolated in the holiday camps."
A member of staff from the health department told the Post that a three-person team, comprising two nurses and a doctor, would be sent to the camps once the health department confirmed they were up and running.
"Some of us have been asked to be on duty during the Lunar New Year holidays and will take shifts every two days, until the crisis ends," the source said. "We will stay alert but we should be fine with the protective gear.
"I will not be able to spend some of my new year holidays with my family and might have to isolate myself when I get out of the camp, but you cannot say no to your job duties," she added.
Medical schools at Chinese University and University of Hong Kong suspended classes at all hospitals until further notice.
Secretary for Education Kevin Yeung Yun-hung on Wednesday said the bureau had discussed the option of suspending classes in wake of the new coronavirus outbreak, but he said the decision had to be based on the actual situation and professional advice of health experts.
Macau also confirmed its first case of the virus on Wednesday, when a 52-year-old businesswoman from Wuhan, tested positive after visiting a local hospital.
She had arrived in the casino hub on Sunday and been suffering from a cough and sore throat for about a week.
Her case exposed the screening challenges faced by the authorities as she had entered the city without the virus being detected because she was not suffering from a fever at the time.
Dr Lei Chin-ion, director of Macau's Health Bureau said: "According to information from the National Health Commission, there could be fluctuations to the symptoms, meaning the infected person may not always have a fever."
Lei said tests on the patient returned positive on Tuesday.
"She has not suffered any shortness of breath and has only started to have a fever," Lei said.
"Two other friends who accompanied her to Macau have been quarantined and placed under medical surveillance."
The woman spent most of her time in the casino at the New Orient Landmark Hotel during her stay from Monday to Tuesday. A spokeswoman said the hotel and its casinos remained open but made no further comment.
This article was first published in the South China Morning Post.