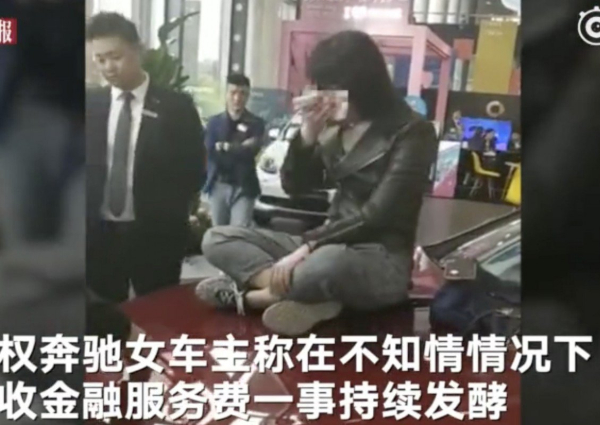 A Chinese car dealer targeted in a public protest by an unhappy customer in April was fined a total of 1 million yuan (S$199,000) for selling faulty vehicles, the Xian News portal reported on Monday.
A customer of Shaanxi-based Xian Lizhixing Automobile staged a showroom protest after she claimed that the engine of the brand-new Mercedes-Benz she bought for 660,000 yuan leaked oil from the moment she first drove it.
The video of the woman, surnamed Wang, registered more than 200 million views on social media and triggered a public debate over consumer rights.
"I'm an educated person, with a master's degree," a tearful Wang said as she sat on a car bonnet. "This incident is humiliating. I now know I should not have tried to bargain with them.
"I wouldn't be doing something shameful like this if I thought we could still discuss this reasonably."
After two weeks of negotiations with the dealer, Wang was promised a replacement car, a decade of VIP service and a refund for the 15,000 yuan charged by the dealer in "financial service fees".
Mercedes-Benz said in April that it had suspended the showroom's licence and had begun investigating the dealership.
The fine was the result of a separate investigation by the Xian Hi-Tech District Market Supervision Bureau, which found that Xian Lizhixing Automobile did not abide by safety regulations and twice misled consumers about its products.
The market investigation found that Wang's car was damaged on the assembly line, causing an oil leak from the right side of the engine.
On Monday, investigators said Xian Lizhixing Automobile misled customers into paying for their cars using low-interest loans with "financial service fees" on top.
This article was first published in South China Morning Post.