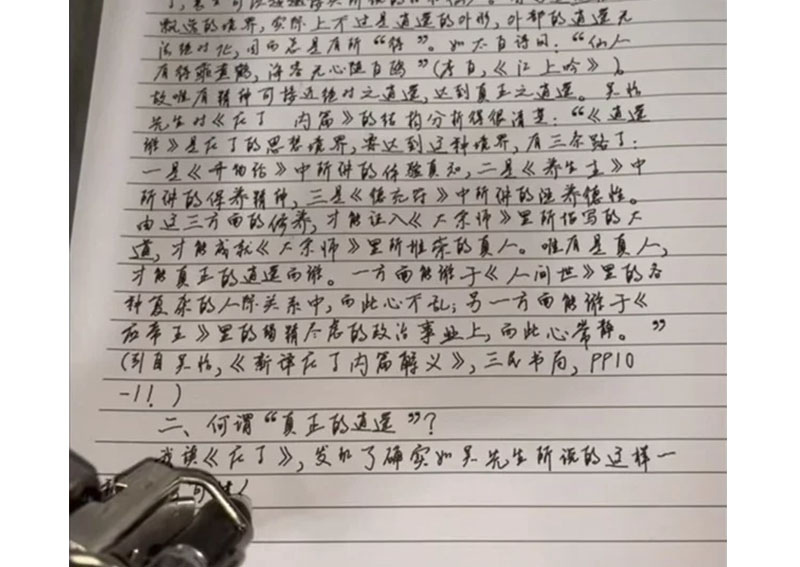 A case of a schoolgirl in China buying a so-called copying robot to write her homework has caused many social media users to leap to her defence and fuelled growing interest in the machines.
It was reported last week by Qianjiang Evening News, in the eastern city of Hangzhou, that a woman surnamed Zhang in the northeast city of Harbin had discovered that her daughter, aged about 15, had bought the robot to help her complete homework during the Lunar New Year holiday.
She used it for exercises such as copying passages from a textbook and writing essays.
Despite festivities and travelling leaving little time for the assignments, Zhang was amazed when her daughter finished all her text-copying in two days, with neat writing, the report said.
But while cleaning the girl's room, Zhang found the device - a metal frame and pen, with packaging claiming it could "imitate all sorts of handwriting".
It turned out that her daughter had spent more than 800 yuan (about S$160) to buy it online using her lai see - the packet of money given during the new year for luck. Angered by a demonstration she watched on how the robot could copy homework, Zhang smashed the appliance.
"It can help you with homework, but can it help you on tests?" Zhang was quoted as saying.
Requiring children to copy text - such as vocabulary, textbook passages or poems - hundreds of times is common practice in Chinese schools.
However, most of the comments on the newspaper report's social media posts enthused about the robot. Some said they wished they had owned such an item when they were younger, while others compared the girl's short cut to their own, including tieing three or four pens in a row so they could write multiple words at once.
The South China Morning Post searched for "copying robot" on e-commerce platform Taobao and found numerous entries, with prices varying from 200 to more than 1,000 yuan. One specialist robot shop, named LichTech, featured a video explaining how its robot works.
LichTech has reported an increase in inquiries about its products. ​
Photo: Taobao
It has a metal frame to hold paper, with an arm to which a pen can be attached. Attached to a computer by a USB cable, its robotic arm writes text entered using the accompanying software.
here is a variety of fonts to choose from and it even allows the user to create their own handwriting, by using an app to write 6,000 Chinese characters once each to enable the robot to learn them.
A shop assistant surnamed Wang said the company had been operating for three years but had a surge of inquiries recently. "The robot can write for eight hours a day and last for two or three years," she said.
The Post joined a LichTech chat group in the instant messaging service QQ and found it had more than 800 members, most of whom had become interested in the robot after reading the news report.
One, with the online alias Rain, said in the group that she was a teacher and had been using the machine for over a year to write lesson preparations. She said she had spent a week writing the 6,000 Chinese characters to create her own font, and said nobody could tell the difference between what the robot wrote and her own work.
Interest in the machine has included soul-searching about the necessity of such homework assignments. Many felt that criticism of either school pupils or the companies offering such products would be unwarranted.
READ ALSO: Here's why this teacher asks primary school students to count 100 million grains of rice
The topic on Weibo, China's equivalent of Twitter, had been read over 13 million times by Tuesday, with more than 3,000 posts.
Some argued that the girl should no longer be made to copy texts at her age, while one called for education reform allowing teachers to set challenging and creative homework rather than boring the pupils and adding to their burdens.
Another asked: "Sometimes educators need to reflect on this issue, why is it we still need to do a task that can be completed by a robot?"
This article was first published in South China Morning Post.