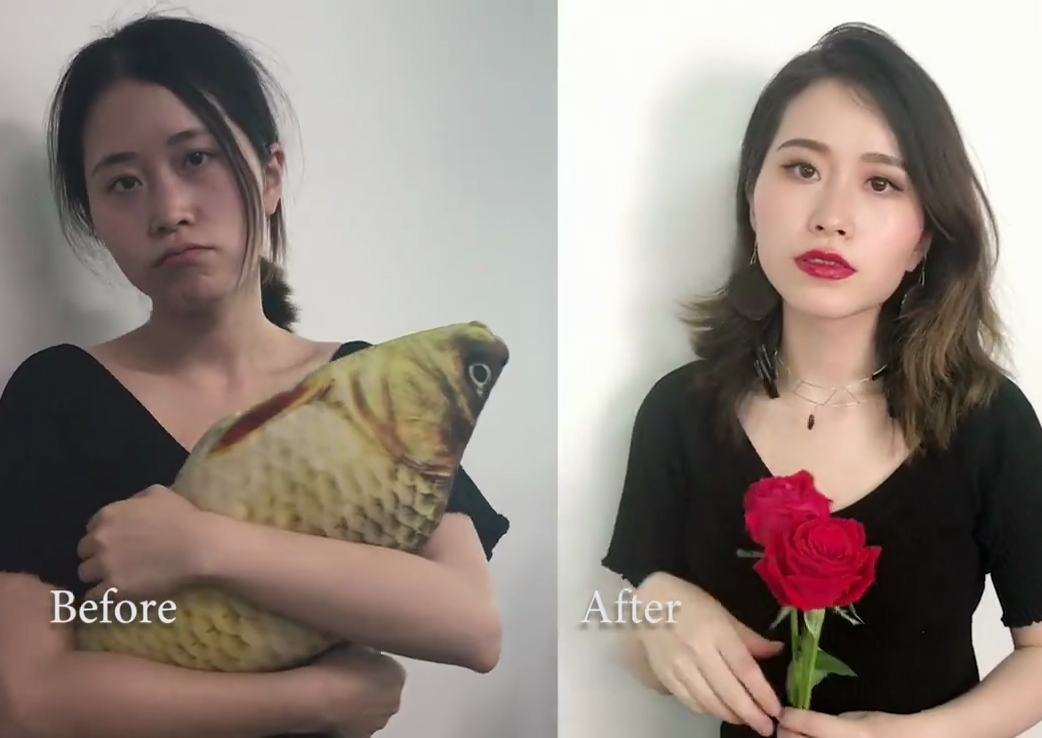 Food plays a multifaceted role in our lives: We need it to survive, we socialise with others over it, and we turn to it to cheer ourselves up. The ubiquitousness of food is nothing to sniff at.
Adding on to the wide range of roles food plays in our lives, YouTuber Ms Yeah has discovered how to use food as makeup. Yes, makeup, as in cosmetic products used to enhance or alter the appearance of the body, which are commonly applied to the face, as per Wikipedia definition.
DIY is the name of the game for Ms Yeah, who is famous for cooking elaborate dishes with everyday office supplies - think building an oven with an office cabinet and a lightbulb. 
However, with her latest video, she's taken DIY up a whole notch.
When Ms Yeah is informed that she has been invited to the fictional 'Super Web Celebrity Festival' by Weibo, with an hour to spare before she has to head out, she decides to get ready by putting on a facial mask. That's where the normalcy stops and everything spirals beyond our wildest imagination.
Facial mask now snugly fitted on her face, Ms Yeah then goes around the office asking colleagues for food, nicking snacks from neighbouring tables and fruits from the fridge.
At the end of her scavenger hunt, she finds herself with an assortment of food, including Skittles, marshmallows, coffee and cocoa powder and impressively, a dragonfruit.
Here's how she applies a full face of food makeup.
1) Foundation and concealer
By mixing some glutinous rice flour with cocoa powder, and adding some water and sesame oil, Ms Yeah makes herself a thick concealer that she then dabs onto her face.
Using a marshmallow in place of a powder sponge, she then applies some glutinous rice flour as foundation.
2) Eyebrows
Without an eyebrow pencil, Ms Yeah makes do by plucking a feather off the office chicken's tail to act as a brush. With coffee powder, she then draws eyebrows that are surprisingly "on point".
3) Contouring
Apparently, the secret to good contours is cocoa powder.
4) Eyeshadow and eyeliner
With rice flour, cocoa powder and Skittles, Ms Yeah builds herself a food-based eyeshadow palette, while eyeliner takes the form of a black pen on her desk.
5) Fake eyelashes
In possibly the strangest turn of events in the video, Ms Yeah snips some hair off her napping colleague and somehow shapes it into a pair of fake eyelashes, which she then curls with a paper binder and glues on her lids.
I'm not entirely sure I'd want my colleague's hair on my eyelids, but whatever floats Ms Yeah's boat, I guess.
6) Lipstick and blush
Chilli sauce is first used to spice up her look, before she combines ketchup and waxberry juice as a makeshift lipstick. Sweet!
Makeup now done, Ms Yeah then shows off more of her improvisation tricks by making a pair of Oreo dangle earrings and a wire-hanger necklace.
Like us, netizens were impressed with Ms Yeah's DIY skills, with many praising her creativity.
Some viewers also raised safety concerns over her using a pen as eyeliner, even if it was only for a short while. (Public Service Announcement: Don't use a pen as eyeliner.)
Others asked the question that's on all of our minds.
Meanwhile, I'm going to stick with my makeup kit for now, thank you very much. Not because it takes too much time to make my own makeup from raw ingredients, but because there aren't any chickens around my office.
pariel@sph.com.sg