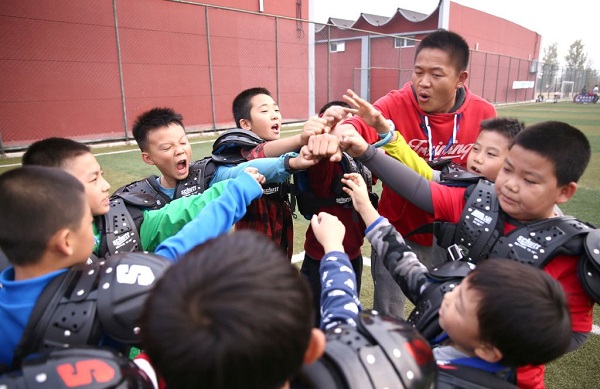 When the temperature rises during China's sweltering summers, few men consider using a parasol or sunscreen, arguing that's something only women-and niang, or "sissies"-do.
Chinese males have long been ashamed to display such delicateness, and looking rough around the edges is a sign of masculinity for many young men struggling to attain maturity, as shown by the beer bellies and shining foreheads flaunted by some middle-aged men at the slightest hint that winter is over.
Many of them would regard Luo Zhiqiang as a traitor to his gender. The 23-year-old marketing professional speaks in a soft, high voice, and has double-fold eyelids and fair skin. He buys grooming products such as SK-II, an expensive skin care brand, and likes to post selfies showing him with a shy smile on his lips. Even in the eyes of many women, Luo is not masculine.
"He'd rather not eat than stop caring for his skin," said Pan Yixuan, a female friend who has known Luo since college. In response, Luo laughed and said the comment was an exaggeration, but conceded that he likes to look neat and takes good care of his appearance.
His many pairs of shoes are all kept in mint condition, which doesn't fit his mother's expectations of what a man should be. She keeps telling him he doesn't need so many clothes, and that just a few shirts and pairs of pants would be enough.
In China, young men such as Luo face pressure to "man-up", both at home and from wider society, and the use of the word niang is intended to humiliate them.
Boys shout slogans to boost their morale before a football match.Photo: China Daily/Asia News Network
SCHOOL SHOW
A recent debate about niang was triggered by a programme on Central China Television on Sept 1, the first day of the school year. The show has been aired annually since 2008, and this year the government urged parents to ensure their children watched it.
The show invited young male stars, such as singers and boy bands who are popular with adolescents, to perform. With their delicate features and elegant makeup, the performers sparked a nationwide debate about whether it was appropriate for the State broadcaster to show these "effeminate celebrities", as some parents expressed it in complaints to CCTV. Many were worried that the stars' almost feminine looks set a bad example for boys, many of whom are considered too "girllike" as a result of being raised in line with popular culture.
Luo is shocked that niang is used as a public insult and the idea that "sissy teenagers will lead to a sissy country", as some viewers commented.
"In some ways, society sets very low standards for men. It's enough to just appear masculine on the surface while nothing is asked about character, such as having a sense of responsibility. I think that is a problem," he said.
Younger women are likely to appreciate Luo's view. They are challenging the traditional Chinese image of masculinity, accusing it of making men self-centred and lacking in empathy. In addition, they say it causes "straight man cancer", a phrase used by young Chinese to describe this apparent indifference to sensitivity.
With their growing financial independence, many Chinese women are showing a preference for effeminate showbiz idols, who are known as xiaoxianrou-literally "little fresh meat"-and are praised for being thoughtful, polite and hardworking. These men are viewed in a more positive light than niang, even though they share many of the same traits.
An, a single 35-year-old white-collar worker who preferred not to give her full name, wants to marry a niang. Eight years ago she posted a message on Douban, a social media platform, seeking a boyfriend with a feminine nature: "I definitely want to date a feminine man."
Although she is still looking, she maintains that view, and praised the gentleness, patience and neatness of niang. "They are the exact opposite type of my father," she said, adding that she decided in early adolescence to marry someone "more feminine" than her father, who was impatient and bad tempered.
She doesn't care much for the xiaoxianrou she sees on TV and movie screens, because she thinks their image is manufactured to cater for fans. However, she feels sorry for them because their feminine beauty is damaged by masculine clothing, such as business suits. "The problem is that they dress in a masculine way, and the lack of femininity doesn't suit them," she said.
'REAL MEN'
Tang Haiyan, founder of a boy's club in Beijing, conceded that to some extent the popularity of xiaoxianrou reflects the qualities many young women look for in partners.
In 2012, in response to what he saw as the growing feminization of Chinese boys, the 39-year-old founded Nanzihan Xunlianying, whose name translates as "Man-up training club", to nurture "real men".
Before that, he spent nine years as a football coach at a middle school in Beijing. During his successful tenure his teenage team won the national championships twice. The team also represented China against opponents from overseas in the National Flag League in 2004 and 2007, although it lost on both occasions.
Tang was perplexed by the defeats, and it took a little time before he could identify the reason. However, when he travelled to the United States in 2006, he noticed that the children were far more physically robust than their Chinese peers, which gave him an insight into his team's performance.
"We lost not because of our skill but our spirit," he concluded. "While the American kids had already got up off the ground, our children were still crying about being hurt."
As a result he resigned his coach's post to dedicate himself to "saving" the "fragile, spoiled boys" he believes are the product of China's exam-dominated education system and excessive attention by mothers, grandmothers and female teachers.
"They are nurturing good girls, not good boys," he said.
A crying boy is comforted by a friend and a coach at the club.Photo: China Daily/Asia News Network
During a question-and-answer session on the club's website, some parents expressed concern about their sons getting into fights. The club's response was, "We should be relieved boys still fight as it shows they are normal."
For Tang, it is important that boys exercise outdoors to release their true nature. Every Sunday, his "hard battle" class is packed with military drills and other elements based on those used at West Point, the US Military Academy.
On Sept 9, Tang's first class this year featured 21 boys ages 6 to 10. In the morning, the boys-wearing red or blue headbands with the character for "man" printed in the centre to signify that only "real male behaviour" is permitted-lined up in two teams. They marched, saluted, stood at attention and shouted military slogans. In the afternoon, they threw footballs around.
Tang's advertisement sets out the club's stall by stating that only boys ages 5 to 12 are eligible to join, and that all the teachers are male. He said the club works best for this age group because it drills "femininity" out of the youngsters.
While some of the boys are unenthusiastic about the drills-"I hope the teachers will not be so hard on us this week, I always try my best," said 8-year-old Liu Jinghong recently-the parents seem happy that their boys are being molded into "men".
"The club instills the spirit to fight for honour," said one mother, who blamed smartphones and TV for spoiling boys and making them "soft".
Club membership costs approximately 10,000 yuan ($1,984) for about 18 classes, and Tang has hired a retired soldier from the Combined Honor Guard of the People's Liberation Army who helps to train the boys and acts as a role model. More than 20,000 boys have joined the club so far.
ISOLATION
While parents send their sons to Tang's club for a variety of reasons, some are definitely worried that their boy may be too effeminate, he said.
For many parents, "feminine men", slightly older than Tang's charges, offer a cautionary tale, because as teenagers these men shared similar experiences of being teased and ostracized by male classmates.
For example, Huang Shuyi's speech and mannerisms were mimicked in an exaggerated way by other students because he had a quiet voice and was introverted. The 26-year-old is now happily employed in the financial industry, but he remembers how helpless and isolated he felt as a teenager.
A coach shows a boy how to use a punch pad.Photo: China Daily/Asia News Network
"Back then, you weren't deemed to be a man if you didn't use dirty words," he said, recalling how he became extremely sensitive to any comment about his personality and sought to change other people's perceptions by spending more time with male friends while keeping female friends at arm's length.
Similarly, Zhao Xiang, who works in online education, was mocked in middle school for his "pretty" appearance and quiet voice. Now, the 26-year-old's appearance and mannerisms do not prompt adverse comments from colleagues or younger people. "The world should be diverse," he said.
Both men realise that while middle and high school students often single out those they perceive to be different, people become more accepting as they grow older.
Zhao is happy with who he is. He said he is always respectful to other people and hopes they will reciprocate.
"A person's character shouldn't always be associated with just one gender," he said.
According to Luo, the export industry worker, his family has never forced him to conform to other people's ideas of masculinity. "They joke about my 'girl-like' behaviour, but in a good-hearted way. Above all, they love me," he said.