Hong Kong's Consumer Council has a message for residents considering buying one of the portable air purifiers so many have taken to wearing around their necks during the Covid-19 pandemic: "Don't waste your money".
The portable purifiers provided only limited help in removing bacteria and pollutants, and should not be treated as health amulets, the watchdog warned on Tuesday.
The council tested 10 wearable negative ion air purifiers in a tiny, confined space and found the overall performance disappointing, with bacteria removal rates of about 70 to 80 per cent, even after an hour of operation.
The council's chief executive, Gilly Wong Fung-han, noted those results – and those from manufacturers – were mostly obtained in a small testing space that did not reflect the day-to-day reality experienced by consumers.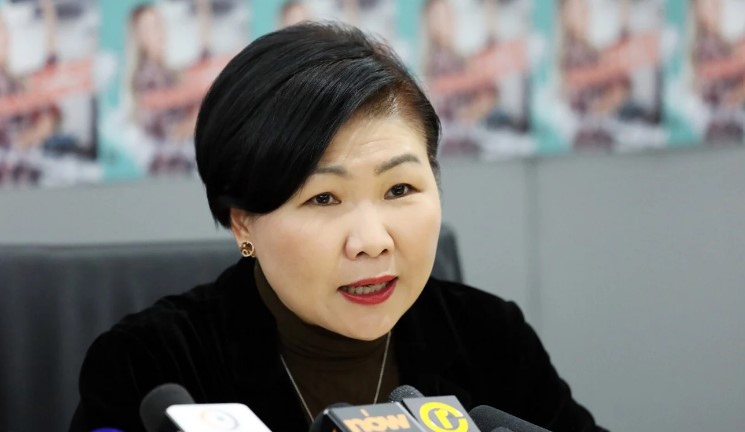 Gilly Wong, chief executive of Hong Kong's Consumer Council, has sad news for city residents who believe portable air purifiers are keeping them safe amid the pandemic.  PHOTO: Nora Tam
Wong said even if the negative ions generated by the devices could make pollutants negatively charged and adhere to other nearby particles or bacteria, thereby sinking as they got heavier, the air particles, which were very small and light, could float right back up in the presence of wind.
"No one should treat it as an amulet," Wong said. "The reason is that the test environment used by the manufacturers is very different from the environment where you use the devices."
She added that when pollutants were stuck to the surface of human bodies and clothing, users also risked exposure by touching themselves.
"When you wash your hands, wear masks and maintain social distance with others, the effects [in guarding against pollutants] may be better than wearing a device. The public does not need to waste their money," she said.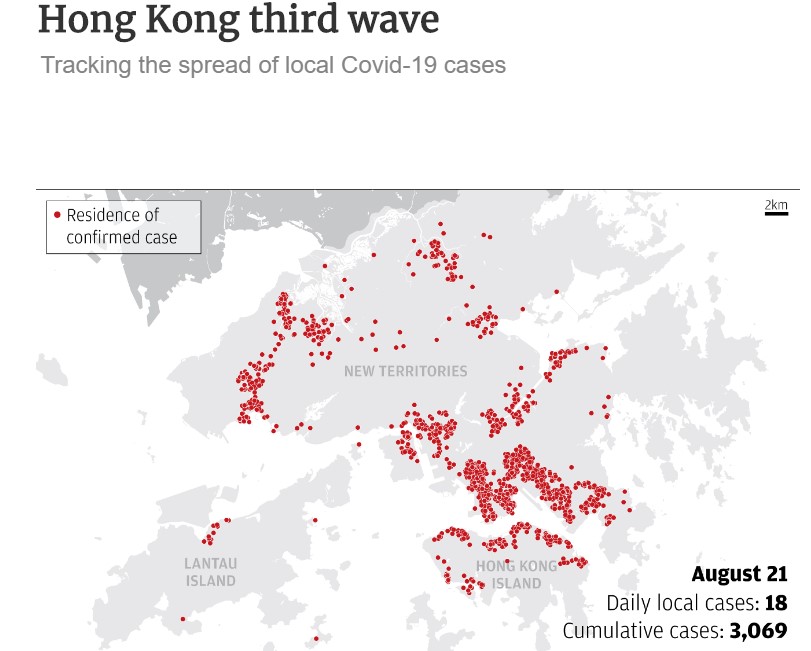 Centre for Health Protection. PHOTO: South China Morning Post
The watchdog found the measured bacteria removal rates of the 10 tested devices were between 64.9 per cent and 74.9 per cent after operating for 15 minutes in a sealed test chamber sprayed with Staphylococcus aureus – a common bacteria – in the air.
The size of the chamber was roughly equal to a small room, with an area of 6.5 sq ft and a height of 2.5 metres. But even after running the devices for an hour, the best performing model could only record a rate of about 80 per cent.
In another round of tests focused on containment particles of 2.5 micrometres or less in diameter, six models recorded a removal rate of less than 5 per cent after operating for half an hour in a tiny, sealed test chamber.
The size of the chamber was equivalent to a small room with an area of 13 sq ft and a height of 2.5 metres.
Even running for two hours in that space, the removal rates of the six were still below 15 per cent.
The products in question were ionie's HL-9000, Trustlex's IONION MX, Ionizo's Dust Monitoring Ionic Air Purifier, KB's Air Mask, Jewelion's Ion Mask and infoThink's iAnion-100.
In a reply to the council, the manufacturer of ionie said the testing standards adopted by the council were for air purifiers in households and could not be applied to portable devices. It has submitted its own testing reports to the council.
Trustlex's manufacturer said the device was for personal use, so the test chamber it used was 0.06 cubic metres and the removal rate it attained was 99.9 per cent.
The manufacturer of infoThink tested its product again – with its string-like neck strap attached – at the same lab the council commissioned and said its testing results were better than the watchdog's. After running the device for 30 and 120 minutes, its removal rates were 5.6 per cent and 17.3 per cent, respectively.
The manufacturer of Ionizo said the reason its result was different from the council's might stem from different testing methods, while the agents of KB and Jewelion said they had submitted their testing reports to the council to prove their devices' performance.
In a separate report, the council tested 12 dashboard cameras – an increasingly common device installed by drivers in cars – and found images recorded by three of the products blurry and pixelated in daylight.
The study also found that footage recorded by 75 per cent of the sampled products was unable to clearly show the licence plate number of the car in front when recording in a low light environment.
The council said drivers should be careful to choose a product with good picture quality, as anything less would be useless for the purpose of providing evidence to settle disputes.
This article was first published in South China Morning Post.