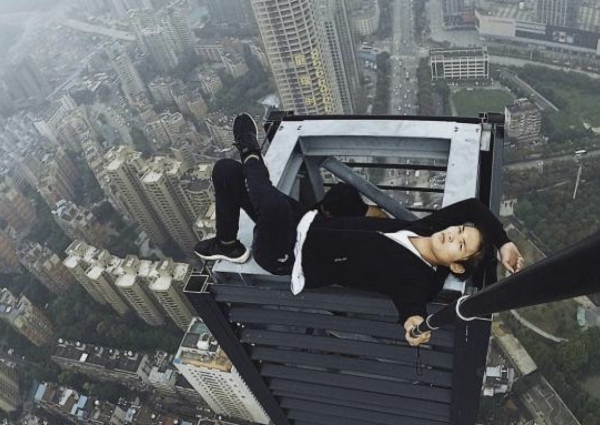 A Chinese live-streaming platform has been ordered to pay 30,000 yuan (S$5,927) to the family of a "rooftopper" who plunged to his death from a 62-storey building in central China in November 2017.
Wu Yongning lost his life after falling from a skyscraper in Changsha, capital of Hunan province, while making a selfie video in a bid to win a 100,000 yuan prize.
The Beijing Internet Court ruled on Tuesday that Huajiao, one of several apps that Wu used to promote his daring exploits, should bear "minor responsibility" for the accident, Xiaoxiang Morning Post reported.
As an internet service provider, the Beijing-based company was partly responsible for its users' safety, the court said.
As a commercial enterprise it shared the financial rewards Wu made from his followers and therefore partly encouraged his dangerous adventures, it said.
Wu's family sued a number of live-streaming apps after his death, the report said.
Born in 1991 in Hunan, Wu worked as an extra in the film industry before making a living by rooftopping, which involves people standing atop, or sometimes dangling from the edges of, high buildings, antenna and other precarious places.
Regarded as China's first rooftopper, Wu had more than 1 million followers on live-streaming apps like Kwai, Meipai and Huoshan, and uploaded almost 300 videos of his daredevil exploits across the country.
He was best known for scaling tall buildings without any safety equipment, relying only on his "martial arts training and careful planning", according to one of his posts on Weibo, China's Twitter-like service.
Wu's death prompted much debate online about how much responsibility live-streaming apps should have for their users' safety.
The dangers involved with becoming a live-streaming star are not all at cloud level, however. In February, a 29-year-old man from Dalian, Liaoning province, died after he filmed himself on a three-month drinking binge which involved him consuming huge amounts of alcohol and cooking oil.
This article was first published in South China Morning Post.