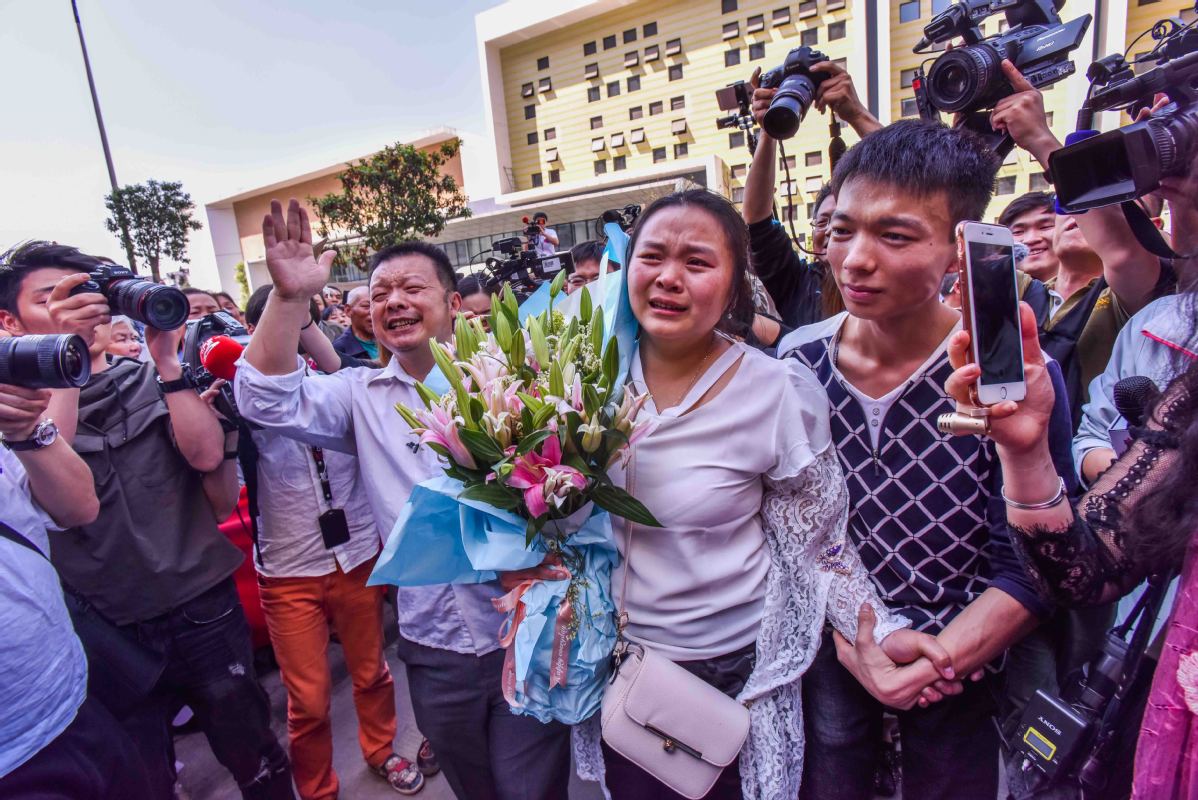 A Chengdu taxi driver and his wife were reunited on Tuesday with their missing daughter after 24 years as millions of people across China watched the emotional scenes play out on livestreaming websites.
"It was the first time I have called them mother and father since we regained contact," Kang Ying, the daughter, told a swarm of reporters after breaking a long, tearful embrace with her biological parents, Wang Mingqing and Liu Dengying.
At least four news outlets, including China Central Television, carried livestreams online showing Kang's journey "home" from Chengdu Shuangliu International Airport and the parents anxiously waiting in their neighborhood.
"I've made sweet dumplings for our first meal, as it represents 'reunion'," a nervous Wang, 50, told China Daily hours earlier. "My wife has taken out the necklace her mother left her and will wear it specially for our daughter."
Later, the entire family-including Kang's younger brother and sister, whom she had never met, as well as her husband and two children-were shown crowded on a couch in her parents' home.
Hundreds of people involved in the couple's 24-year search for their daughter, including local residents, reporters, volunteers and police, turned up to mark the reunion in the Shiling suburb of Chengdu, capital of Sichuan province.
Kang, originally named Wang Qifeng, disappeared on Jan 8, 1994, while father Wang was away changing money and Liu was busy serving customers at their fruit stall. She was 3.
The couple said they tried every means to find their daughter. "We went to the local police station and children's welfare organisations to search," Wang said. "We posted her information in the newspaper and even on the tricycle for carrying fruit, and checked her name on a website that lists the names of missing people."
In 2015, Wang started driving for ride-hailing company Didi Chuxing and would give every passenger a card with his daughter's information and photo, urging them to share it on social media.
"In the past two years, I've been waiting for just one passenger-my missing daughter. I never lost hope she would appear someday," Wang said.
Huaxi Metropolis Daily first reported his story in 2015, followed by many local and national media. One report was seen by the daughter of Lin Yuhui, an experienced sketch artist and recently retired police officer from Shandong province, who asked her father to draw an image of what the missing girl may look like as a grown woman. He agreed, and the image went onto be shared widely online.
Kang said her adoptive father died when she was 10, and after that she was raised by his relatives, who lived not far from Wang and Liu in Chengdu. She told reporters she only discovered she was adopted in early March, when she learned of Wang's story and decided to get in touch via WeChat.
"I cried when I sent the message," she said, explaining that it simply read, "Have you found your daughter?"
Wang said he asked Kang who now lives with her husband in Panshi, Jilin province-to send photos, and he discovered she looks similar to his wife. "Then, we had a video linkup, during which we talked little, we just cried. We had a strong feeling that she is the one, "he told reporters on Tuesday morning.
The family arranged a DNA comparison test, helped by Lin, and Wang said the results on April 1 showed a 99 per cent match between father and daughter.
"DNA comparison is the best way to find missing family," an unnamed police officer specialising in child trafficking from Sichuan told livestreaming reporters at the Chengdu airport. "Some 622 children in Sichuan have succeeded in finding their natural family since the country launched the DNA database for missing children."