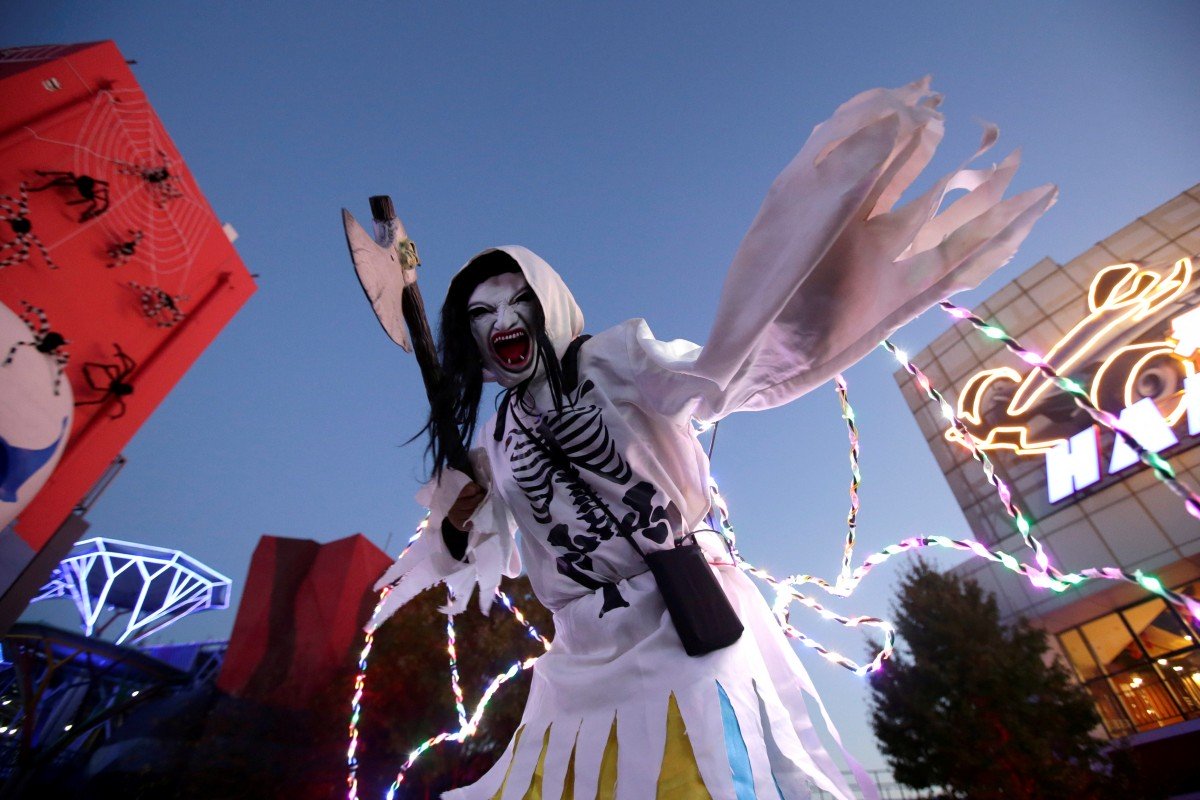 When Wang Guyue's five-year-old boy stepped into his English extracurricular class this week, he was greeted by a room full of princesses, ghosts and pumpkins.
"My son is afraid of ghosts, so I dressed him up as a Chinese swordsman," she said.
Every year, the English training school in Shanghai, where Wang sends her son, turns Halloween-themed.
All the children don costumes and make-up, and trick-or-treating activities are held.
Since it is an English-teaching school, Wang thinks it is good practice to celebrate Western holidays, so that the children can learn the culture as well as the language.
She said that the teachers explained Halloween to the children, but that their limited English meant the children might not understand everything.
For many young Chinese, October is filled with Halloween celebrations such as dress-up parties - even as anti-Western holiday rhetoric crops up every year, with some saying dressing up as ghosts is "inauspicious" and some subway stations banning Halloween make-up.
Many theme parks and bars were decorated in early October.
In Shenzhen, in southern China's Guangdong province, parks such as Window of the World and Happy Valley are home to parades, shows and haunted mansions from October until early November, with participants encouraged to dress up.
Videos uploaded on social media show haunted mansions with spooky lighting, cotton cobwebs and skeletons, with workers dressed up as ghosts who jump out to scare tourists.
Miko, a woman in Shenzhen, said she went to a "Gotham City Night" at Woodpecker, a local restaurant, on Sunday dressed as the Joker, a villain from the Batman series.
"It's just a bunch of us getting together in make-up and enjoying food and drinks, nothing in-depth," she said.
However, partygoers may have to watch their behaviour in public, because the Guangzhou police issued a statement on Wednesday night, banning those dressed up as ghosts or "wearing scary make-up" from the subway and from doing performance arts.
"As Western holiday 'Halloween' nears, some shops and entertainment companies are holding holiday parties," the notice said.
"Passengers in strange costumes and make-up have appeared at subway stations and in subway cars in big cities, including Guangzhou, which caused crowds to gather and even scared some passengers."
It said that subway staff would prevent such behaviour and talk to those in scary costumes or make-up.
Those who did not listen and who caused what they termed public disturbances would be dealt with according to the law, it said.
Last week, photographs appeared on social media of passengers in Guangzhou being made to wipe off their make-up before being allowed on the subway.
There is also annual anti-Western rhetoric and online debates about whether Western celebrations such as Halloween and Christmas are too dominant and traditional festivals and culture being eroded.
"I oppose Halloween, it shows that we are not confident about our culture and are blindly obsessed with English or American culture," one post on Weibo said. "I don't see how that's educational for kids."
Others on social media consider it inauspicious for Chinese people to dress up as ghosts.
China's traditional holiday that mourns ancestors, Ching Ming Festival, includes burning paper money and visiting tombs, not partying or dressing up.
In the past, there has been talk of banning Western holidays.
Last year, officials in the northern town of Langfang, in Hebei province, posted a notice on social media ordering the removal of all Christmas decorations and banning shops from selling related items, to "maintain stability".
Wang felt her son was merely learning about another culture and having fun in the process.
Her son's Chinese teachers were making sure he learned about Chinese traditions and values, she said, citing trips to nursing homes so that children could learn to respect the elderly.
She did not think learning about Western holidays meant forgetting one's heritage.
For others, it is simply a way to shake off stress from work.
"People are just taking this opportunity, using Halloween as an excuse, to relax and have fun," Miko said.
"There's no need to overthink it."
This article was first published in South China Morning Post.