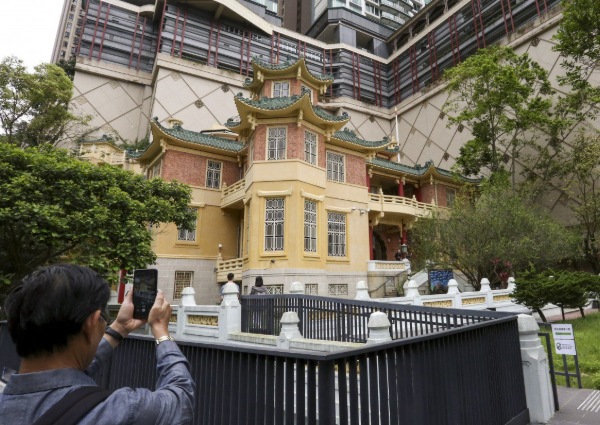 At Hong Kong's newly reopened historic site Haw Par Mansion, visitors old enough to remember the place in its previous incarnation were wistful about what has been lost.
"It's such a pity," said Sunny Lau, 72, a retired civil servant. "It was so much bigger with so much more to see in the past. There's nothing special here now."
Lau visited the site in Tai Hang when he was 13. At that time, the iconic Tiger Balm Garden, a fantastically surreal public park that was like Alice in Wonderland crossed with the horror film Saw and infused with a hefty dollop of Buddhism, was still in its heyday, long before it would be demolished and replaced by luxury housing.
Today only the mansion and a small garden remain.
The estate, one of the most popular parks in old Hong Kong, was built by the Burmese Chinese entrepreneur Aw Boon Haw in 1936 to publicise his Tiger Balm ointment products, provide a public open space and to educate the Hong Kong Chinese about their culture with the park's depictions of characters from traditional folklore and religious moral lessons.
The surviving parts of the heritage site were opened to the public last month after a three-year renovation.
Operated by the Aw Boon Haw Foundation and the Haw Par Music Foundation under a government-sponsored scheme to revitalise historic buildings, the site was restored at a cost of HK$167 million (S$29 million) by its 2015 estimation and now serves as a venue for Western and Chinese music teaching and performances.
The operators have previously said they would host classes with a quarter of the places reserved free of charge for children from low-income families.
Haw Par Mansion now has a Grade 1 historic building status, the highest of a three-tier scale below monument status on Hong Kong's conservation register.
As seen by a Post reporter on Wednesday, the small garden was neatly tended, featuring a fountain at its centre, two Chinese-style pavilions and a few figurines salvaged from the Tiger Balm Garden.
One of the defunct garden's most famous exhibits, a diorama depicting the "eighteen levels of hell" with vividly coloured blood and gore, is now represented by a black-and-white mural.
The mansion has been hailed for its rare Chinese renaissance architectural style, which blends Western and Chinese features such as flying eaves, moon gates, green glazed tile roofs and a symmetrical layout.
But walk-in visitors can only access the mansion's entrance hall and a balcony on the first floor, with booking required for free tours of the whole building on Tuesdays, Thursdays and at weekends.
Lau was disappointed with what was left of the site. He recalled how the old park was filled with numerous surreal statues, grottos and life-size tableaux depicting Chinese folklore, and tales both Buddhist and moral.
"All those were in very vivid colours," Lau said. "You saw Ox-Head and Horse-Face [guardians of hell], you saw people with their tongues cut off and so on. As a kid, I was very shocked."
Gabriel Kwok Chun-kong, in his 50s, also missed the colourful three-dimensional depictions. He visited the garden at the age of 10.
"It's completely gone now," Kwok said. "It's a pity because, to people like me, the garden is a very fond memory."
But Kwok appreciated the effort to conserve the mansion and turn it into a "meaningful music school".
Haw Par has not responded to a request for comment.
Haw Par's sister park in Singapore, built by Aw one year after the Hong Kong one was completed, itself reopened in March after a three-month renovation.
Unlike the Hong Kong compound, Haw Par Villa in the Lion City was acquired by the government in 1985 for conservation, and has been completely preserved as a park free to the public.
The same year Singapore acquired Haw Par, the Aw family proposed to the Hong Kong government to designate the site as a monument for legal protection, but the offer was declined. Aw's heir Sally Aw Sian then sold the site to developer Cheung Kong Holdings in 1998.
In 1999, when Cheung Kong applied to redevelop the entire compound, the government finally held talks with the developer and got it to hand over the mansion and its private garden for conservation. The bigger public park, however, was bulldozed in 2004 to make way for four blocks of luxury flats.
In Singapore, the tourism authorities reinstated the compound as a free park after a period operating it as an expensive theme park ended in failure.
"In Singapore, the government is in control of all the property development strategies, while in Hong Kong, officials give developers a lot of freedom to do what they want," said Lee Ho-yin, head of the University of Hong Kong's division of architectural conservation programmes.
The property industry's dominance in Hong Kong and the tendency of developers to maximise profit, Lee believed, was what ensured the city's Haw Par estate met a fate quite different from that of its Singapore sibling.
This article was first published in South China Morning Post.