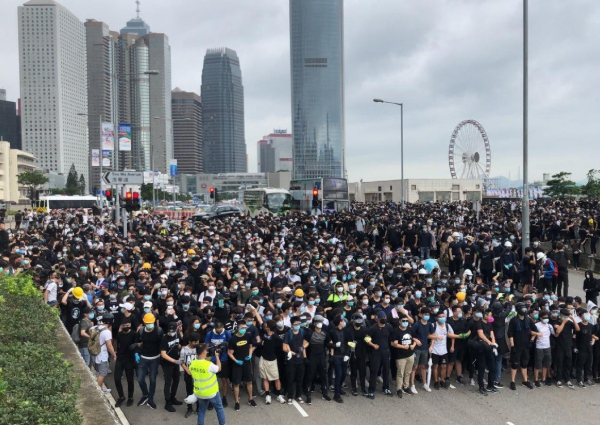 Thousands of protesters angry at the Hong Kong government's contentious extradition bill have blocked streets around the Legislative Council complex on Wednesday, bringing parts of the city to a standstill.
Demonstrators occupied Tim Mei and Tim Wa avenues in Admiralty, and placed metal barriers across Lung Wo Road and Harcourt Road.
Motorists have been forced to find other routes around Hong Kong, while trains are being prevented from stopping at the MTR station in Admiralty at the request of police.
Protesters camped overnight in Tamar Park ahead of the protest, with the government's controversial legislation expected to return to a full council meeting on Wednesday morning.
Hundreds of protesters, mostly young people, began gathering on Tuesday night in a protest organised online, and while the situation remained peaceful, many protesters wore makeshift protective gear including masks, cling film and goggles.
Police officers in riot gear and armed with shields, helmets, rifles and batons stood nearby.
Some volunteers formed themselves into first aid units in case any confrontation turned violent, as it did in the early hours of Monday morning.
The legislature will meet just hours after Taiwanese President Tsai Ing-wen broke her silence and spoke out for the first time against the proposed amendments.
At about 9pm on Tuesday, the leader of the self-ruled island said on her Facebook page that the jurisdiction would not accept the transfer of Chan Tong-kai, who is wanted in connection with the murder of his pregnant girlfriend there, and has been used by the Hong Kong government to justify the need for the bill.
"We will absolutely not accept any action aiming at eliminating national sovereignty, and we reject any transfer cases that were based on the extradition bill amendments," Tsai said.
The controversial bill is at the centre of an escalating political row in Hong Kong, and if passed, it would allow the city to transfer suspects with jurisdictions it lacks formal extradition agreements with, including mainland China, on a case-by-case basis.
Critics fear Beijing could target political opponents with the proposed arrangement.
A recent university graduate, whose arms were wrapped in plastic to guard against the effects of pepper spray, said he was prepared for the possibility of clashes with the police.
"If others go ahead, I will support them," he said, but noted he had no plans to initiate any violence.
At 5am, hours before the bill's second reading was expected to resume at a full council meeting at 11am, hundreds of young people gathered on Tim Mei Avenue outside Legco.
A small group sang hymns, while others sat in silence.
Demonstrators gather in Admiralty during a protest to demand the scrapping of the proposed extradition bill.
Photo: South China Morning Post
The police, meanwhile, maintained their heaviest presence outside one entrance to the legislature on the same road, where lawmakers may arrive in their cars.
At the same time, even more protesters have been gathering in Tamar Park, many dressed in black and white, and wearing masks.
Some volunteers distributed masks, raincoats, snacks and water, while others cleared rubbish from the park.
A 19-year-old university student said he was waiting for more protesters to turn up on Wednesday morning, and that the night at the park had been peaceful.
Asked if he was tired, he said: "I'm OK, because I was with other people."
At least 20 writers, filmmakers and cultural academics began a hunger strike at midnight on Wednesday.
The "relay" hunger strike took place on the bridge outside Citic Tower, where participants, including Social Sciences Professor Petula Ho Sik-ying, Hong Kong Cultural Monitor Chairwoman Clarisse Yeung, and filmmaker Ying Liang, will take turns to not eat and drink only water for 24 hours.
They planned to continue the strike until the extradition bill is withdrawn.
The crowd grew larger as the sun rose, arriving on the first buses and trains of the morning, and a female protester who arrived at 7am, said she wanted to come to the park after reading about the protest on social media on Tuesday night.
Asked what she hoped the protesters could achieve, she said: "The best scenario would be if officials retract the bill."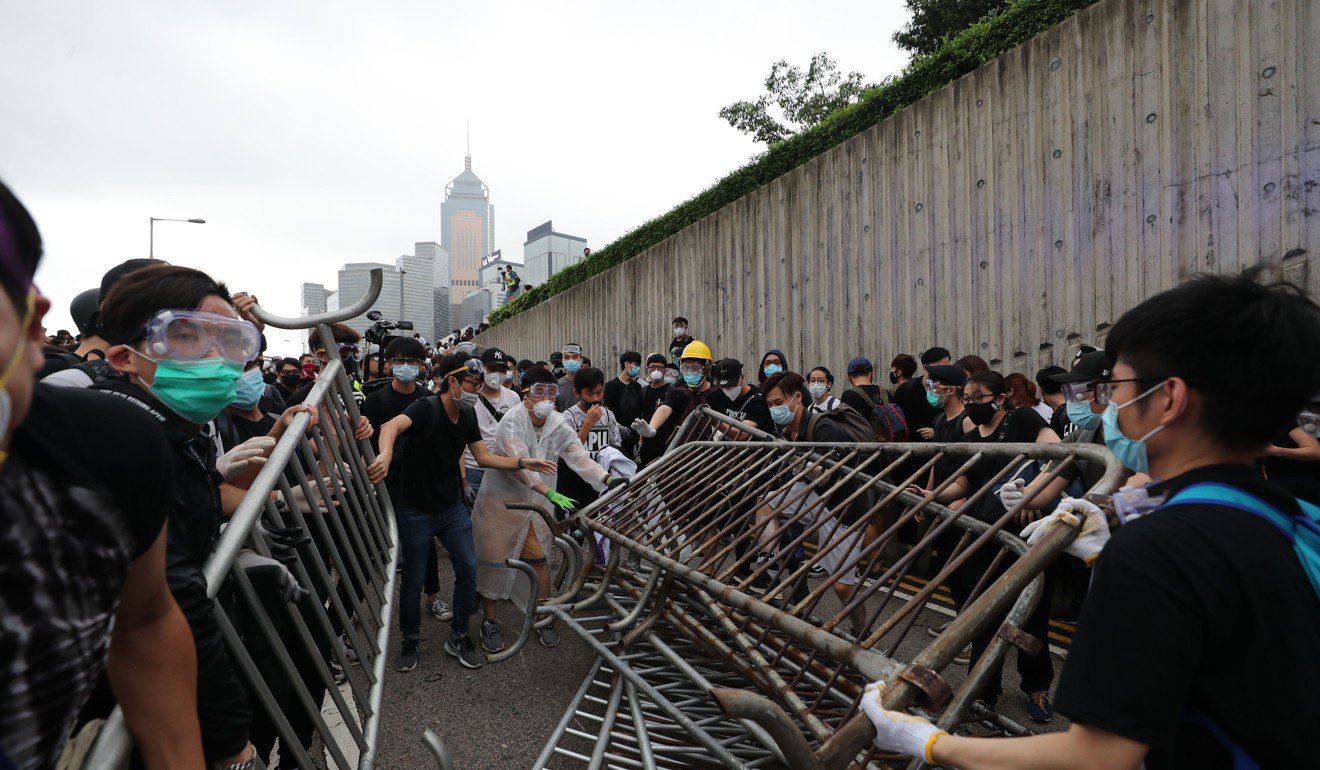 Demonstrators block Lung Wo Road with metal barrier.
Photo: South China Morning Post
Unlike past protests, the one at Tamar Park on Tuesday was not organised by pro-democracy groups. Instead, social media users called on people to "picnic" at the park on Wednesday, and used the mobile app Telegram to disseminate information.
Legco president and pro-government lawmaker Andrew Leung Kwan-yuen said on Monday he will allow 61 hours of debate, adding he plans to put the bill to vote next Thursday.
This article was first published in South China Morning Post.