The fallout from Hong Kong's extradition bill controversy took a worrying turn on Wednesday with police pulling out of their posts at two public hospitals because of frontline officers being subjected to constant verbal abuse.
Senior brass speaking off the record said that while frontline officers would still respond when called on, maintaining their morale was more important than any negative impact from their absence because they were deeply troubled by the intensity of the public backlash against them.
Police were keeping a low profile again on Wednesday as hundreds of protesters petitioned foreign consulates during the day over the now-suspended bill, taking their cause to an international audience ahead of the G20 summit in Osaka this weekend, and thousands more held a night rally in the Central business district.
Many branched off from the main rally to descend on police headquarters in Wan Chai again, in what looked like a repeat of their radical action last Friday when they laid siege to the building for 15 hours while top brass, frontline officers and support staff were trapped inside.
A senior police source said the suspension of 24-hour services at Yan Chai and Queen Elizabeth hospitals was an interim measure before a meeting with the Hospital Authority to discuss the next step, after medical and legal professionals accused police of harassing hospital staff and arresting protesters seeking treatment.
"They were labelled as dogs and rogue cops by medical staff at the two hospitals, so the interim measure is in place to address the frontline officers' concerns," he said.
Another senior police source revealed some officers were in tears when top brass visited different police stations from Tuesday night until 4am on Wednesday to listen to the officers' grievances.
"The purpose of having posts at public hospitals to facilitate people filing reports to police is defeated. As soon as the officers on duty step out of the police booth, they are being scolded," he said.
"It may have negative impacts, but addressing police morale is more important."
The source said the pullout was the result of a change in patrolling, and officers would still be on duty nearby to respond to any emergency.
With morale low, officers have detailed a litany of abuse on the streets, online bullying and a hate campaign against them over accusations they used excessive force during clashes with protesters on June 12.
While critics warned the hospital move sent out a worrying signal that police were being irresponsible and putting personal grievances before public interest, the Junior Police Officers' Association said it was justified.
Protesters march to different foreign consulates in the city. 
Photo: South China Morning Post
It issued a statement titled "Behave Yourself", accusing medical and legal professionals of fabricating accusations against frontline officers and demanding an apology to the city's 30,000-strong police force.
Protesters on Wednesday petitioned 18 foreign consulates and the EU's local office in a five-hour marathon march.
A day earlier, they had raised HK$6.7 million (S$1.2 million) on Tuesday to run advertisements in at least 12 foreign newspapers to promote their campaign against the unpopular bill, which would allow fugitives to be transferred to mainland China and other jurisdictions with which Hong Kong has no extradition deal.
Chief Executive Carrie Lam Cheng Yuet-ngor has suspended the bill and apologised for causing conflict by trying to bulldoze it through the legislature, but opponents are demanding a complete withdrawal.
On Wednesday night, thousands of protesters, mostly wearing black, attended the "G20 Free Hong Kong" rally organised by the Civil Human Rights Front at Edinburgh Place.
Some spilled out onto Lung Wo Road, disrupting traffic once again on the major thoroughfare outside the city's administrative and legislative headquarters.
Afterward, those who remained on the streets made their way to police headquarters for another showdown.
Lam's government has doubled down on its refusal to meet the protesters' demands: the complete withdrawal of the bill; the exoneration of arrested protesters; the retraction of all references to the June 12 protest as a "riot"; and the order of an independent inquiry into the police's use of force.
The front and the opposition pan-democratic politicians also want Lam and security chief John Lee Ka-chiu to step down.
But Chief Secretary Matthew Cheung Kin-chung, Hong Kong's No 2 official, and Lee on Wednesday categorically rejected calls for a probe into the clashes earlier this month, saying the work should be done by the police watchdog, the Independent Police Complaints Council (IPCC).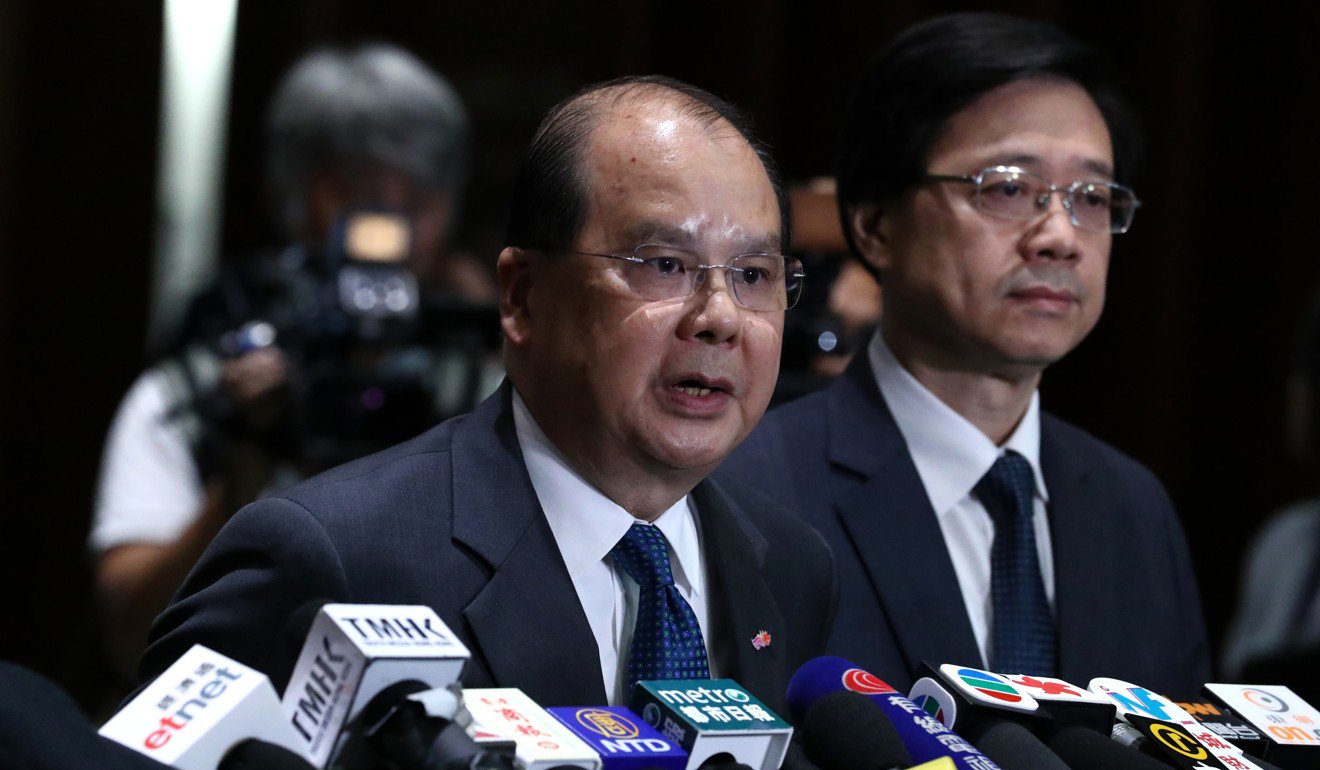 Chief Secretary Matthew Cheung and John Lee have rejected calls for an investigation into the clashes earlier this month, saying the work should be done by the police watchdog. 
Photo: South China Morning Post
Earlier in Beijing, foreign ministry spokesman Geng Shuang repeated that China would ensure Hong Kong issues were not discussed at the G20 summit.
"The G20 is an international economic co-operation forum … China will absolutely not agree to discussions about Hong Kong," he said.
Beijing officials were still monitoring the situation in the city from across the border in neighbouring Shenzhen.
Financial Secretary Paul Chan Mo-po said Hong Kong's reputation as a global financial centre had been damaged by the extradition bill row, and the government would make every effort internationally to restore it.
This article was first published in South China Morning Post.
ALSO READ: China says it will not allow Hong Kong to be discussed at G-20 meet