In announcing her decision to suspend the much-despised extradition bill, Chief Executive Carrie Lam Cheng Yuet-ngor promised to be "humble" but insisted she was not interested in pacifying protesters. She also refused to apologise for the ruckus she had caused and the rancour that had set in.
Her mixed messaging, of claiming to show humility but sounding harsh, did not go down well. Record numbers of protesters handed her a stinging rejection on Sunday. "Resign!" they shouted almost every step of the way across Hong Kong Island, marching forth resolutely nearly all dressed in black.
Almost to a man, pro-establishment politicians and analysts said the record turnout of nearly 2 million - almost double last Sunday's estimate according to organisers - was no longer just about the bill. It was about Lam and her governing style, fuelled also by the festering anger over other social problems faced by Hong Kong people.
A pro-establishment lawmaker, who spoke on condition of anonymity, said the anti-extradition movement had transformed overnight into one seeking to topple the city's government.
"They were calling for Lam to step down, just like protesters did in 2014 during the Occupy protests," he said, referring to the civil disobedience movement that brought parts of Hong Kong to a standstill for 79 days.
Far from calming society, Lam succeeded in doing the opposite, others noted.
The lawmaker believed the turnout on Sunday might have been smaller if Lam had appeared more contrite in her press conference on Saturday. Lam only decided to issue a public apology, through a written statement, on Sunday night after protesters had flooded the streets for more than six hours.
"Her interpretation of things on Saturday was not ideal … While she could not accept people's calls for her to resign, she also suggested that the people were wrong. She sounded too tough," he said.
Many of Sunday's protesters were also angry that Lam stood by the police's categorisation of Wednesday's protest as a "riot". She could have sought to lower the tensions by sounding more understanding of protesters who were by and large peaceful and being sincere towards them, they argued. When she said she was not acting to "pacify" them, she sparked more anger.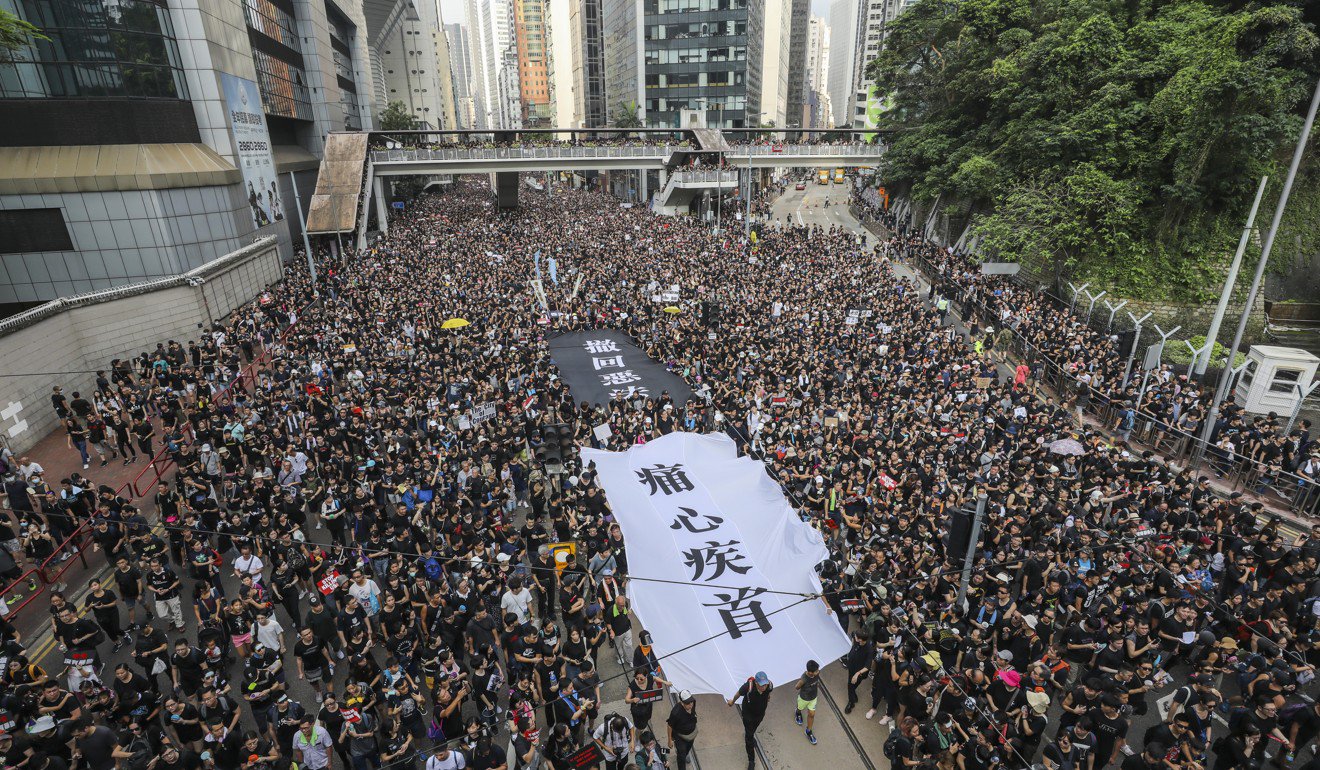 Nearly 2 million protesters took to the streets on Sunday, demanding the extradition bill be withdrawn and for Carrie Lam to resign. 
Photo: South China Morning Post
Among the protesters who felt that way on Sunday was Sammi Lee, who brought along her one-year-old daughter. She did not join the demonstrations over the past week as she feared it would have been too hard with a baby in tow, but decided to brave the crowds this time.
"But I have to do it today for my girl, for Hong Kong's future generation," she said, her eyes brimming with tears. "The police should be professional. Why did they treat young people and media workers with such violence and rudeness?"
Another protester, 80-year-old retiree Lee Wai-po had never been to protest rallies before, until last Sunday and this Sunday. Such was his disappointment with Lam, he said.
"Carrie Lam should really reflect on herself and apologise. She should also think about whether she has the capacity to be the city's leader," he said.
Also in the crowds were secondary school student Chan and her classmates, who brought along geography notes for an examination the next day.
"I marched last Sunday too," Chan said. "This is more important than my exam tomorrow, because … if we don't come out today, there may not be a tomorrow for us to come out."
Pointing to such expressions of anger in the crowds on Sunday, a pro-Beijing legislator questioned if Lam and her team were out of touch with public sentiment and had no clue about the depth of people's unhappiness.
During her press conference on Saturday, Lam also insisted her justification for changing the city's extradition laws was sound, a point she needed to make but did not have to keep harping on repeatedly, analysts felt.
"I don't know what was she trying to tell Hong Kong people in her press conference," said a lawmaker.
The legislator believed that the latest Sunday march was mainly an expression of people's disapproval of Lam's style.
"My supporters and young assistants did not dislike the bill, they understood what the bill was about, but even they do not like Lam's attitude that she feels she's always right," she said.
The legislators said Lam should at least show she was sorry, not just say she was.
The camp's disappointment was evident during a meeting with Lam on Saturday. One even used a profanity toward Lam as she tearfully explained her decision to the camp, a legislator revealed.
On Sunday morning, New People's Party legislator Regina Ip Lau Suk-yee, who has been one of the staunchest supporters of the bill in Lam's cabinet, the Executive Council, said the chief executive should have apologised to the public.
"Whether the bill was problematic or not, it has caused so many people to worry. The business sector also suffered losses because even a shopping centre had to close down on Wednesday … These developments warrant an apology to Hong Kong people," she said.
Ip also told the Post later that Sunday's massive protest offered Hong Kong people an outlet to vent their discontent about social problems in Hong Kong.
"Hong Kong is a post-Occupy society. It was easy for organisers to activate large-scale protests, especially with deep-rooted anxieties and anger about social problems such as land and housing, and the young people's lack of upwards mobility," she added.
Former Democratic Party chairwoman Emily Lau Wai-hing took part in the march on Sunday and was among those in the forefront asking for Lam to resign immediately.
"Carrie Lam's position is now untenable and she must withdraw the bill, because if she doesn't, we will come out again next Sunday and the Sunday after that. She can't withstand the pressure," she said.
Lau also warned that the pro-establishment parties would pay a heavy price at the District Council Election in November and the Legislative Council Election next year because they, "have parroted the political line for far too long".
Political scientist Cheung Chor-yung, a senior teaching fellow at City University's department of public policy, criticised Carrie Lam for her lack of political wisdom in handling the controversial subject.
"She is a career civil servant," he said. "She might be very good at executing orders, but the extradition law saga shows her total lack of political judgment.
"She refused to drop the bill because she is so arrogant and she only wants to save face."
Chinese University political analyst Ivan Choy Chi-keung said the chief executive's apology could not resolve public anger, as she has missed multiple chances to say sorry, and to address people's concern about the police's actions on Wednesday.
"Her first opportunity was last Sunday, when 1 million took to the streets," he said. "Her second chance was in the press conference on Saturday.
"Her statement on Sunday did not address some important issues, and with so many opportunities missed, it will be very difficult to mend the social divide."
Shi Yinhong, an international relations professor at Renmin University in Beijing, told the Post the Hong Kong government had failed to do a thorough assessment of the opposition to the extradition bill.
"The Hong Kong government had underestimated the scale of opposition to the bill," Shi said. "Obviously the Hong Kong government mishandled the matter and caused trouble for the central government, which is caught up in many battles on diplomatic fronts, especially the US-China trade war."
As night fell and word of Lam's apology spread in the crowd, few were impressed.
Entertainment industry worker Troy Lo, 24, spoke for many when he said it came too late.
"If she was really apologetic, she would have said sorry yesterday," Lo said. "She must resign."
This article was first published in South China Morning Post.