On the last day of July, my family and I flew to Hainan - widely billed as "China's Hawaii" - for our first holiday outside Beijing in more than two-and-a-half years.
Any concerns we might have had about China's tight pandemic control measures spoiling our fun were dispelled by the fact that at the time of our flight, the tropical island province was Covid-free - and had, in fact, just finished hosting a major consumer products expo that reportedly attracted thousands of people from across the country.
Our family of three was also encouraged by the Chinese government's recent easing of travel restrictions and tweaking of its nationwide tracking system - accessed via mobile phones - to record seven days of travel history instead of the previous 14.
Alas, how wrong we were. Our dream holiday rapidly turned into a travel nightmare soon after Sanya reported its first case on Aug 1. Since then, we have only grown more apprehensive and frustrated - thanks in no small part to the chaos and confusion caused by local officials, who seemed caught off guard by the outbreak.
The Covid-19 suppression policies have constantly changed from one day to the next and often contradict one another, as China's omnipresent and arbitrary network of surveillance using big data and artificial intelligence has only added to our woes.
Here is a cautionary tale for anyone thinking of travelling on the Chinese mainland while its Covid-19 control measures remain in place.
To be fair, the first three days of what was supposed to be a one-week beach holiday in the five-star Westin resort was as relaxing and fun as one would expect of a tropical paradise. The hotel in Lingshui county - about 65km north of Sanya and 197km south of the island's capital, Haikou - has its own pristine beach in what's known as Clear Water Bay.
But on Aug 3, when Sanya reported 11 cases, we sensed things starting to go awry. After a day trip to the city, we were dismayed to find the Hainan health code on both my wife's and daughter's phones had turned yellow.
This mandatory code, a version of which has been developed by each of China's provinces, follows a traffic light system: green allows the bearer to enter public spaces upon scanning a QR code with their phone; yellow and red do not.
But the sudden change of colour made no sense as I was with my wife and daughter the whole time, yet my code remained green. We were bewildered and thought ourselves unlucky, until we discovered that dozens of other families staying at our hotel had experienced something similar.
Apparently, we had all been deliberately targeted by the network to ensure at least one member of each family had a yellow health code. The only way to get it turned green again was to drive to a hospital, but that was becoming increasingly difficult as the authorities threw up roadblocks, with neither taxis nor ride-hailing cars easily found.
For three days, we took two daily Covid-19 tests but the results never appeared on our Hainan health code app. We needed these in order to leave, as Sanya airport had abruptly introduced a new requirement for passengers to produce two negative test results within 48 hours before boarding.
Then, in the small hours of Aug 6 our test results suddenly all appeared in the app at once. But by that point the airport had cancelled almost all flights and both Sanya and Lingshui county were headed into snap lockdowns.
So we made a mad dash to the railway station and managed to catch the last train to Haikou around noon, before all public transport links in the area came to a grounding halt.
We were then stranded in Hainan's capital, where we remain at the time of writing. In Sanya, more than 80,000 tourists are stranded , according to state media reports.
In some ways we were lucky, as of noon on Friday (Aug 12) Haikou had reported just 21 infections. Sanya had 4,232 cases, including 2,071 that were asymptomatic - a massive amount by mainland China's standards.
But our nightmare is far from over. We expect our unplanned stay in Haikou to last for several more days, or even weeks, as the city's airport has cancelled most flights until further notice and our Beijing health codes currently bar us from getting on a plane home, even if we could find a flight.
Each of us has taken more than 12 Covid-19 tests, all of which came back negative. How many more must we take before we are allowed to leave, and for Beijing to allow us to go home? Do the authorities have no faith in these tests' accuracy?
To make matters worse, test results submitted in one province are not recognised by the health code of another, further complicating travellers' lives. This help explains why Sanya is putting on charter flights to fly stranded tourists back to their home cities, even though some such as Shanghai and Nanjing still require domestic travellers to quarantine for three days in a hotel followed by another four at home.
Haikou, meanwhile, has begun asking stranded holidaymakers when they want to leave and by what means, but the cancellation of so many flights has left many confused as to what the requirements to leave actually are.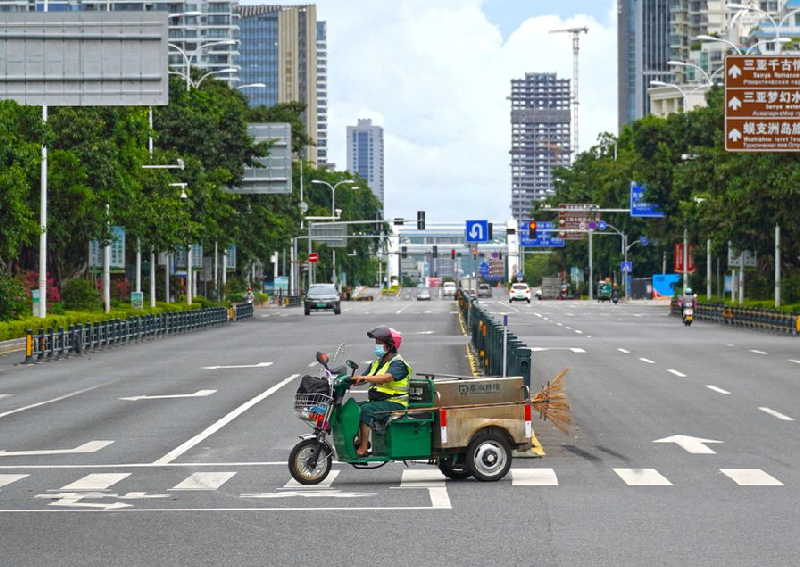 Such is the reality of China's so-called dynamic zero-Covid policy, which the country's leaders repeatedly claim has helped achieve the best possible economic results at the lowest cost and with minimal disruption to people's livelihoods.
But the longer this goes on, the more those claims ring hollow.
What has transpired on Hainan provides further evidence, if it were needed, of the rising economic and social costs of China's extreme Covid-19 suppression measures.
More than 99 per cent of the cases recorded in Sanya have been mild or asymptomatic, showing the minimal impact that the Omicron subvariant which hit Hainan has on people's health.
But Sanya and Lingshui remain in lockdown, as they have been since Aug 6. Haikou, the largest city on the island with a population of 2.8 million, has meanwhile repeatedly had daytime curfews imposed - even though only three or four new cases have been reported each day.
Elsewhere, authorities in Xinjiang announced a five-day lockdown of capital and largest city Urumqi on Wednesday, after reporting just 380 asymptomatic cases.
So what's the main takeaway from my family's holiday nightmare?
Don't bother trying to travel around China until it abandons zero-Covid. If you must, and are willing to take the risk, be prepared to bolt as soon as you hear any murmurings of an outbreak - or you too may become stranded thousands of kilometres away from home.
This article was first published in South China Morning Post.