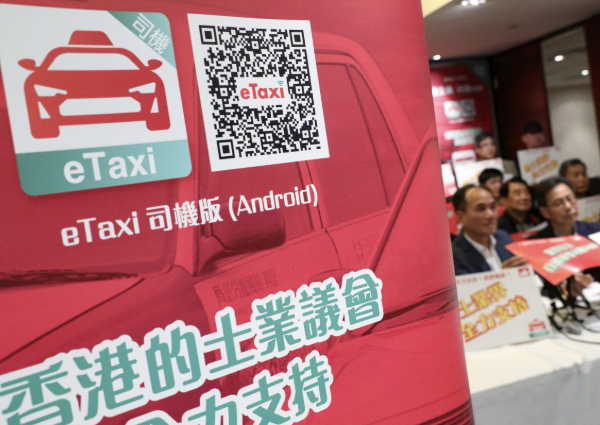 A Hong Kong taxi alliance officially launched a ride-hailing app on Tuesday to rival Uber, boasting payment through the popular Octopus Card and call centre support for cabbies.
The launch of the eTaxi app, which already has 4,000 drivers signed up comes amid mounting complaints against taxi drivers, especially for turning down trips. This has led to the increasing popularity of Uber and hostility towards the taxi industry.
Passengers have also long urged cabbies to accept alternative payment methods such as Octopus and credit cards.
"The launch is historic," said Hung Wing-tat, chairman of the Hong Kong Taxi Council, an alliance of 17 groups comprising taxi owners, drivers and other stakeholders. "The app is a historic creation from the combined effort of the whole taxi industry."
 ​​​​​​​Speaking at the app's launching ceremony, Hung said the taxi alliance had invested several millions of dollars in the app, and the council's target was to ultimately include all the city's 40,000 taxi drivers in the service. He said taxi drivers using the app would allow Octopus payment on their portable devices, or via Octopus' O! ePay app.
"With increasing numbers of taxis accepting Octopus electronic payments instead of cash, Hong Kong will enter the cashless era and move closer to becoming a smart city," he said.
Sunny Cheung Yiu-tong, CEO of Octopus Cards Ltd, pledged to exempt the 1 per cent administration fee for all cabbies registered with Octopus payment for one year. He said more than 4,000 drivers had registered with the payment system, but the usage rate was far from satisfactory.
"Having Octopus as a new payment method for taxis is a win-win solution for both drivers and passengers, as well as meeting the general expectations that Hong Kong should accept electronic taxi payments in its role as an international city," he said.
"This time we have so many stakeholders from the taxi industry in support of this app. When this app is getting more popularity, I believe more and more passengers would like to use Octopus for taxi payments."
Hung conceded not all drivers would be willing to use such systems because of the paperwork involved and the need to install devices, but he said the council would try to persuade more to join.
Like Uber, eTaxi allows users to see taxis at their location, enter trips, check estimated cost, order a cab and choose payment methods.
Hung said the app also included functions that Uber did not have, such as support from taxi call centres so drivers would know what routes to avoid.
"It's not just a ride-hailing app, but also an app to support drivers," Hung said.
The app also offers services such as lost and found, live traffic conditions, safe travel sharing and drivers' ratings. Cabbies would be given higher credit points for being assigned long-haul orders if they take more short-haul trips.
No fare discount is allowed and it also has a hotline to handle complaints regarding any bad behaviour of drivers.
 ​​​​​​​It also offers incentives to attract drivers, including Octopus cash rewards and fuel coupons. Between April 16 and June 15, the first 10,000 passengers using either an Octopus card or O! ePay for a taxi ride ride via the app will get a HK$5 (S$0.86) reward.
Until 31 July, any passenger using the eTaxi app for two taxi rides will get a HK$20 reward, and another HK$10 reward for inviting a friend to download the app and use it for at least one taxi trip via the app.
Stanley Ng, the app's general manager, said they expected to break even in two years and would expand the app service to wheelchair users and hire-car service so it could be self-sustaining in the long term.
Taxi driver Tang man-lap, 25, who signed up for the app, said he hoped to expand his customer base.
"I've taken some orders via the app during its soft launch. My experience is that it really helps me expand my customer base. As a cabby as long as I am polite and nice to my customers they would be happy to have my service again," he said.
Last month, Edward Lau, owner of Tin Shing Motors, which has a fleet of 20 cabs, backed out at the last minute from his plan to team up with Uber to launch a taxi service called Uber Flash. The deal would have allowed users to order taxis through Uber's mobile app.
Sources told the Post that Lau was forced to scrap the much-anticipated partnership after threats to his family and the possibility of a boycott by insurance companies. Despite the setback, Uber went ahead with the launch of the service, with an undisclosed number of individual taxis.
In the decade between 2007 and 2017, the number of complaints against taxi drivers recorded by the government's Transport Complaints Unit increased by 65 per cent to 10,759.
In the first nine months of last year, the unit received 8,149 complaints, or about 30 each day.
This article was first published in South China Morning Post.