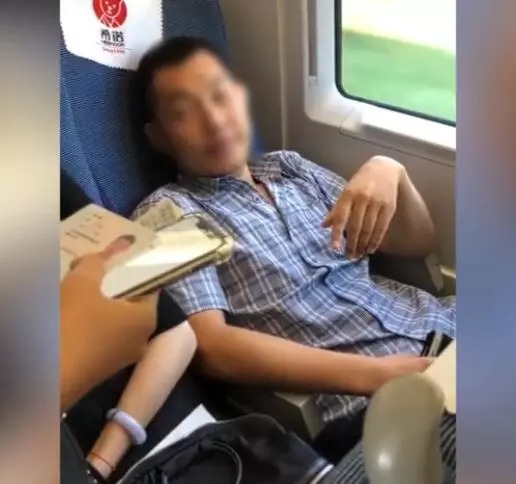 A man who took a young woman's seat on a train and refused to vacate it is facing widespread anger and condemnation from netizens.
The public security department of the Jinan railway said it is investigating the case, and will share its results with the public in a timely manner.
In an initial response, the Jinan Railway Bureau said the man's behavior is a question of morality and can't be judged by laws because there are no laws to govern such behaviors.
A video posted online showed the man, Sun He, taking a window seat in a second-class coach of a train running from Jinan to Beijing on Tuesday and refusing to give it to the woman who was assigned the seat on her ticket.
"You have three choices - stand, take my seat or go to the dining coach," Sun told the young woman in the video. According to the tickets, Sun's assigned seat was one row behind the woman's.
When a train attendant came to mediate, Sun claimed he wasn't able to stand and asked for a wheelchair. A railway police officer tried to persuade him but failed, and he was then left alone. The woman was led to the business-class coach, where she was given a better, more expensive seat for the remainder of the trip.
Jinan Railway Bureau said staff members dealt with the situation properly and did what they needed to do.
The video triggered hot condemnation online. What people say are Sun's name, birth date, mobile phone number, brief study record and work experience have all been publicized.
Under pressure by the online exposure, Sun published a video to "apologize to the young woman and all other Chinese people" on Wednesday night.
"What I did is against the social morality and has had a bad influence on society," he said in this video.
So far, he has not been punished by railway authorities. But many netizens on Thursday commented online that the authorities should put Sun and similar people on a blacklist.
The personal information of those who commit any of the seven behaviors including disrupting transportation, smoking on a train and ticket-related misbehavior are put on a blacklist by the railway system, which will ban them from traveling by train in the future, according to the trial edition of the regulations on managing railway passengers' credit records, which were released by China Railway Corp in 2017.
"Police officers on the train are responsible for maintaining the train's order, including passengers taking their assigned seats according to their tickets. So police officers must enforce measures or carry out punishment according to the regulations," An Xiang, director of Beijing Dexiang Law Firm, was quoted as saying by iqilu.com, a news website in Shandong.
The Law on Public Security Administration in China prohibits disruptions of order on buses, trains, ships, aircraft and other public transportation, and penalties range from warnings to fines not higher than 200 yuan (S$40). Those responsible for cases with serious outcomes can be detained for five to 10 days and fined not more than 500 yuan.