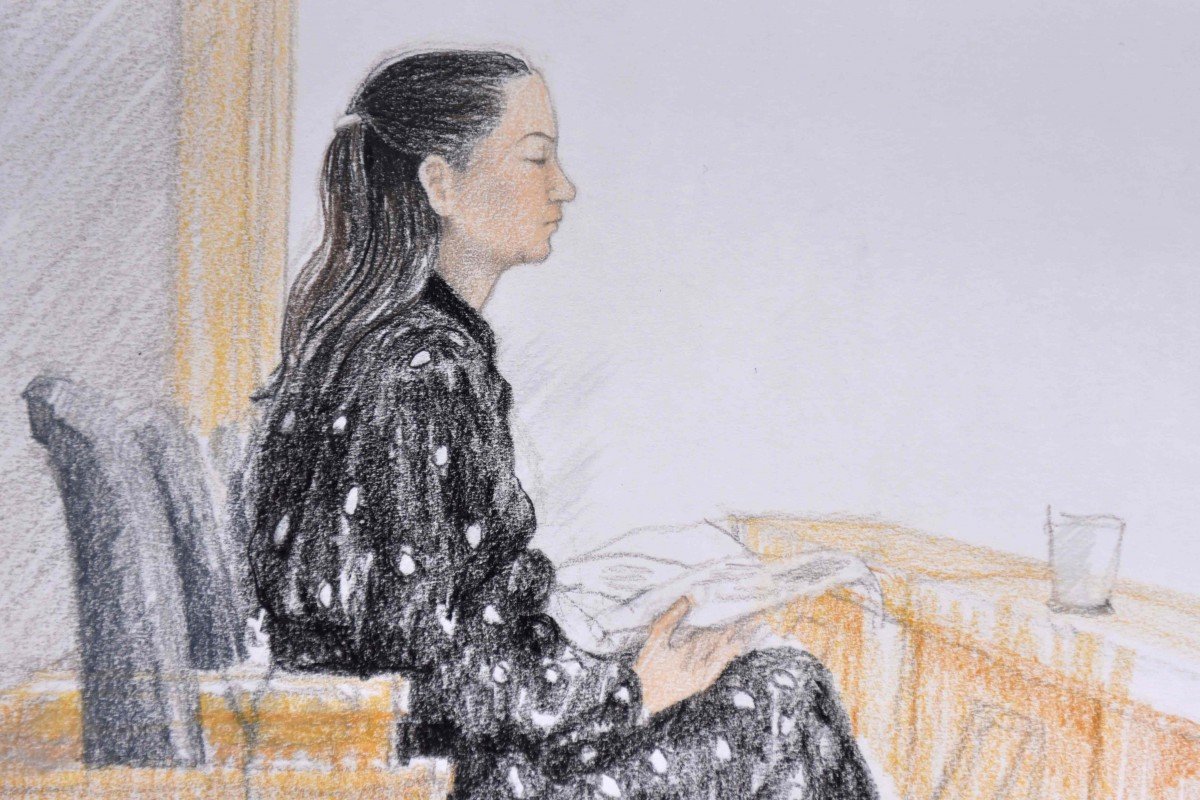 The formal extradition hearings that will help decide the fate of Huawei executive Meng Wanzhou got under way in Vancouver on Monday, more than a year after her arrest, in a case that has infuriated Beijing and symbolises challenges to the geopolitical order posed by China's rise.
Meng, Huawei's chief financial officer and daughter of founder Ren Zhengfei, appeared behind layers of bulletproof glass in the high-capacity, high-security courtroom 20 of the British Columbia Supreme Court complex.
Meng's lawyer Richard Peck commenced what will be months of arguments by asserting that she should be released if the case against her could not support the allegations of fraud, under the extradition test of "double criminality".
This requires that an extraditable offence be considered a crime in Canada, as well as the requesting state. Meng is accused of defrauding HSBC by misleading it about Huawei's business dealings in Iran, potentially putting the bank in breach of US sanctions on Iran.
Canada does not have trade sanctions on Iran equivalent to the American rules Meng is alleged to have breached.
"Would we be here in the absence of US sanctions [on Iran]? … The answer is no," said Peck. "This allegation is founded on a breach of US sanctions, sanctions Canada has repudiated."
Photographers wait outside the Vancouver home of Huawei Technologies Chief Financial Officer Meng Wanzhou on Monday. PHOTO: AFP
"It is a fiction," that the US has any interest in policing interactions "between a private bank and a private citizen halfway around the world", Peck said, referring to a 2013 meeting between Meng and a HSBC executive in Hong Kong to discuss Huawei's Iran dealings, an interaction that lies at the heart of the case. "It's all about sanctions."
But the Canadian government lawyers representing the US at the hearing have said the underlying case is fraud, not sanctions-busting.
Meng was arrested at Vancouver's international airport on December 1, 2018, during a stopover from Hong Kong, on an arrest warrant requested by US authorities who want Meng to face trial in New York on the bank fraud charges.
The case, before Justice Heather Holmes, is seen as a key moment in China's relations with the West, coming amid the US-China trade war and a worldwide debate about whether to allow Huawei to participate in the construction of high-speed 5G networks that will shape the internet.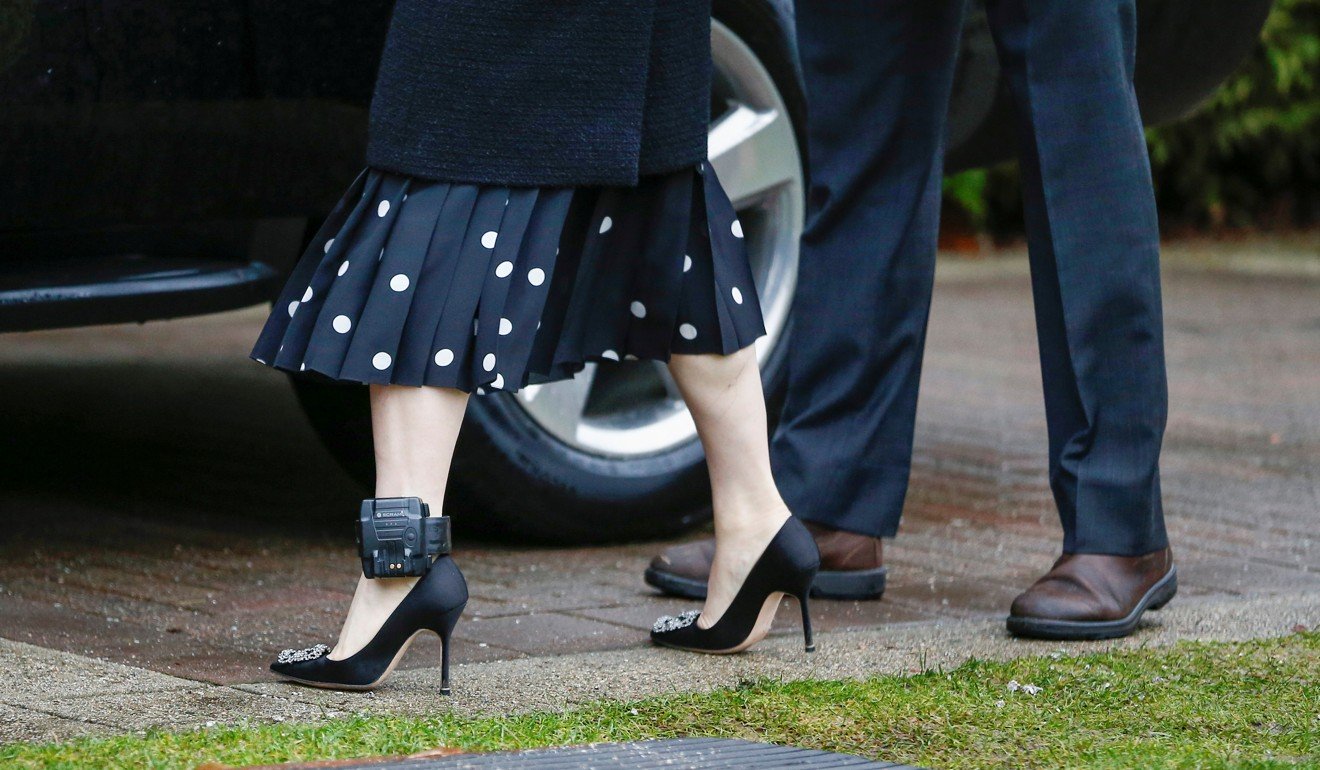 The ankle monitor of Meng Wanzhou is visible above her Manolo Blahnik high heels as she leaves her home on Monday. PHOTO: Reuters
It has also sent relations between Beijing and Ottawa into a deep freeze, with China arresting Canadians Michael Kovrig and Michael Spavor for alleged espionage. But their arrests 13 months ago were widely seen in Canada, the US and other Western countries as retaliation for Meng's detention.
Meng attended Monday's hearing wearing a smart polka dot dress and Manolo Blahnik high heels with crystal buckles, her hair pulled back in a silver pin. It was a far cry from the last time she was in courtroom 20, back in December 2018, when she wore a green prison tracksuit for the bail proceedings that resulted in her being released on a C$10 million (S$10.3 million) surety.
Subsequent hearings, preliminary to the main case, were shifted to smaller courtrooms, but on Monday, Meng returned to the 156-seat courtroom 20. Built 17 years ago for the terrorism trial that resulted from the 1985 bombing of an Air India flight, the room was filled to overflowing, with some journalists and spectators standing at the back.
The Canadian hearings are not a trial to decide Meng's guilt or innocence. Instead, Justice Holmes must decide whether the case merits Meng being sent to the US to face trial.
This week's hearings are devoted to the test of "double criminality".
Her lawyers say the underlying case against her is breaching US sanctions on Iran, which is not a crime in Canada. But the Canadian government lawyers representing the US in the hearings have said the underlying case is fraud.
Meng is accused of lying to HSBC in her 2013 meeting about Huawei's relationship with Skycom, an affiliate that was doing business in Iran. Meng's PowerPoint presentation to the HSBC executive in a Hong Kong teahouse is said to have resulted in transactions that put the bank at risk of breaching US sanctions.
Breaching US sanctions was the essence of Meng's alleged conduct, said another of her lawyers, Eric Gottardi. "It's why the US cares about what was said in the back of a restaurant in August 2013," he said. "It all comes back to sanctions."
Gottardi said the teahouse meeting was "the only act" attributed to Meng in the US case against her, and that if US sanctions law was removed from consideration "there's nothing left … that evinces a risk to HSBC."
He said that HSBC was depicted as having been "duped" by Meng - yet at the same time, the bank would have needed to have acted deliberately to have faced any risk of liability for breaching US sanctions. If Meng deceived HSBC, no such risk of "wilful violations" existed, he said, thus negating Meng's alleged fraud.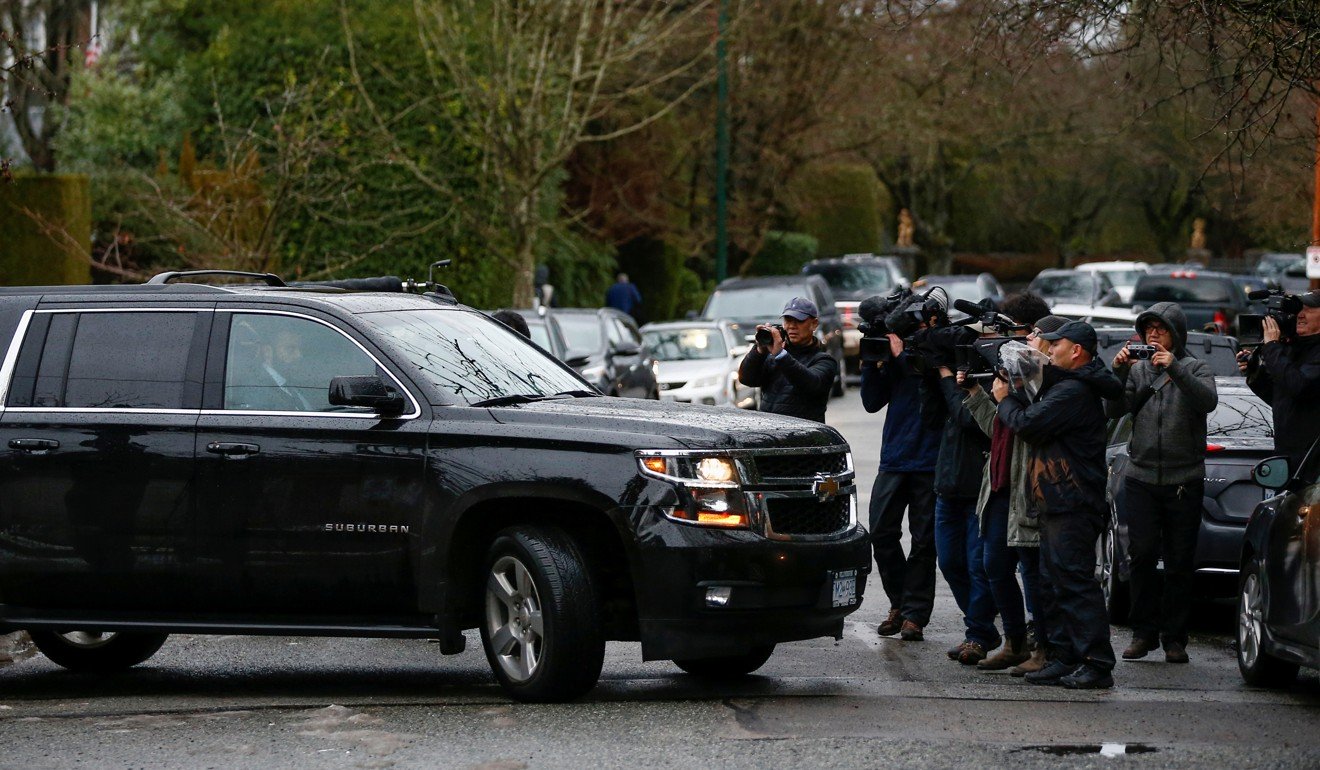 Media photograph the vehicle carrying Huawei Chief Financial Officer Meng Wanzhou from her home to attend the start of her extradition hearing in Vancouver on Monday. PHOTO: Reuters
Although Canada did have banking sanctions on Iran in 2013 at the time of the teahouse meeting, these were lifted in 2016. Extradition law required that the question of double criminality be considered at the date of the 2019 authority to proceed, the legal document issued by the Canadian minister of justice to push ahead with an extradition case, Gottardi said.
But Justice Holmes presented a hypothetical in which the teahouse meeting happened in Canada. "If this were a domestic prosecution, would it be viable, as a prosecution for fraud," she asked.
Gottardi demurred before conceding: "If there was dishonesty combined with an actual risk of deprivation then arguably you could make out the offence". But he said he would return to the question, and the hearing was adjourned until Tuesday morning.
Meng's husband Carlos Liu Xiaozong attended the hearing in a grey suit, and sat in the same row as Chinese diplomats.
During the morning break in proceedings, Meng emerged from behind the glass-encased courtroom to mingle with supporters in the public gallery and chat with China's deputy consul-general in Vancouver, Wang Chengjun.
Outside court, small groups of protesters waved signs professing support for Ms Meng, while others criticised China's detention of Kovrig and Spavor.
A group of teenagers, one on a skateboard, held signs that called for Meng's release. Unlike numerous other pro-Meng protesters who have attended her hearings over the past 13 months, they were not ethnically Chinese. "We're here because we support Ms Meng," said one, before another told him "you don't have to say anything".
They declined to identify themselves or say who wrote their signs in what looked like identical handwriting.
In a message posted on social media after the start of Monday's hearing, Huawei said: "We trust in Canada's judicial system which will prove Ms Meng's innocence. Huawei stands with Ms Meng in her pursuit for justice and freedom."
On Monday, a spokesman for China's foreign ministry repeated calls for Meng to be immediately released, calling her arrest arbitrary and a "serious political incident".
The double criminality phase of the hearing will continue until at least Thursday and possibly Friday, with further court dates pencilled in until November.
But the case could stretch beyond that, with some extradition proceedings lasting years.
Other phases of the hearing this year are scheduled to consider whether Meng was subjected to an abuse of due process when she was arrested and questioned at Vancouver's airport, as well as accusations that the case is politically motivated.
Her lawyers have pointed to comments by US President Donald Trump that he might intervene in her case if it was to the economic advantage of the US.
Meanwhile, Meng is living in Vancouver in a C$13.6 million mansion that she owns. She is under the guard of a private security team, and must wear a GPS tracker on her ankle, abide by a curfew and stay away from the airport.
This article was first published in the South China Morning Post.