Protesters demanding a full withdrawal of the now-suspended extradition bill blocked the entrances of multiple government offices on Hong Kong Island on Monday.
About 100 demonstrators besieged the tax office - for the second time in four days - before heading to the Immigration Department's central building and then back to the government headquarters and legislature, where Secretary for Justice Teresa Cheng Yeuk-wah was expected to attend a justice and legal services panel meeting.
In a spontaneous move, the protesters followed online calls to gather at the Legislative Council building in Admiralty at 11am and, after a show of hands, decided to march to Revenue Tower in Wan Chai, and block its entrances on the ground floor.
After some deliberation, from 1.45pm onwards, the protesters resolved to only let people leave the building and prevent them from entering, including via the underground car park.
University student Sean Ko, 22, took part in the blockade. "We will let civil servants exit the building for lunch and urge them to leave work early. But we are blocking anybody from entering. People can pay their taxes another day or do it online," Ko said.
On top of pressing the government to withdraw the bill altogether, they demanded that police retract the use of the word "riot" in reference to a protest on June 12, and that authorities drop charges against those arrested in clashes that day. Protesters also called for an independent inquiry on what they said was an excessive use of force by police on June 12.
The controversial bill was suspended on June 15; it had originally aimed to allow offenders in Hong Kong to be extradited to jurisdictions the city does not have any agreement with, such as mainland China. Opponents fear unfair prosecutions and insufficient protection in China's judicial system.
There were mixed feelings among members of the public who were trying to use the government services inside the building.
A retiree surnamed Chow, 64, who entered the building earlier to apply for business registration certificates, said she did not mind the minor disruption.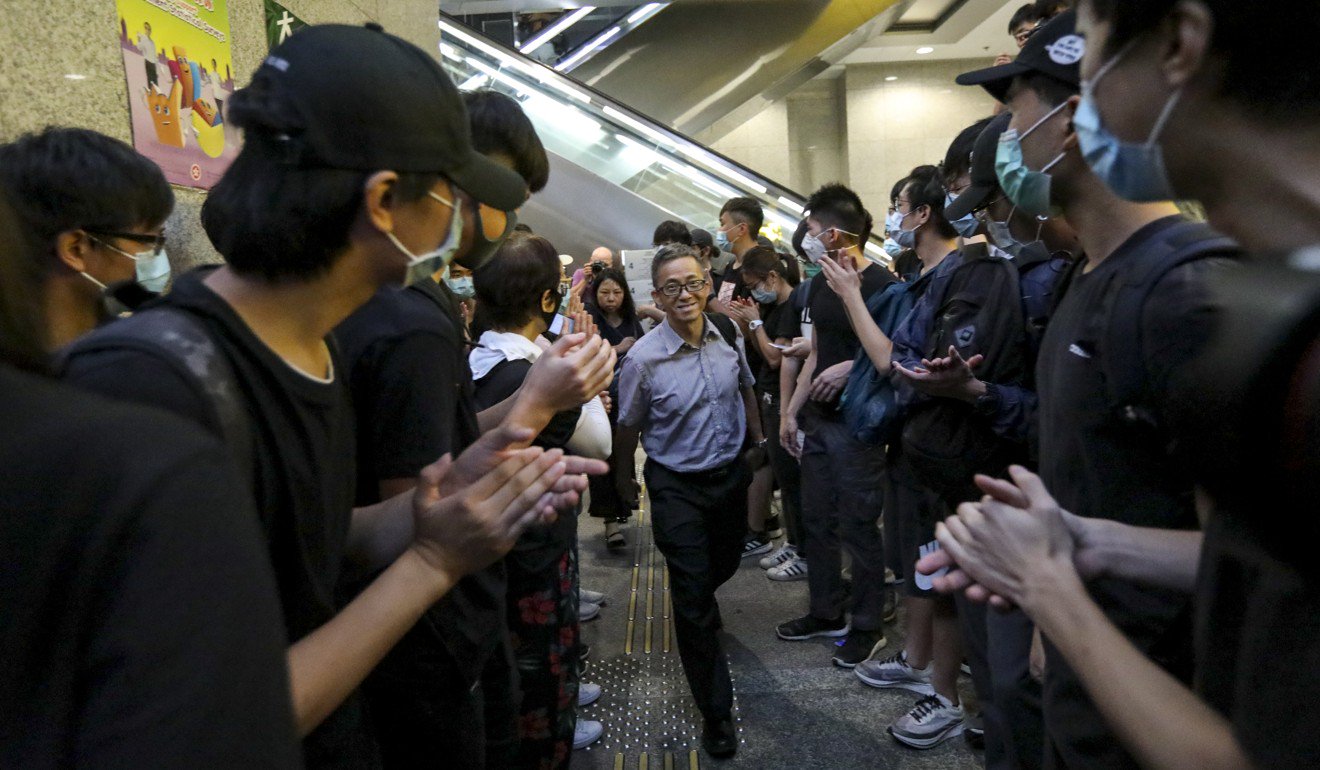 "It's an act of civil disobedience and non-co-operation, of course, there's going to be some inconvenience," she said. "I don't mind these young people doing what they think is right, to fight for Hong Kong's future."
Another resident surnamed Wong, who failed to get in to file her tax return, said she hoped for some advance warning from the protesters so she could come back another day.
"I don't know what the protesters think they can achieve by this - why aren't they blocking the [central government's] liaison office instead if they feel so strongly about it?"
Some civil servants and taxpayers were forced to enter and leave the tower through its underground car park, with some facing long delays. At one stage there were as many as 200 people queuing to use two lifts to get back to the office after lunch.
The underground entrance was also blocked at about 1.30pm, with protesters yelling "time to head home!"
There were no immediate plans to evacuate the building, according to some civil servants, speaking on their way out to lunch.
A VanGo convenience store inside the building closed for business as a result of the protest.
Fashion store owner Sarah Ho complained that, for two consecutive working days, she had not been able to file her company's annual return as she was blocked from entering Revenue Tower, where there is a Companies Registry office.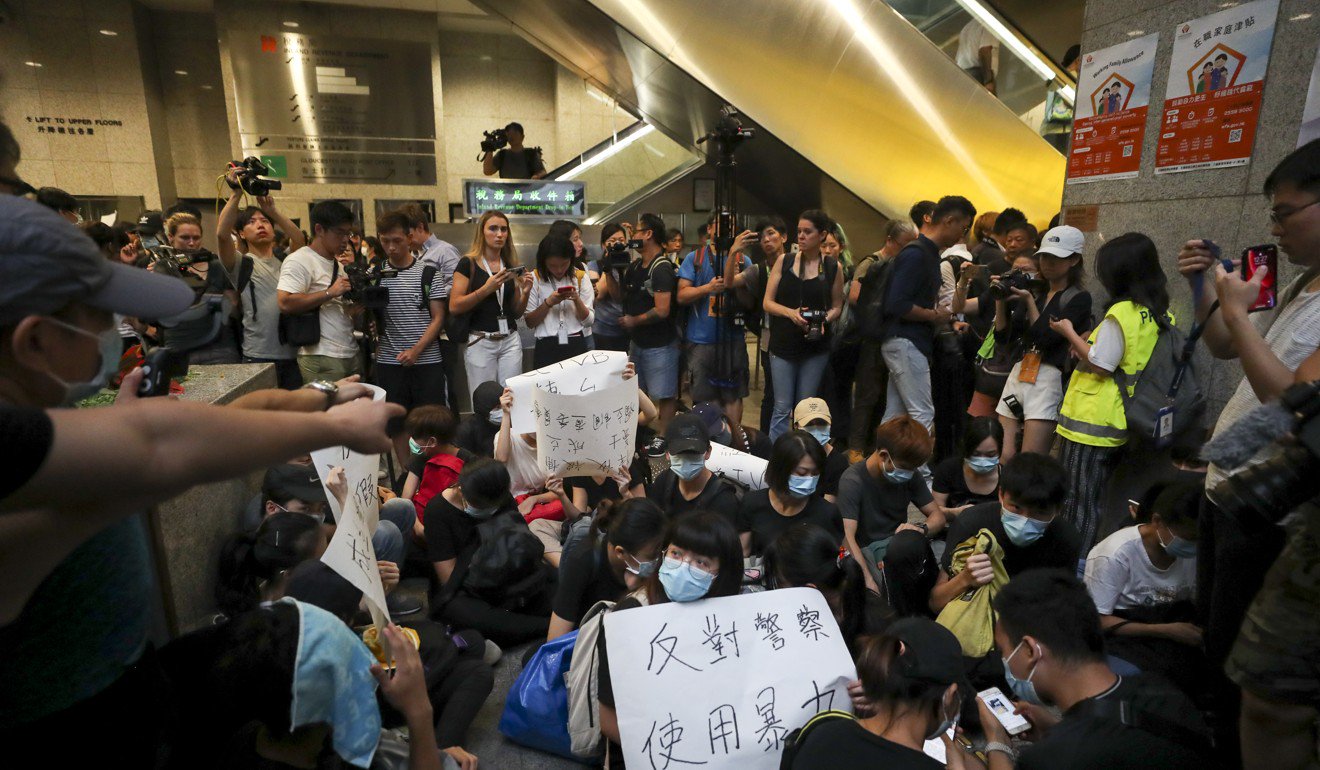 "It was troublesome and another Companies Registry office in Admiralty is too far away. I have to pick up my kids from school," she said.
"I actually support them in spirit, and it's OK to oppose the bill, but they shouldn't impede other citizens."
Businessman James Kinloch, who had to climb over the barricades to leave the building, said he fundamentally agreed with the cause.
"It's all fine … it's a peaceful protest and it's something to achieve a good thing, a bit more autonomy for Hong Kong people," he said.
There were mixed reactions among the building's workers too.
A civil servant who gave her surname as Fung said: "It's affecting our work, and some meetings were cancelled."
And Ben, an engineer working in the office of the government chief information officer, said: "We have to wait for our superiors to decide if we can leave, but we have no backup plan whatsoever - it's business as usual for us. The protests didn't affect our work much though, because we can always work from home."
After a three-hour blockade, the protesters turned to Immigration Tower next door, to continue the demonstration.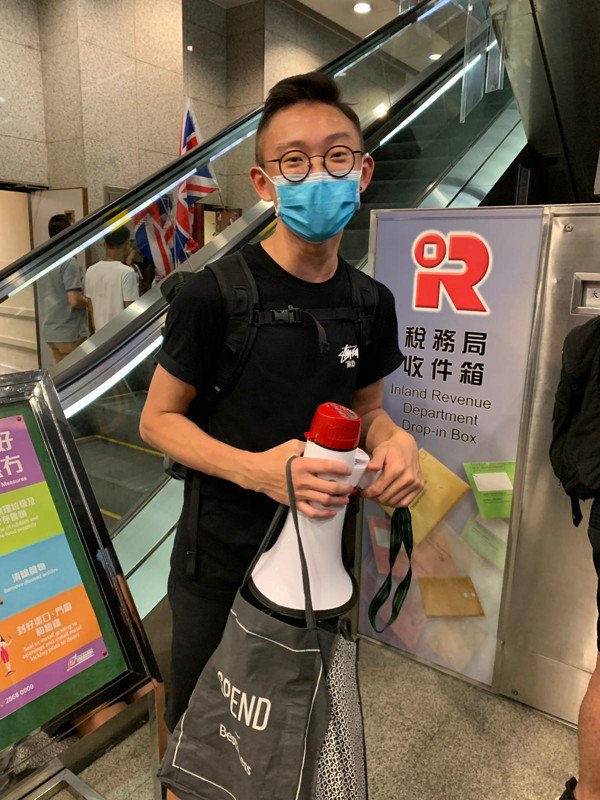 Rather than blocking the entrances this time, protesters jumped the queue for investor visa applicants and mainland migrants and climbed the stairs chanting: "Shelve the bill, establish an independent inquiry!" and "Withdraw, withdraw, withdraw".
Protesters also apologised to staff and citizens for the inconvenience caused.
After that, they headed to the government headquarters at Tamar, Admiralty at about 4pm.
Meanwhile, Raymond Tam Chi-yuen, former secretary for constitutional and mainland affairs, said the controversial bill was effectively "dead".
He said that while there were precedents for judge-led inquiries investigating matters of public concern, existing mechanisms such as the Independent Police Complaints Council, the force's watchdog, were also available to the public.
On the spontaneous protests at government facilities, Tam said: "Under the Basic Law [the city's mini-constitution], Hongkongers have the right to protest, but I hope they will not infringe upon other people's right to get to work, go home after work, or submit their tax returns to the Inland Revenue Department, when they exercise their right to protest. Mutual respect is key."
The Civil Rights Observer, a non-governmental organisation, said it received 35 complaints over the police's handling of the protests, and urged the force and justice department to investigate the matter.
That included 25 complaints concerning the use of tear gas, and five people claiming to have been assaulted by officers.
According to the group, one protester claimed he was hit by officers from the Special Tactical Squad with their batons and shields, before he fell to the ground. Although the protester said he was defenceless, he was still sprayed with pepper spray, the group said.
Another protester also claimed to have been hit in the chest by a tear gas cannister, which the group argued could be deadly.
This article was first published in South China Morning Post. 
ALSO READ: 'If we storm, we lose moral high ground,' Hong Kong protesters warn