Defiant protesters unleashed chaos and violence across Hong Kong on Monday in an unprecedented escalation of radical action against the government and police, even as the city's embattled leader toughened her stance and warned that they had gone beyond protests to attack the nation's sovereignty.
After calling a citywide strike aimed at crippling traffic and daily business, protesters throughout the day and into the night besieged police stations in Tin Shui Wai, Tai Po, Sha Tin, Tsim Sha Tsui, Wong Tai Sin, Sham Shui Po, Tuen Mun and Tsuen Wan, launching arson attacks at some of them.
Police fired tear gas in flashpoints stretching across seven districts, saying they were using "minimal force" to disperse radical protesters who blocked more than a dozen main roads and three major tunnels, set up barricades, started fires, and attacked law enforcers with petrol bombs, bricks and other projectiles.
More than 80 people were arrested, nine of them in the working-class neighbourhood of Wong Tai Sin, which was caught up in six hours of clashes between protesters and police who fired multiple rounds of tear gas and sponge grenades.
Protesters threw petrol bombs into the police station's compound and again targeted the disciplinary service quarters nearby, where officers' families live.
In a shocking escalation in North Point, protesters were attacked in the middle of the road, in full public view, by about a dozen men with bamboo poles.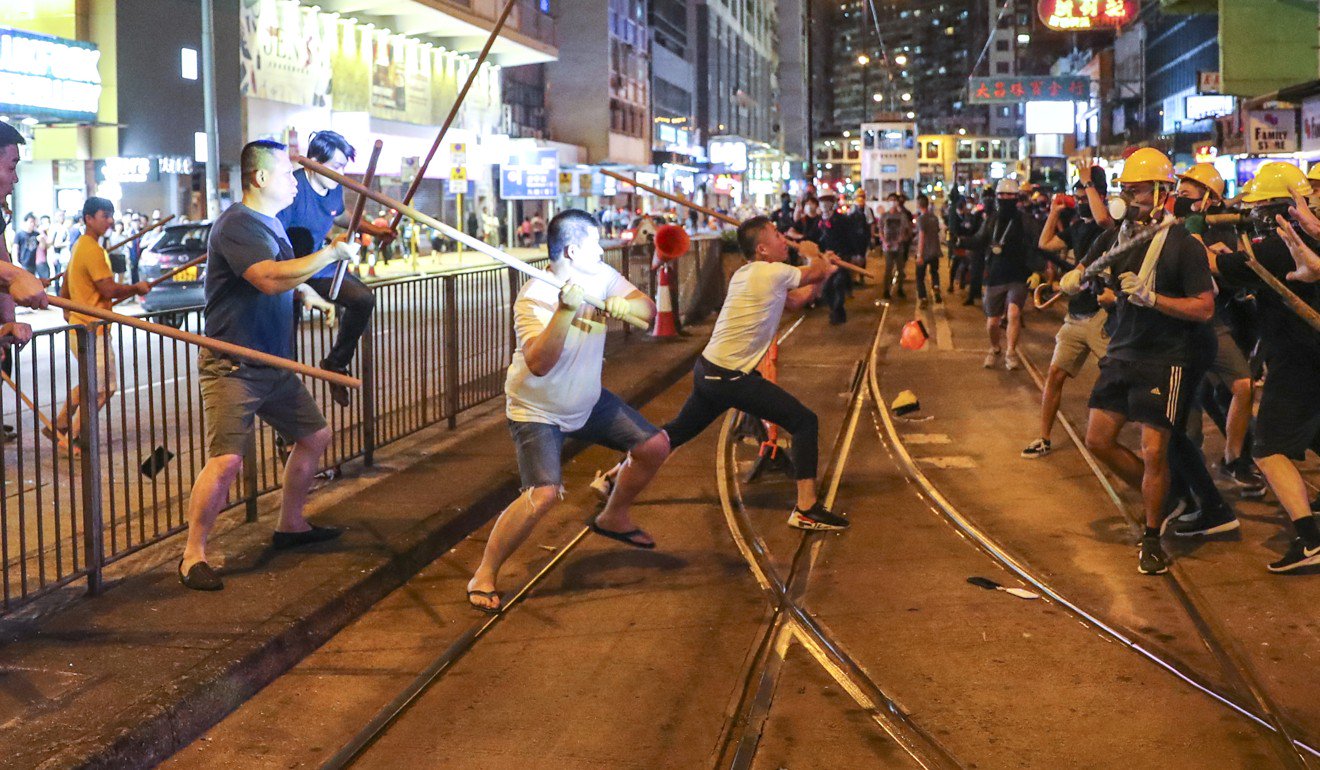 Demonstrators fought back with metal rods and hurled objects at them, later outnumbering the attackers and chasing them into a building on Fung Yuen West Street.
Angry protesters besieged the building, and broke a window of a flat where two men brandished knives at them.
The running battles in districts wore on into the night, with tear gas being fired in the poorest neighbourhood of Sham Shui Po, where protesters and residents clashed with police.
Close to midnight, a group of protesters returned to Causeway Bay and headed towards Wan Chai, targeting the police headquarters, where they hurled objects at the building, leading to fresh rounds of tear gas.
At midnight in Tuen Mun, police again used tear gas as protesters charged towards them, ending a 10-minute stand-off, while in Tsuen Wan, protesters clashed with a white-clad group brandishing metal poles and knives. At least four were injured.
By 1.30am, at the Mong Kok and Sham Shui Po protest sites, scores of demonstrators were still camped out. Outside Mong Kok Police Station, officers fired tear gas again to disperse the crowd, but to no avail.
"Hong Kong has been the safest city in the world," a grim-faced Chief Executive Carrie Lam Cheng Yuet-ngor said earlier in the day at her first press conference in weeks.
"But this series of extremely violent acts is pushing Hong Kong to a very dangerous situation; some extreme activists have altered the nature of these [protests], resorting to violent means to express their aspirations.
"They removed the national flag, threw it into the sea, and called for a revolution to liberate Hong Kong ... These actions have challenged national sovereignty, threatened 'one country, two systems', and will destroy the city's prosperity and stability."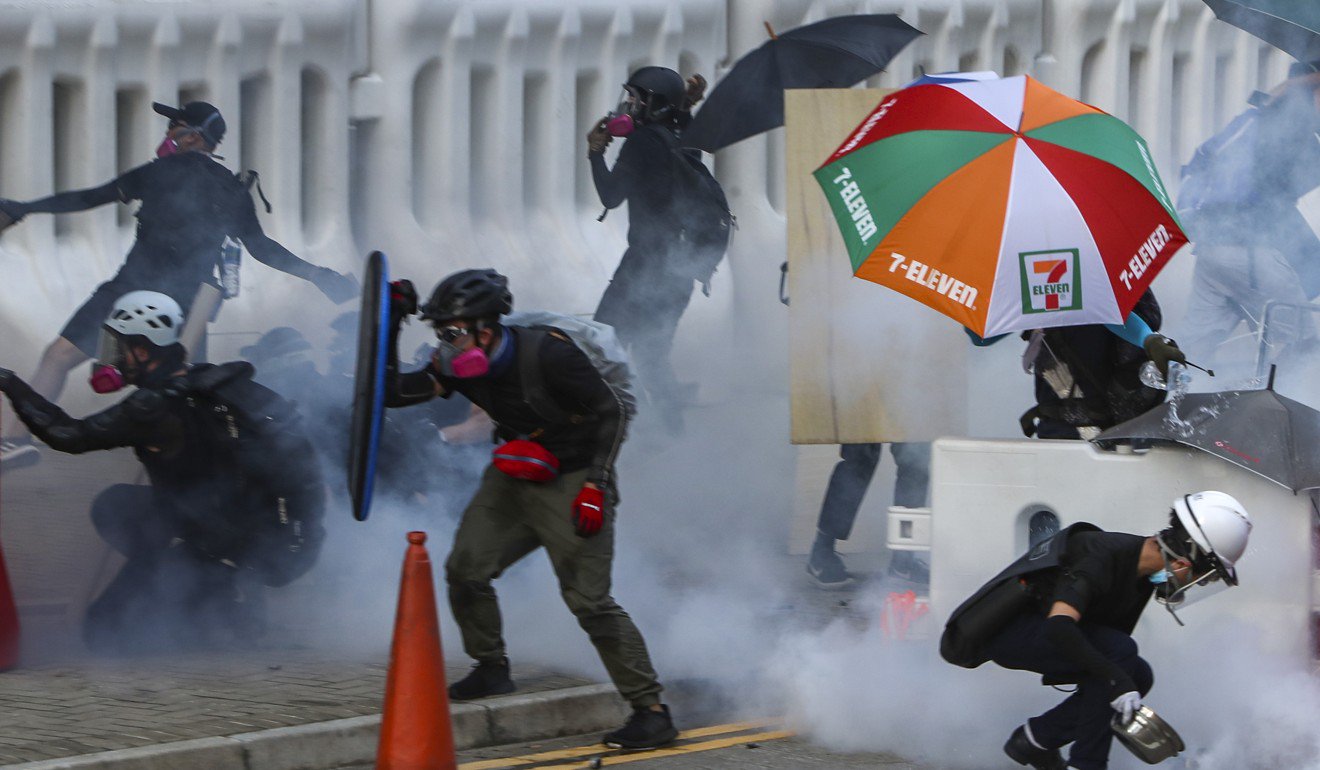 Lam made it clear there would be no compromise, repeatedly referencing the popular protest slogan, "Liberate Hong Kong; revolution of our times", along with almost daily violence and lawlessness, as evidence that the movement had gone beyond its original opposition to the now-abandoned extradition bill and escalated into an anti-national campaign.
"Do we have to gamble with the stable lives of 7 million people and the city's future?" Lam said. "Our society is becoming unsafe and unstable. This approach, which some people said was to bring collateral damage, will push Hong Kong onto a path of no return."
For ordinary Hongkongers, it was a day to be met with fortitude as trains were delayed and buses stopped on the roads. MTR services ground to a halt during the morning rush hour as protesters blocked doors to stop trains from leaving.
Eight MTR lines were hit hard, and the railway operator arranged for 15 shuttle buses to ferry stranded commuters.
Tempers flared, and at Fortress Hill station, a man became distressed, yelling that his pregnant wife was about to go into labour and angrily waving aside protesters who offered to help.
Video clips showed a black van ramming through barricades set up by protesters outside the Cross-Harbour Tunnel's Hung Hom exit, and a taxi mowing down picketers trying to block Harcourt Road in Admiralty.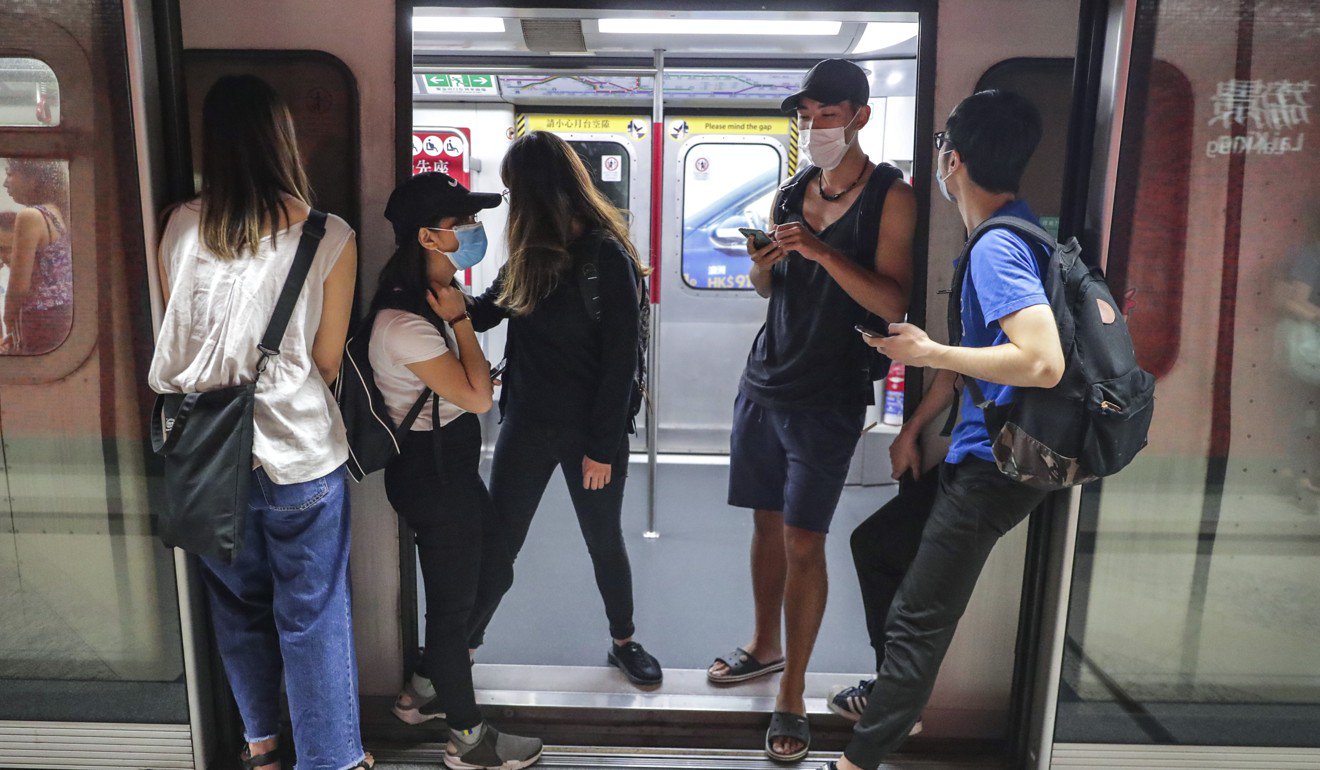 A man who drove through a barricade was earlier stopped by an angry crowd at Healthy Street West, some of whom punched him and shattered his windscreen as he got out and argued. A protester said the driver almost hit people with the vehicle.
Shops and businesses across the city closed early, and workers were given the rest of the day off to avoid any chaos heading their way.
Airport services were hit hard as well, with some 250 flights cancelled as air traffic controllers called in sick and airline staff joined the strike.
Protesters first took to the streets for what they billed as peaceful rallies in seven locations during the day. But before long it was apparent many were out to target police officers and their stations.
They vandalised multiple stations, throwing bricks, eggs and other projectiles at the windows and building fronts, spray-painted obscene graffiti on the walls, and yelled insults at officers who mostly remained barricaded inside.
The mobs used wooden crates, branches and rubbish bins to start fires at the gates of several police stations. At the Sha Tin police base, the fire became large enough to force officers from higher floors in the building to spray water on the flames.
For the first time in two months of mass protests which were triggered by the extradition bill, police fired tear gas early in the day, their patience running low under an endless barrage of attacks and abuse.
At the first of daily press briefings that police will hold from now on, it was revealed that they had fired 1,000 rounds of tear gas since the first clashes erupted on June 9 and arrested 502 people in total.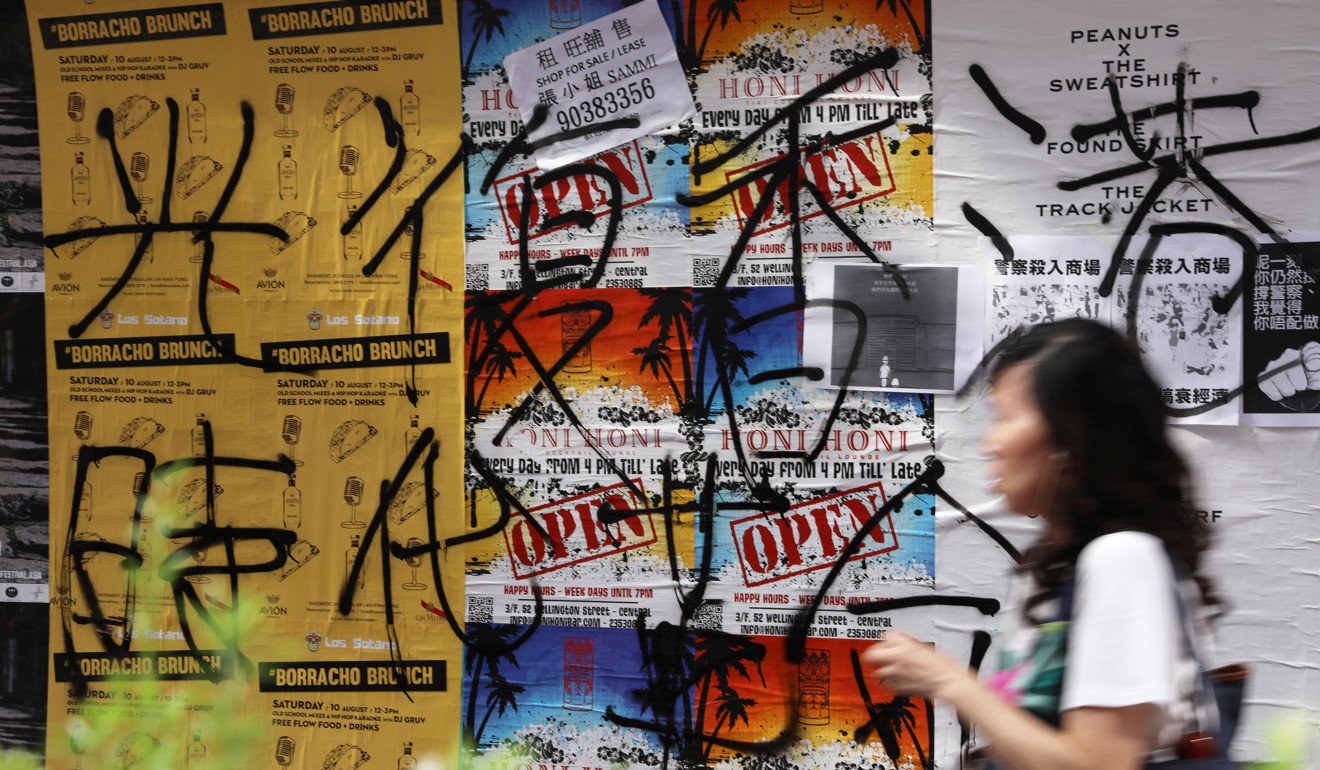 The protesters played cat-and-mouse with police, retreating with each firing of tear gas and advancing again, the aim being to draw police out at multiple locations simultaneously to frustrate and wear them down.
Countless rounds of tear gas were fired in the business district of Admiralty and the tourist hub of Tsim Sha Tsui, as well as in the residential neighbourhoods in Wong Tai Sin and Tai Po, which were turned into war zones.
Tear gas was also used outside Tin Shui Wai Police Station, where an angry crowd accused police of sexual violence after a young woman's underwear was exposed while she was taken away by several officers on Monday morning.
Senior Superintendent Yolanda Yu Hoi-kwan insisted officers had not behaved inappropriately, and blamed the woman for putting up a fight and resisting arrest.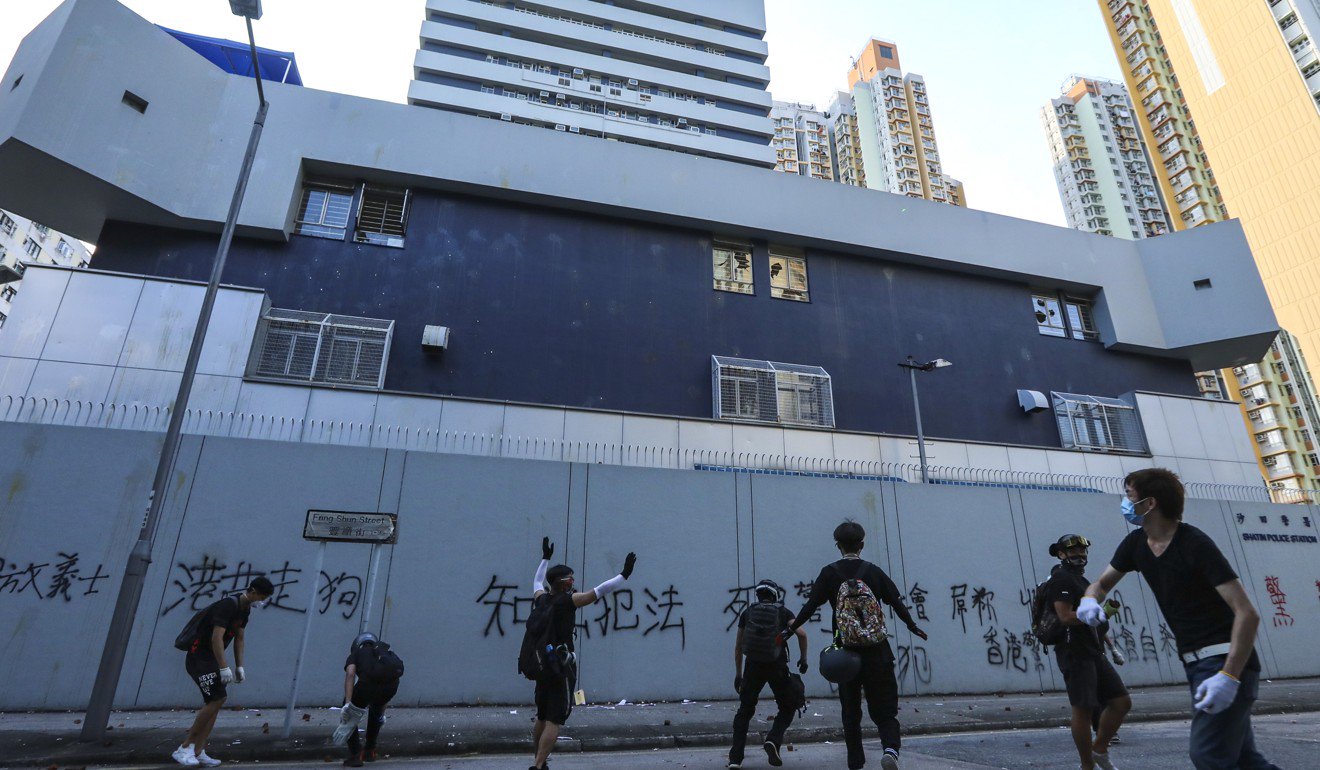 At the press conference with Lam, Financial Secretary Paul Chan Mo-po appealed for an end to the protests, warning the economy was in trouble because of both the ongoing US-China trade war and internal instability.
Hong Kong stocks saw their longest declining stretch in more than two decades, with the Hang Seng Index dropping 2.9 per cent to 26,151 points.
Asked if she, or any member of her cabinet, would take responsibility for the social unrest and step down, Lam insisted she would not resign, especially when Hong Kong's future was at stake.
"When the well-being of 7 million people is facing huge challenges, this is no longer about my personal honour. My colleagues and I have the responsibility to stand fast to our positions," she said.
This article was first published in South China Morning Post.