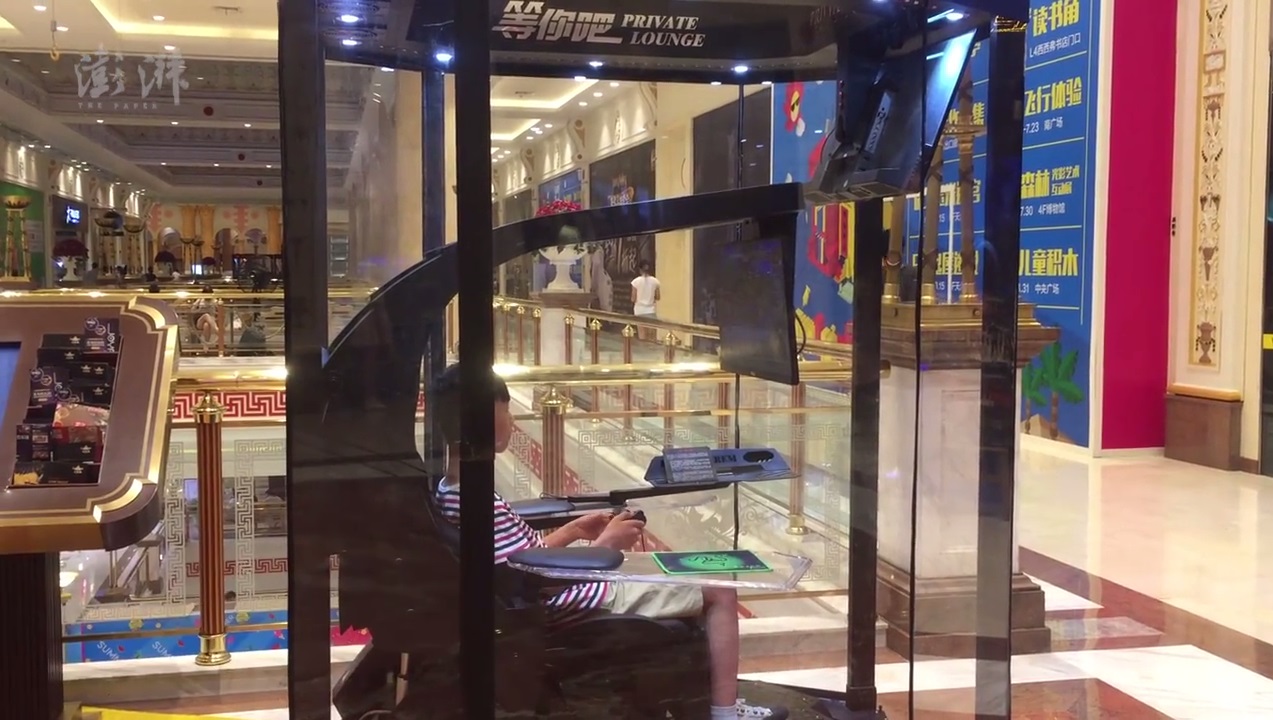 Ladies, do you feel guilty at the sight of your bored boyfriend or husband while you shopped?
Well, apart from the sofas at the footwear stores, this "hubby hatch" could be your next favourite spot to 'park' your partner while you seek retail therapy.
Shanghai's largest mall, Global Harbour, has recently set up four "resting hatches" where men can kill time by playing video games while waiting for their female companions to be done shopping, reported ThePaper.cn on July 13.
These ultimate "men caves", which are on a one-month trial, come with a plush seat and gaming station with television and console. 
Combining the best of both worlds, the gaming rooms have proven to not only be useful for men who are tired from carrying their partner's shopping bags, but also ladies who are sick of partners requesting to "go home".
Mr Wu, whose girlfriend gets angry at him for playing games on his phone while she shops, told ThePaper.cn that such capsules allows his girlfriend to shop peacefully while he has fun too. 
But not all users are completely satisfied, as one man complained that he couldn't even finish a game before he started sweating, due to the lack of ventilation in the capsule.
A woman, named Ms Li, also didn't liked the idea: "It's impossible to ask a man to stop playing games," she complained. "Now I'll have to wait for him to finish his game even after I'm done with shopping."
Another woman who was even more unhappy about the concept said she felt that it completely defeats the purpose of "bringing a man out".
"My man is here to help carry my shopping bags, open my beverage bottles, be a GPS when I'm lost, and give me his opinions on outfits." she added.
"If he goes away to have fun on his own, I'll be really bored shopping alone."
According to the mall's personnel, the gaming rooms are open to the public for free during the month-long trial period.
The mall has plans to set-up more capsules in the future, and users would be charged through a mobile application to use them. Amenities within the capsule could possibly be improved as well, reported ThePaper.cn.
This isn't the first time a mall in Shanghai has set up resting spots for men, as a mall in Minhang district had also set up a "husband nursery" last year, where men could watch television, and read newspapers and magazines in a waiting room.
ongymm@sph.com.sg