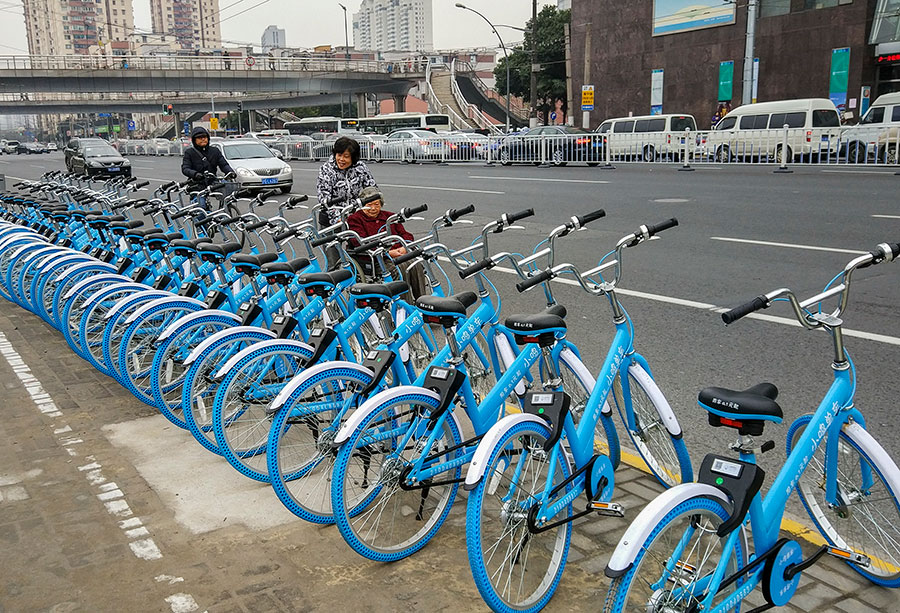 A consumer watchdog group in Guangzhou, Guangdong province, is suing a shared-bike company over accounting irregularities and delays in refunding users' deposits.
The Guangdong Consumer Council is demanding that Yueqi Information Technology Co, the company behind Xiaoming bikes, deliver refunds to customers more quickly and increase transparency.
It is believed to be the first public-interest litigation involving shared bikes.
"The defendant has violated consumer rights laws and regulations ... by refusing to disclose how it manages deposits," the consumer council said on Monday.
It said it has received more than 30,000 complaints about delayed refunds and poor management of Yueqi's deposit account since August. Some consumers worried their deposits have been misappropriated by the company for other purposes, the statement said.
Moreover, it said, the defendant breached its commitment to return customers' deposits on time even as it was using the deposits for long-term gains. When bike users paid their deposits, the company promised to immediately refund the deposits when the service was no longer wanted.
Yueqi declined to comment when contacted by China Daily.
Guangzhou Intermediate People's Court has accepted the case and will schedule a public hearing.
Chen Tianxiang, a professor at the School of Government of Sun Yat-sen University in Guangzhou, said government departments should introduce more regulations and rules to further standardize the operation of bike-sharing companies.
"The legal rights and interests of users should be protected by the law," he told China Daily on Monday.
Huang Fengchan, a white-collar worker in Guangzhou, said shared bikes provide a convenient, affordable and quick way for residents to cover short distances, but bike-sharing companies should make their operations more transparent and let consumers know how their deposits are being used.
"Meanwhile, more regulations and rules should be introduced to further standardize the operation of bike-sharing companies to help build the confidence of shared-bike users," Huang said, adding that consumers have the right to know.
According to a survey conducted by the Guangdong Consumer Council, 64 per cent of the 2,238 residents who responded online earlier this year expressed their dissatisfaction with the management of shared bikes in the province.