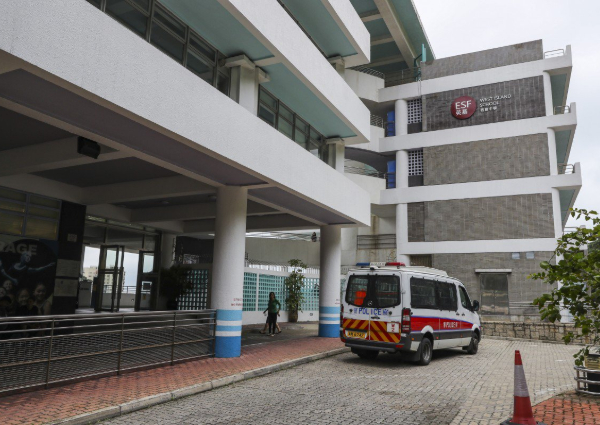 A teacher at an international school threatened to jump from a rooftop in Pok Fu Lam on Monday, after she was allegedly informed she could be terminated.
The 36 year-old teacher who taught Chinese at West Island School, run by the English Schools Foundation (ESF) - the largest international school organisation in Hong Kong - was rescued by police and firefighters on Monday as she sat on the edge of a building.
"The woman was returned to safety soon after emergency services arrived and escorted inside by firefighters," a police spokesman said.
A cousin of the teacher told the Post she had been suffering from mental illness.
When she returned to work from sick leave, the school denied her access to resume classes then weeks later, demanded she take over four additional classes to make up for the time she was sick, her cousin said.
"They told her she was under observation for three months and that if there was an unsatisfactory appraisal, she would be fired," the cousin said.
"It's been very overwhelming as she had just recovered and it seemed discriminatory to do such a thing."
ESF confirmed there was an incident on campus on Monday and that it had alerted emergency services immediately. It said it would not comment publicly on internal staffing matters.
"The situation was quickly and safely resolved. The member of staff is in the care of health professionals and she will, of course, receive all the support she needs from the school," a statement read.
The school issued an email to parents in late Monday afternoon to explain the incident.
"I wish to let you know emergency services attended school today as a member of staff intentionally placed herself in a dangerous situation," the school's principal Chris Sammons wrote.
He added the situation was quickly and safely resolved.
If you, or someone you know, are having suicidal thoughts, help is available. For Hong Kong, dial +852 2896 0000 for The Samaritans or +852 2382 2007 for Suicide Prevention Services. In the US, call The National Suicide Prevention Lifeline on +1 800 273 8255.
HELPLINES
Samaritans of Singapore (SOS): 1800-2214444
Singapore Association for Mental Health: 1800-2837019
Sage Counselling Centre: 1800-5555555
Care Corner Mandarin Counselling: 1800-3535800
This article was first published in South China Morning Post.