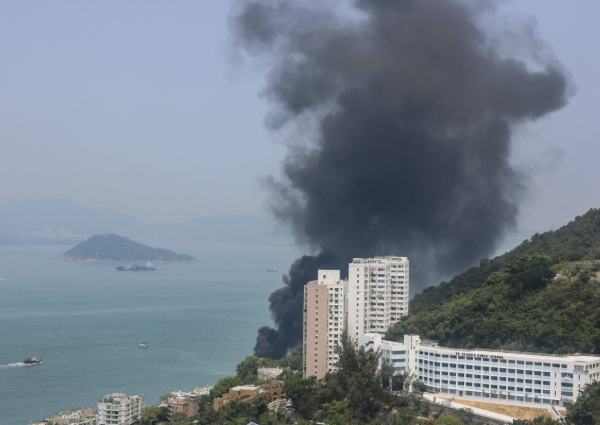 A yacht was completely engulfed in fire after bursting into flames off the west coast of Hong Kong Island on Saturday morning, injuring two people.
Thick black smoke billowed from the burning 16-feet sailing vessel, which was in the water near Mount Davis, after the cabin caught fire at 11.24am.
According to the police, two men, aged 58 and 59, were aboard at the time of the blaze and were rescued by a passing vessel. They were sent to Queen Mary Hospital in Pok Fu Lam for treatment after inhaling excessive smoke.
Maine police and firefighters sent rescue vessels and fireboats to the scene and put out the fire at 12.03pm.
Police said that initial investigation showed the cause of fire was not suspicious.
Last September, five people, including two boys, escaped serious injury in Hong after they jumped for their lives from a burning speed boat off Ap Lei Chau.
The vessel was leaving Aberdeen Typhoon Shelter when its engine caught fire. A minor explosion was reported.
The three men and two boys on board had to jump into the sea. They were soon rescued by a nearby boat that rushed to help them.
This article was first published in South China Morning Post.