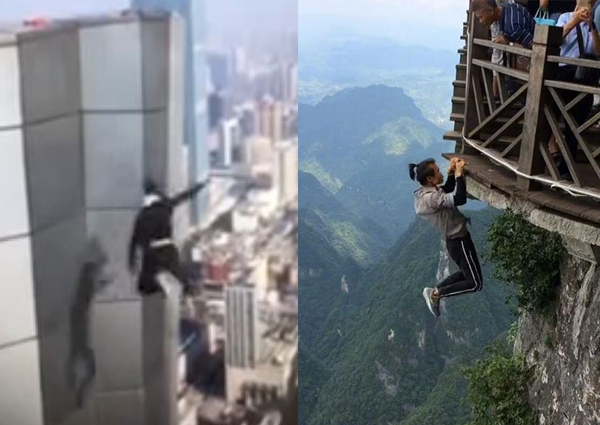 A " target="_blank">video shot by a 26-year-old man in China just before he plunged to his death in a daredevil stunt gone wrong has been leaked online.
The nearly four-minute clip showed the man, known as Yong Ning on social media, practising his stunt - lowering himself over the edge of a building with his hands.
He does it once, but things go awry on his second try.
After a short rest, Yong Ning goes in for a second attempt, and is seen extending his arms fully this time round. He does a few pull-ups, but appears to have difficulty climbing back up. He struggles and hangs on for almost 20 seconds before he loses his grip and falls.
The accident is believed to have occurred on Nov 8, at a 62-storey building in Changsha, the capital of China's Hunan province, but the video only surfaced online on Dec 10.
It was rumoured that the adrenaline junkie with 235,000 fans on China's Meipai website pushed himself to create more dangerous videos in order to make money to pay off his sick mum's medical bills. But this has not been verified, Shanghaiist reported.
His girlfriend was the one who broke the news of his death one month later, on Dec 8. She wrote on her Weibo account: "Today is December 8th. It makes me think of November 8th, the day that you left us, left this world". 
His death had been speculated by netizens after they noticed that he had not been posting any new videos for weeks.
Yong Ning is among a community of young thrill-seekers around the world who engage in the often-illegal activity known as 'roof-topping'.
Photo: Weibo
The extreme urban exploration involves climbing up tall structures or buildings - usually without a permit, just for a video or selfie from the very top.
Photo: Weibo
According to Shanghaiist, Yong Ning, whose full name is believed to be Wu Yongning, claimed the title of 'China's first rooftopper'.
Many of his videos show him doing dangerous stunts such as pull-ups off the edges of high-rise buildings and tiptoeing around cranes.
Photo: Weibo
Sadly for Yong Ning, his next stunt turned out to be his last.
candicec@sph.com.sg