Air rage - or "unruly passenger behaviour", in the experts' terminology - manifests differently in Asian and Western travellers, while Chinese air rage may be a genre all of its own. That's according to a co-author of a report by the School of Hotel and Tourism Management at Hong Kong Polytechnic University.
"In general, Asian societies are more [well] behaved, based on common Confucian values. The threshold towards misbehaving is higher, as [is] the tolerance of discomfort," says Markus Schuckert, assistant professor at the school and an expert in tourism transport.
Air rage is on the rise, the school's report says, and Asia is seeing its fair share of such incidents.
Media reports of in-flight brawls, scuffles, abusive behaviour and drunken, foul-mouthed rants are increasingly doing the rounds of social media, often accompanied by grainy mobile phone footage of the unsavoury incident.
In January this year, a passenger recorded video of a shirtless Australian sparking a mid-air brawl on a Singapore-bound Scoot airlines flight from the Gold Coast. The unnamed man, described by authorities as "a disruptive male", was arrested after the plane was forced to make an emergency landing in Sydney.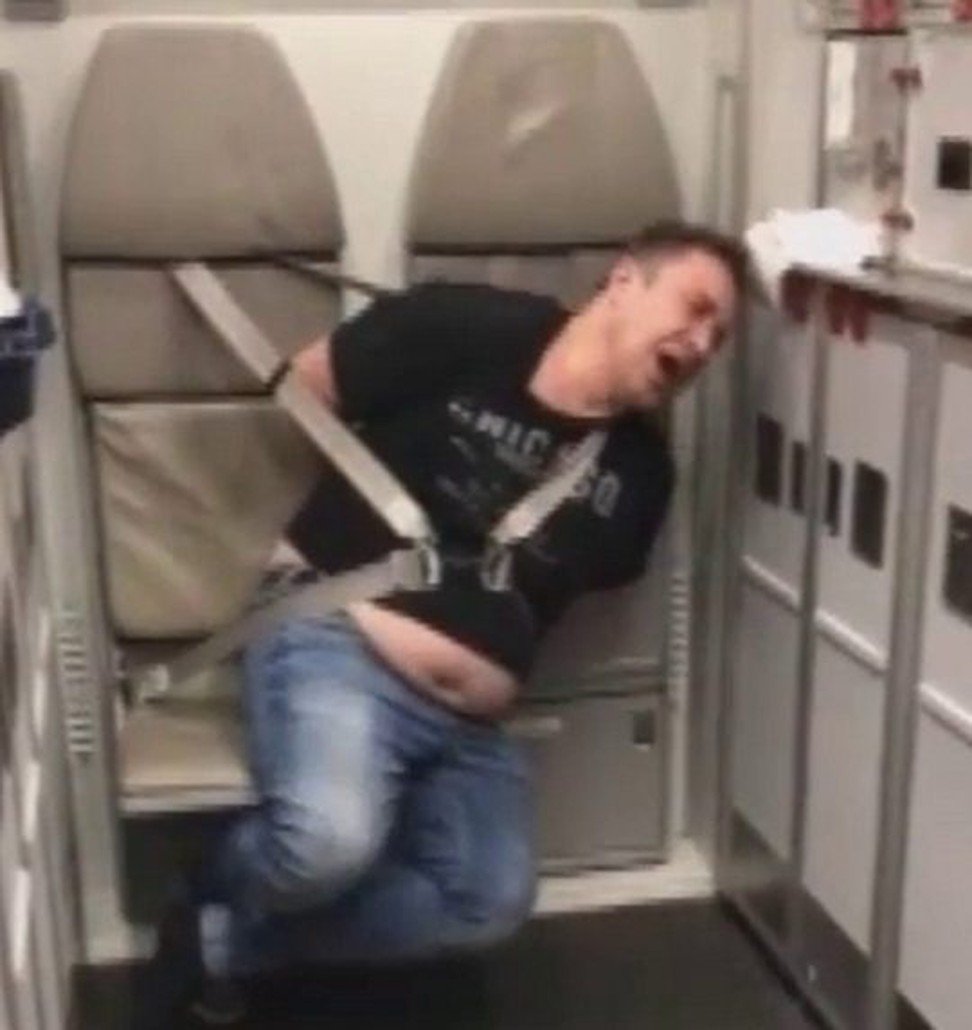 Russian anaesthetist Vadim Bondar was overpowered by male passengers and crew after causing terror on an Aeroflot flight.
Photo: South China Morning Post
In April, passengers overpowered an inebriated Russian doctor and tied him up to prevent him from opening the emergency exit door at 33,000 feet (10,000 metres) on an Aeroflot flight from Bangkok to Moscow. Reports indicate that the 43-year-old anaesthetist, Vadim Bondar, had been drinking rum on the 10-hour flight before becoming violent and incoherent.
Global figures released by the International Air Transport Association show that in 2017, airlines reported one altercation for every 1,053 flights, up 35 per cent from the previous year.
Since most major carriers train their cabin crew to de-escalate unruly behaviour, experts suspect the problem is under-reported because airlines do not welcome the additional paperwork or negative publicity.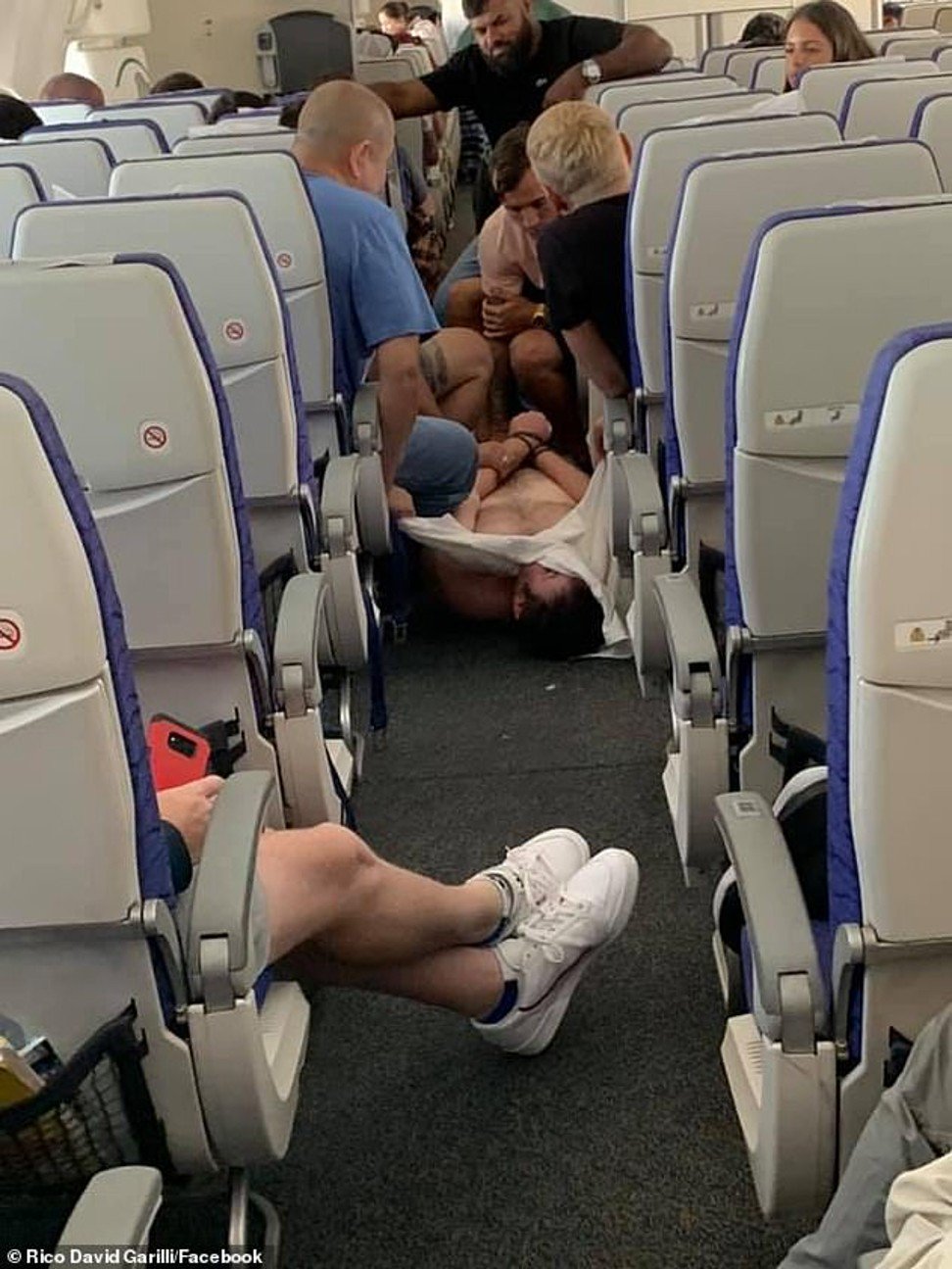 An Australian sparked a mid-air brawl on a Singapore-bound Scoot airlines flight.
Photo: South China Morning Post
The research by Schuckert and his colleagues revealed that, while both Asian and non-Asian passengers showed little tolerance for violent and abusive behaviour, Asian passengers were much more tolerant of other types of unruly conduct.
Incidents related to violations of personal space, such as armrests being occupied, excessive seat reclining, or those relating to service disruption, did not cause a meltdown in the same way they did among Western passengers.
Nevertheless, online reports and social media posts suggest there are exceptions - and they tend to apply to passengers from China. In response, the China Air Transport Association opened a no-fly blacklist in 2016, banning offending Chinese passengers from flying for up to two years.
The China Outbound Tourism Research Institute estimates that in 2019, there will be 180 million outbound tourist trips from China, year-on-year growth of 13 per cent.
"Social media pictures or videos [of unruly passenger behaviour], especially from China, are legendary," says Schuckert.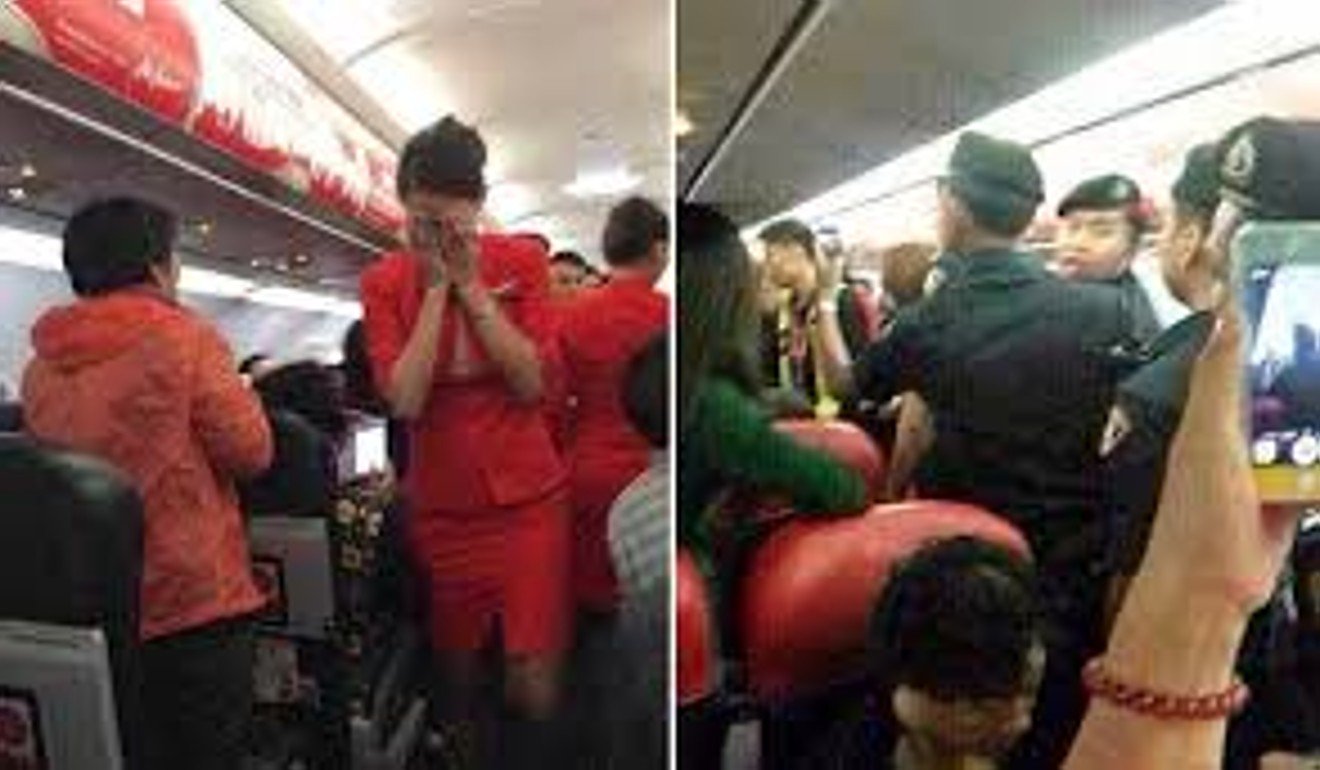 An Air Asia stewardess after having hot water thrown at her face.
Photo: South China Morning Post
The China Air Transport Association's no-fly ban came in the wake of incidents such as a 2015 case in which three Chinese passengers were forcibly removed from a flight awaiting departure from Siem Reap in Cambodia, to Chengdu in China's Sichuan province, after a scuffle broke out on board.
According to a report in the Chengdu Commercial Daily, the argument started after a man complained to a woman in front of him that her seat was tipped back too far and he inadvertently touched her hair.
In another case that made headlines, the Civil Aviation Administration of China issued a statement in June 2016 saying that two men aboard a Hainan Airlines flight had fought with a member of the cabin crew and a passenger who tried to help. They then pounded on the aircraft's cockpit door after their request to be upgraded to business class was denied. They continued to kick and punch after police boarded the flight and had to be restrained with handcuffs, the Chinese aviation authority said.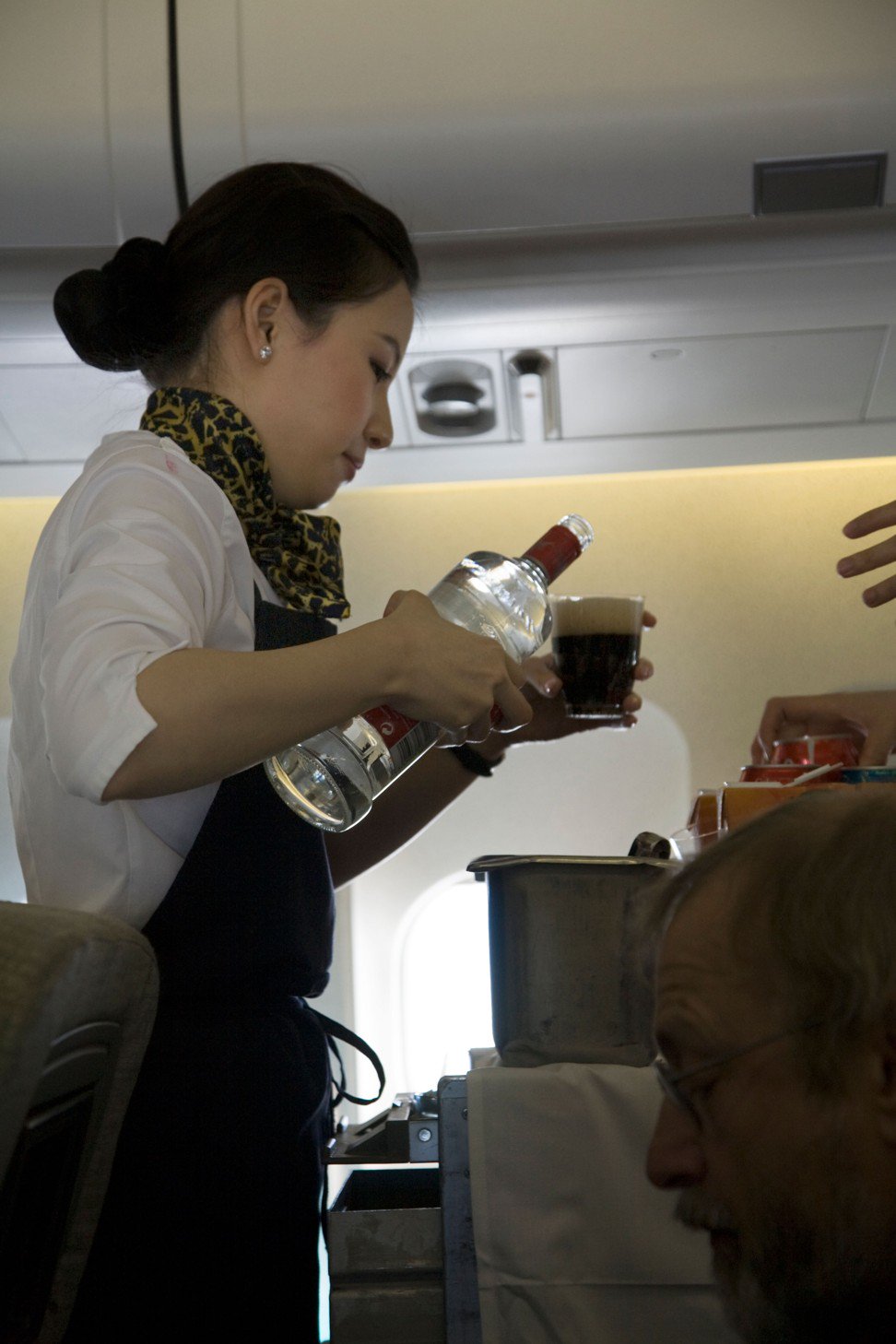 Alcohol is responsible for many air rage incidents in the West.
Photo: South China Morning Post
The tourism school's research also found that 50 per cent of all air rage incidents are triggered by or associated with excessive alcohol consumption, but this seems to be less applicable to Chinese and other Asian passengers, among whom a culture of boozing is less prevalent.
"Currently I still observe more reports about alcohol-intoxicated passengers from Western media than from Eastern outlets," says Schuckert. He says that, even in Asian countries with a more established drinking culture, such as South Korea, reports of unruly passenger behaviour are rare.
Academic research and media reports of air rage on airlines operating in Asia suggests that while drunken, abusive and violent rages seem to be more prevalent among Western passengers, Chinese guests have developed their own unique version of "unruly passenger behaviour".
"If you follow recent reports, the growing number of inexperienced travellers in Asia cause a different problem," Schuckert says.
Earlier this month, for example, Chinese media reported that an elderly passenger was arrested and detained in Shandong province after he tried to open an emergency exit as his plane sat on the tarmac. A video clip shows an indignant and bemused looking male passenger waving his hand out of the space once occupied by the emergency escape window.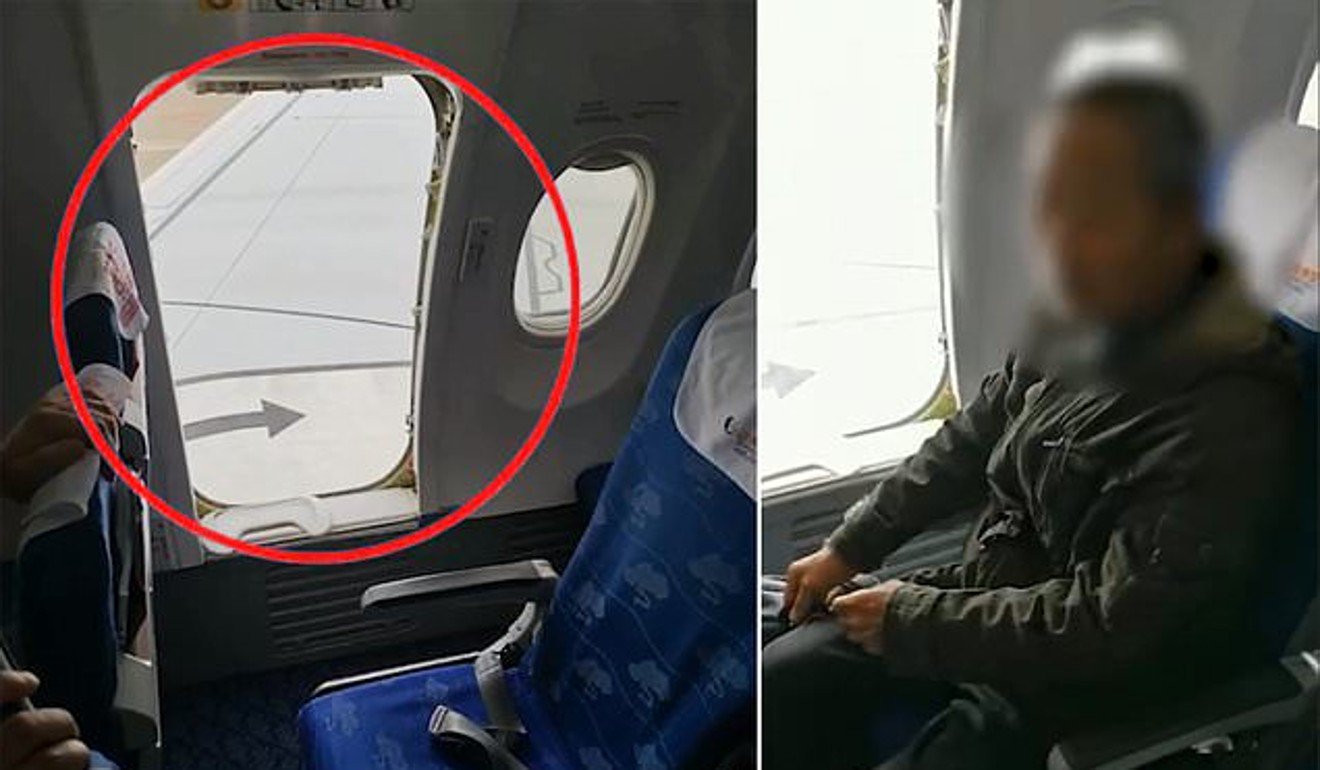 An elderly passenger was arrested and detained in Shandong province, eastern China, after he tried to open an emergency exit.
Photo: South China Morning Post
"In Western countries it is quite uncommon, for instance, to open the emergency exit. However, in some East Asian countries it happens a lot. Those passengers are usually scared, stressed, inconsiderate or ill-informed," Schuckert says.
There was also a widely reported emergency-door incident at Mianyang Nanjiao Airport in Sichuan province, southwest China, in May 2018. An impatient passenger waiting to disembark opened the emergency exit and activated the escape slide because, he claimed, the cabin was "too stuffy and hot".
"All of these events, based on a lack of knowledge or superstition, cause disruptions in operations, and can be regarded as 'unruly'," says Schuckert.
He also cites coin-throwing incidents as an example of unruly passenger behaviour rarely seen in the West.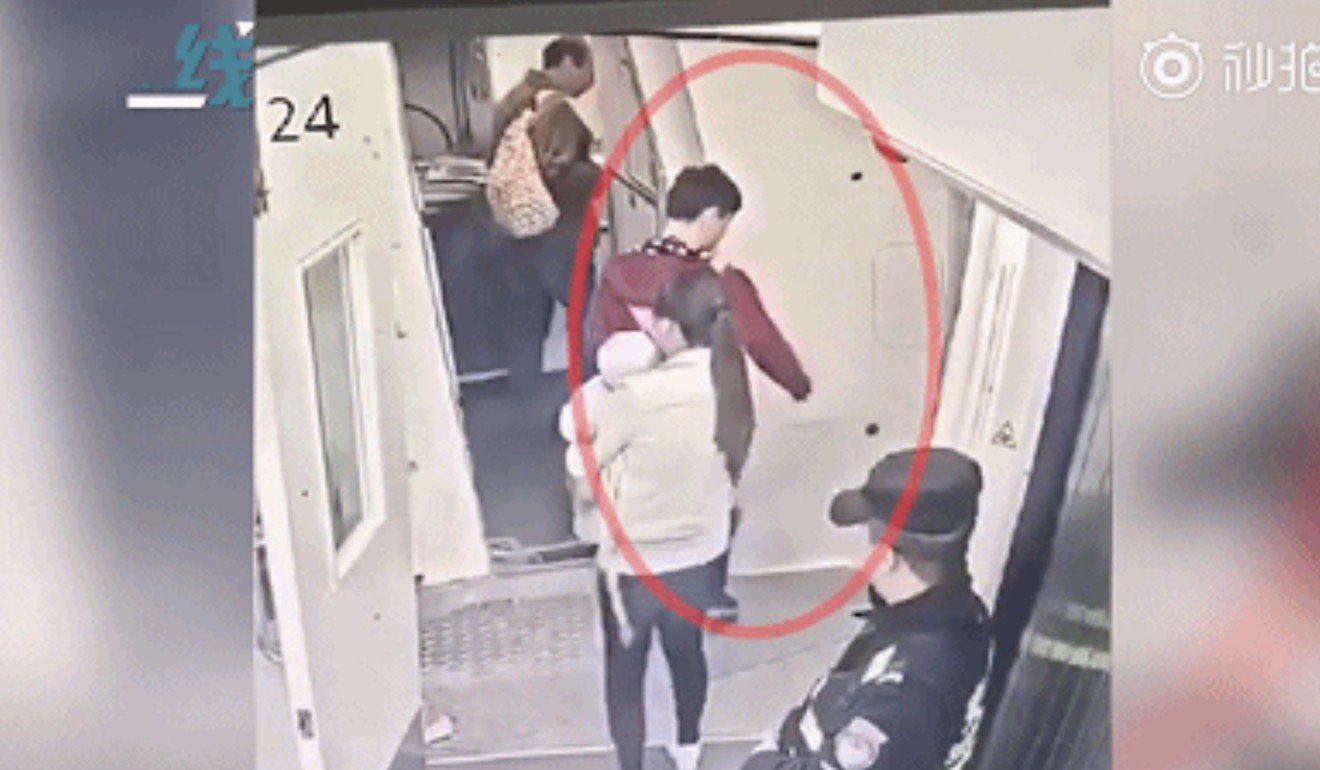 A man from central China was detained after he threw coins at a plane's engine to wish for a safe journey.
Photo: South China Morning Post
In February this year, low-cost Chinese carrier Lucky Air announced it was suing a passenger for tossing coins into a plane's engine before a flight from Anqing to Kunming. Officials discovered the problem when they found two one-yuan coins on the ground near the plane.
The passenger claimed he only did this for good luck. It echoed an incident at the same airport in October 2017, when a 76-year-old Chinese woman threw coins at the jet's engine to wish for a safe journey. The authorities detained her and grounded the flight.
There is no suggestion that either passenger had been drinking or taking drugs, but this does not mean violent or abusive incidents involving Chinese passengers do not occur.
In July 2015, four Chinese tourists who took part in an "uncivilised" attack on ground crew at Hong Kong International Airport after a flight delay were jailed for a combined total of 39 days by a local court.
Schuckert attributes violent episodes to a "misunderstanding of the service concept" and confusing the guest-host - or guest-servant - relationship. He cites the notorious "Korean nut rage" incident as an example of confusion over what should constitute service.
In December 2018, Korean Air was ordered to pay almost US$18,000 (S$24,700) to a flight attendant who was subjected to abuse in that incident in 2014. Air steward Park Chang-jin had been forced to apologise, grovelling on his knees, after serving nuts to Cho Hyun-ah - daughter of the airline's chairman, Cho Yang-ho. Park had served the snack in a bag rather than a bowl. Cho was sentenced to one year in jail for violating aviation safety, coercion and abuse of power.
In its research the tourism school also found that the propensity to tolerate unruly behaviour associated with personal space decreases if passengers are highly educated, travel in business/first class, or fly over long distances. While unruly passenger behaviour is regarded as largely an economy class phenomenon, there are also cases of posh air rage, however.
In a court case in Britain in March this year, an Irish human rights lawyer travelling in business class from Mumbai to London was jailed after she spat at cabin crew during a racist rant.
Simone Burns, 50 (also known as Simone O'Broin), had downed three bottles of wine with her breakfast, then blurted out "I'm a f*****g international lawyer" when she was denied more alcohol on the Air India flight.
This article was first published in South China Morning Post.