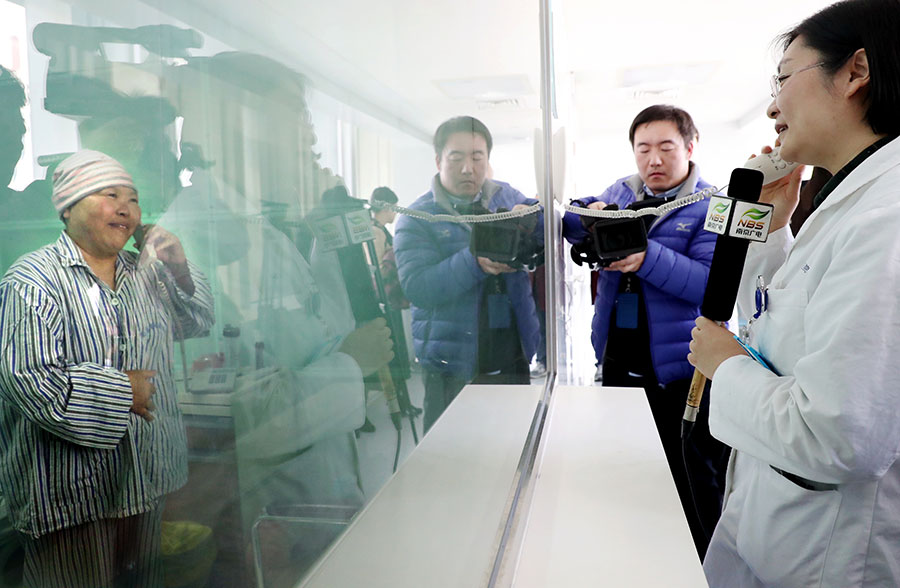 Eight years after receiving his bone marrow donated by his sister to cure a rare disease, Wang Jiang donated hematopoietic stem cells to cure his sister's leukemia in Nanjing, Jiangsu province.
Wang, 55, came down with a sudden fever in 2009 and was diagnosed with extreme aplastic anaemia, a potentially fatal blood disorder. His three siblings, after learning that he would need bone marrow, rushed to Nanjing Drum Tower Hospital on the day Wang was diagnosed to donate their own.
"Patients diagnosed with that kind of aplastic anaemia can die from complications in six to 12 months," said Chen Bing, director of the hospital's blood department. "Transplanting hematopoietic stem cells was the best treatment for him."
Wang Ling, his youngest sister, then age 45, proved the best match. Despite her brother's objections, she insisted on donating marrow. In November, she donated 1,040 milliliters of marrow, along with some hematopoietic stem cells.
"My brother feared that the donation might harm my health," Wang Ling said. "We've had a very close relationship since childhood. My three brothers all take great care of me. We reunite every year during the Chinese Lunar New Year holiday."
Yang Yonggong, a doctor in the hospital's blood department, recalled the donation.
"She asked the doctors to take as much marrow as possible. She wanted to make sure that her brother could get enough marrow to recover. That impressed me a lot," Yang said.
After the transplant, the patient gradually recovered. Four years later, he went back to work as a police officer.
But in May this year, Wang Ling began feeling weak and was diagnosed with leukemia.
"She didn't hesitate for a second when she saved me. It's my turn to save her life," Wang Jiang said.
He went to Nanjing Drum Tower Hospital for tests. The results showed he was a perfect match-99 per cent of the marrow in his bones was identical with his sister's.
After six rounds of chemotherapy over seven months, doctors on Dec 12 took five hours to collect enough hematopoietic stem cells from Wang Jiang and transplanted them to his sister.
According to Chen, the blood department director, Wang Ling will be released from intensive care in seven to 10 days.
For Wang Jiang, there is hope for the future. "The stem cell surgery was painful," he said. "I'm looking forward to the day she is released and can reunite with us."