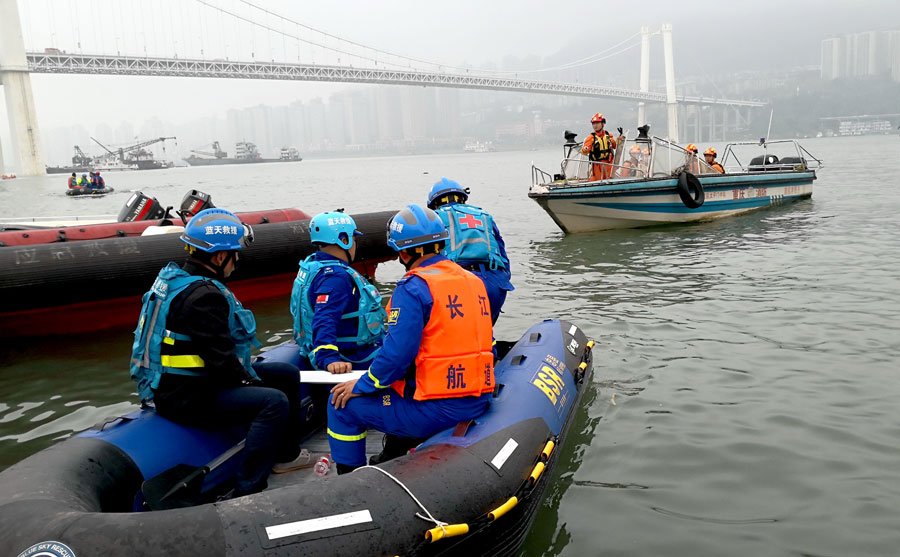 On Thursday morning around 10 o'clock, Zhou Xiaobo was allowed to view the body of his father and confirmed his identity after the older man died in a bus that plunged into the Yangtze River in Chongqing's Wanzhou district on Sunday.
Since the crash, Zhou, 43, deputy leader of Wanzhou's Blue Sky Rescue Team, was among the first group to reach the site and begin salvage work.
He was soon notified by local police that his 76-year-old father, Zhou Daguan, had swiped his senior bus card on that bus.
"Since that moment, I knew that his chance of survival was very slim," he said earlier. "I am heartbroken, but I can't stop my rescue work. I hoped I could do something to find him."
Bearing his grief, Zhou has been working around the clock at the crash site. He drove a boat to search for missing passengers, using sonar and underwater robots to locate the bus. He slept in a tent near the river for three nights.
Whenever he got a break, he repeatedly tried his father's cell phone, hoping for an answer.
Zhou said he and his father were close. The older man was a retired teacher who had taught at a rural primary school for four decades. After Zhou's mother died in February, he moved to live with his father to keep him company.
He recalled that on Sunday morning, his father wanted to see a flower exhibition at a park, so the son drove him to the bus station and left for a work meeting.
"I wish I could have saved him to tell him I love him very much," Zhou said.