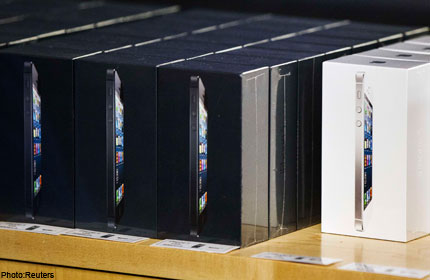 CHINA - As one of the busiest ports in China and the only land port in the country that conducts 24-hour clearance, customs staff at Huanggang Port watch about 24,000 vehicles traveling back and forth between Hong Kong and Shenzhen through its 18 passes every day.
Like the other 16 ports in the booming southern city of Shenzhen, Huanggang customs is at the very frontline of the country's anti-smuggling battle.
Lai Jinbiao, a customs police officer who has worked at the port for 10 years, said customs staff face enormous pressure every day to fight smuggling.
"The peak time is from 10 am to 7 pm, and on average I examine 200 to 300 cargo trucks a day amid exhaust gas and dust," he said.
"Our biggest concern is letting smuggled products slip through our hands."
Lai said smugglers usually mix target products in normal cargos.
Electronic devices such as iPhones, seafood and precious fur products are the most popular for smugglers.
Wang Zhi, deputy director of the Shenzhen Customs District, said the fight against smuggling is particularly serious in Shenzhen because of its proximity to Hong Kong, an international free port.
The two cities share a land border, and the closest distance between the two coastlines takes only five minutes to cover by speedboat.
"Because of the proximity, smugglers can use all means, including digging tunnels and setting up cableways in the sky, to transport products," said Wang, who is also head of the anti-smuggling bureau of the Shenzhen customs.
Meanwhile, Shenzhen boasts convenient transportation to facilitate the distribution of smuggled products - another factor that puts the city at the frontline of anti-smuggling efforts.
An average of 570,000 people and 42,000 vehicles travel between Shenzhen and Hong Kong every day. And every year, more than half of the seized smuggled products in China, in terms of value, come from customs in Shenzhen, Wang said.
Electronic goods like cell phones and digital cameras, and luxury goods like watches, are preferred for smuggling because they have a high value and are easy to carry.
Raw materials such as rare earth and food are commonly found in export smuggling, Wang said.
He said customs officials have adopted a number of measures to fight smuggling, such as tightening cooperation with their counterparts in other parts of China, particularly Hong Kong.
Shenzhen has set up a risk-management platform, which connects with all other customs in the country.
The platform carries information on all major smuggling cases other customs have handled, including the key suspects and vehicles involved, Wang said.
"We have a blacklist, and keep a close watch on these people and their lives," he said.
"It's also important to watch the companies these people register. Many smugglers have registered companies both on the mainland or in Hong Kong or even abroad for the convenience of money laundering."
Shenzhen customs, Hong Kong customs and Hong Kong marine police have also been working closely together.
They exchange information and organise regular meetings, and cooperate in big cases, especially in drug anti-smuggling actions, Wang said.
Thanks to the efforts, customs in Shenzhen had cracked 291 smuggling crimes involving 1.48 billion yuan (S$290,000) from January to October this year, according to official figures.
Of these cases, 31 are categorized as very serious, each involving a value of more than 10 million yuan.
In one case, uncovered in early November, customs staff in Shenzhen seized thousands of bullets and many gun parts.
Inspectors found 1,000 pellets for air guns from the luggage of a Hong Kong resident on Nov 1.
After questioning, the man confessed that he has buyers on the mainland.
With the information he offered, anti-smuggling police went to Guangzhou and Guiyang cities, and seized four suspects, 29 guns, 2,200 pellets, 4,000 bullets and many gun parts, according to information provided by the Shenzhen Customs District.
Despite the achievements, Wang said that there is no end in the fight against smuggling.
Wang said that in the future, customs staff will continue to keep a close watch on cases that can do huge harm to society, including the smuggling of drugs and weapons.
Garbage from abroad such as poisonous electronic waste and medical waste that smugglers try to bring into the mainland and sell in the name of "recycling" are also major targets of the crackdown.
However, customs police said it's difficult to stop all smuggled products at the border.
"At present, suspicious products, detected through intelligence gathering or risk management analysis, will be stopped to receive an X-ray inspection," said Chen Haibin, an anti-smuggling policeman at Dapeng Port under the Shenzhen Customs District.
"But only about 5 per cent of the total cargo is checked, so it's inevitable some smuggled goods can go through," he said.
"Sometimes it's really difficult to strike a balance between maintaining customs clearance efficiency and fighting smuggling."