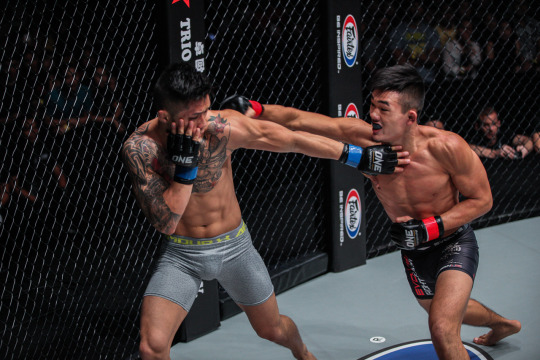 Christian "The Warrior" Lee is prepared for anyone that ONE Championship throws in his way.
The young Singaporean prospect was originally scheduled to square off against Malaysia's Keanu Subba in a featherweight contest at ONE: KINGS OF DESTINY on Friday Night, 21 April. An untimely injury, however, has forced Subba to withdraw from the bout.
Now, "The Werewolf" Wan Jian Ping steps in for the Malaysian, and will clash with Lee at the stacked event, which broadcasts live from the Mall Of Asia Arena in Manila, Philippines.
For Lee, it does not matter whom he fights. He is determined to win no matter what.
"Often times, fighters will panic and turn down last-minute fights. But for me, I am just grateful to still be fighting on 21 April," the 18-year-old MMA prodigy explains. "I have put in a lot of hard work to get here, and no one is going to stop me from getting my hand raised on Friday Night. I envision the fight being a war, ending with me victorious 10 out of 10 times."
After starting his promising career with five consecutive first-round victories, Lee fell to former ONE title contender Martin "The Situ-Asian" Nguyen at ONE: HEROES OF THE WORLD last August. At that show, Nguyen rocked the Singaporean with a left hook, which led to a match-ending guillotine choke.
That caused "The Warrior" to take an eight-month break from competition, in which he studied fight techniques, furthered his skills at Singapore's Evolve MMA, and gave his body a well-deserved rest. After all, Lee — a Pankration World Champion and BJJ brown belt — has been in constant training camp ever since he made his professional debut in December 2015.
Heading into Manila, he feels re-energized, and wants to maintain an active schedule once again.
"I plan on staying very busy. I feel 2017 is my year to make a breakthrough, and my year to show the world who Christian Lee really is," he explains. "I plan on coming out victorious in this fight, and fighting as frequently as possible."
Wan is looking to ruin his rival's immediate goals, however. "The Werewolf", who represents the Shanghai Dragon Warrior Fighting Fitness Club, holds a 6-3 professional record. He last competed for ONE in July at ONE: DYNASTY OF CHAMPIONS (HEFEI), where he was submitted by Bu Huo You Ga.
Although he accepted the bout with Lee at just two weeks' notice, Wan presents a dangerous challenge, and is just as motivated to earn a victory. For the 32-year-old Chinese mixed martial artist, he wants to experience his first win inside the ONE cage.
A last-minute opponent change always poses a new challenge, and usually causes fighters to alter their game plans. However, Lee is not changing his game plan, originally meant for Subba. After all, his only plan is to leave the Mall Of Asia Arena with a win, no matter whom he fights.
"I train to beat the best fighters in the world, so at the end of the day, if one guy steps out and another one steps in, it does not make a difference," he states. "You can put whoever you want in there with me, and I plan on taking him out."