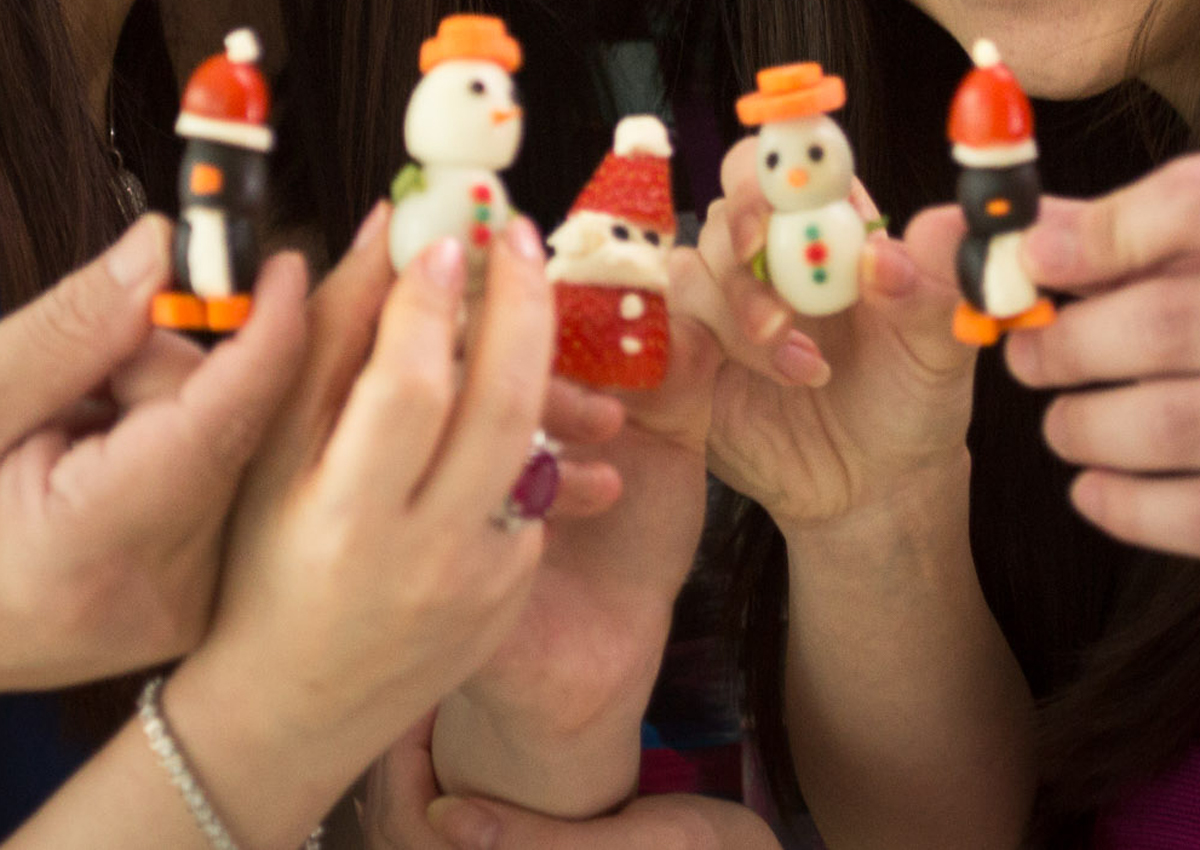 THAT old adage about having too many cooks in the kitchen doesn't apply to everyone. For one family at least, kitchen time means quality time - where all five members, comprising lawyers Susan and Adrian Peh and children Melissa, Bertrand and Desiree, enjoy cooking and sharing ideas about food.
The family Christmas meal is one of those times when culinary balance is achieved because the entire clan is back - two children are studying in England - and cooking up a storm together. Each member contributes a different dish - Adrian cooks a mean pasta and Bertrand focuses on roasting meats while Desiree is handy with seafood dishes and Melissa is the resident baker - but collaboration on certain dishes is not unheard of, and a supporting hand is never far away if needed.
Naturally, it can get a little messy when everyone is in the kitchen at once.
"Sometimes it's like a war zone but as far as I can remember, family life has centred round the kitchen," says Susan, a self-taught cook who relies on YouTube videos for inspiration, then makes a dish her own by using different ingredients and techniques along the way.
"It's always better when you know your ingredients and can control the dish - it doesn't have to be the same ingredients every time." She adds: "Life itself is a big improvisation, so I like to innovate and experiment with flavours."
The menu this year includes roast turkey with onions and lemons and roasted yams and sweet potatoes in goose fat, pan-fried wagyu beef and lobster noodles in XO sauce, and a log cake for dessert. There are also plans to include a fish dish.
"We each have our specialty dish," says Adrian, managing director of the family law firm. Each of the children is either a lawyer or studying to be one - the family that cooks together and eats together also practices law together, it seems.
"Failure is very important," says Bertrand, a final-year student who learned to cook out of necessity and a need to be independent while living away from home.
He recalls the first time he tried to serve up a turkey for his friends in England. "What a disaster - I started cooking a frozen turkey three hours before the guests arrived - I didn't know you were supposed to thaw it for 48 hours beforehand," he says. "In the end I had to carve out the cooked parts to feed the guests and throw the rest back in the oven. Now, I firmly believe in knowing the basics."
While visiting the children several years ago, Susan discovered a tasty lobster noodle dish at a Chinese restaurant in London and noticed it was very popular among Singaporean customers. Then she sampled different versions of it at a few other restaurants before deciding to appropriate the dish and making it her own through improvisation.
"The lobster dish, with ginger slices and spring onions, reminded me of home," she says. Her original recipe has evolved over the years and now includes salted egg yolk - a de rigueur ingredient in more than a few local dishes these days.
"There's nothing like a home-cooked meal," says Susan. "When we cook together, there's a lot of laughter - the children have this thing where they wish 'Merry Crew' to each other, for instance - and they also cook at different times."
Eldest daughter Melissa isn't deterred by working long hours in the office alongside her parents because once she gets home, she's inclined to bake past midnight and cause a stir - in the culinary sense - with a variety of colourful pastries and beautifully decorated cakes. "I just like making pretty things," she says.
"Our parents taught us what good food is, and we took it from there," says Bertrand. His mother predicts that this Christmas Eve will be a memorable one for the family.
"It will be just our immediate family enjoying the meal, there will be less stress and no fuss at all - just everyone having a good time together," says Susan.
Lobster mee pok
Prep time: minimum 30 mins
Cooking: minimum 60 mins
Ingredients
A. Stock
7 bowls chicken stock (use ready-made stock, or for richer base, boil a whole skinned chicken in a medium-sized slow cooker, filled with water to about three quarters, together with 1 clove garlic and 3 slices ginger for around 6 hours)
3 raw salted egg yolks, finely mashed
1 tbsp butter
2 tbsp oil
1/2 bowl chopped garlic
6 slices of young ginger
1 tbsp yellow bean paste
21/2 tbsp oyster sauce
2 tbsp mirin
1/2 tsp sesame oil
2 tbsp Hua Tiew wine
3 tablespoons leek, sliced
11/2 tbsp corn starch
2 tbsp water
4 tbsp XO sauce
Sprinkling of shrimp roe
B. Marinated minced pork
50 grams minced pork
1/4 tsp light soy sauce
2 dashes white pepper powder
1/2 tsp corn flour (starch)
1/2 tsp sesame oil
C. Lobster
6 halves medium-sized Maine lobsters
2 cups plain flour
2 tbsp corn flour
2 tsp pepper
2 tsp sea salt
4 cups cooking oil
D. Mee Pok
6 servings mee pok
E. Garnish
6 stalks Shanghai Green vegetables
1 red chilli
3 stalks spring onions
Method
Stock
1. Melt butter in frying pan over moderate fire. Add finely mashed salted egg yolk and quickly stir fry for about 60 seconds, constantly mashing until fine consistency. Do not overcook. Put mixture aside.
2. Heat cooking oil over moderate fire. Add chopped garlic and sliced ginger. Lightly fry until fragrant.
3. Add yellow bean paste and stir fry until fragrant.
4. Add chicken stock and bring to boil.
5. Add salted egg mixture in (1) above. Simmer for at least 10 minutes.
6. Strain stock to achieve smooth consistency.
7. Ladle out some strained hot soup into the bowl of marinated pork in B to loosen the minced pork. Set aside.
8. Add oyster sauce, mirin, sesame oil and Hua Tiew wine to strained stock.
9. Stir in the loosened marinated pork to strained stock. Bring to boil.
10. Add XO sauce.
11. Add corn starch solution to thicken stock according to preference.
12. Taste and add any of the ingredients listed in A to suit. Put stock aside.
Lobster
1. Wash lobsters, crack pincers.
2. Dry lobsters and roll over flour, corn flour, pepper and sea salt mix.
3. Heat wok filled generously with oil to deep fry lobsters.
4. Once oil is very hot, add lobsters. Fry till meat is opaque and shell turns red.
5. Strain the lobsters and put aside.
Mee pok
1. Bring half pot of water to boil. Add 1 tsp cooking oil.
2. Cook mee pok to desired texture.
3. Place mee pok in strainer and rinse with cold tap water. Put mee pok aside.
Garnish
1. Bring half pot of water to boil. Add half tsp cooking oil.
2. Add washed Shanghai Green vegetables and cook for about 30 seconds. Put cooked vegetables aside.
3. Seed 1 red chilli, cut into small squares. Thinly slice spring onions until they curl.
5. Sprinkle shrimp roe all over dish.
To serve: Place mee pok, lobsters and vegetables on plate. Pour hot stock generously over. Garnish as desired.

This article was first published on December 19, 2015.
Get The Business Times for more stories.
Prime Centrepiece
It's no surprise that MasterChef Asia winner Woo Wai Leong is his family's choice to handle the annual Christmas dinner. By Avanti Nim
BY the time he was 12, Woo Wai Leong could cook a complete meal for himself. That he kept honing his skills over the years is no doubt one of the factors that helped the 27-year-old clinch the title in the first ever MasterChef Asia cooking competition earlier this month.
Still, there's no time to relax after his hard-earned win because his family still expects him to carry out his annual duty - making Christmas dinner.
The legally-trained Woo says: "My mum still makes most of our daily meals because I'm not at home anyway, but when it comes to special occasions like Christmas, I do everything. She does remain in the kitchen the whole time to help me out, though."
Having impressed the MasterChef Asia judges with innovative dishes like his Chili Crab Pate a Choux Gnocchi on the show, it's no wonder that Woo (known as Leong on the Lifetime Asia programme) refuses to make a traditional turkey or ham to feed his 12 dinner guests.
Instead, the centrepiece will be a bone-in prime rib of beef with a Hollandaise-like eggnog sauce and cherries.
"I just like to do something a bit different for Christmas," he says. "People like beef, and I think it passes off as a festive season treat, especially when it's brought out to be carved at the table like a turkey."
Though, honestly, that's not the only reason. Mr Woo confesses: "Cooking a whole turkey actually requires finesse, but with a steak, you're okay if your basics are up to mark. You generally have a larger window of error with beef. I also feel that the returns on cooking a turkey don't reflect the sheer amount of work that goes into it."
Mr Woo has been making Christmas dinner at home for seven years now. He laughs: "It's a big responsibility, so my mum only passed it onto me when she thought I could handle it."
While there haven't been many mishaps, last year's dinner did leave an impression on the diners. Mr Woo recalls: "I made prime rib last year as well, and I told my mother to get 500 grams for each guest. I think she misheard me, and bought five kg of prime rib instead. We were eating it for at least three days after. I'm going to make sure we get the portions right this year."
Mr Woo has never had any formal cooking training, and credits his interest in gastronomy to his years of apprenticeship in his mother's kitchen.
The self-taught cook says: "There's actually a wealth of information out there if you want to learn. I did a lot of reading and applied it to my cooking. All you really need is practice and maybe someone to turn to when you need advice."
The part-time bartender at The Horse's Mouth bar in Orchard hadn't seriously entertained the thought of a professional cooking career before winning MasterChef Asia 2015. Right now, he has no concrete plans.
He says: "I won't be pursuing law, and I'd like to see where the F&B industry takes me, but I'm taking a break and enjoying the holiday season, at least till next year."
That doesn't mean he hasn't thought about what he would want if he were to open a restaurant. "I'd want a place that has an open kitchen so the chefs can be a part of the service and see the effect of their cooking on the environment as a whole. It'll be small, with not more than 30 covers, and I think I'd go with a tasting menu. Because in the current climate, a full a la carte menu can be quite scary, with costing going through the roof."
He adds: "The food will involve molecular gastronomy but it won't be influenced by any cuisine in particular. That way, it won't be bound by peoples' expectations of what it should taste like."
To watch the repeat telecast of MasterChef Asia episodes, tune in to Lifetime (Starhub Ch 514) from Dec 28 to Jan 2, from 11am to 2pm.
avantin@sph.com.sg

This article was first published on December 19, 2015.
Get The Business Times for more stories.
Holding on to heritage
Traditional Sicilian and Chilean foods take pride of place on Chef Lino Sauro's table. By Avanti Nim
WHEN Lino Sauro moved to Singapore 10 years ago, he might have left his hometown in Sicily, but he sure didn't leave his traditions behind. Every year, the chef-owner of Gattopardo Ristorante Di Mare celebrates Christmas the way he grew up, almost as if he never left.
On Dec 8, the day marking the Immaculate Conception, chef Sauro and his family put up their Christmas tree to usher in the beginning of the festive season which ends on Jan 6. Although his wife, Coca, is in charge of the day-to-day cooking, she hands the kitchen over to him for a special Christmas meal, either lunch or dinner, depending on his schedule at the restaurant in Tras Street.
The 45-year-old says: "This year, I'll be making lunch for the family. I like to make rich dishes with simple ingredients because we'll probably still be full from our supper the night before. We like to open our presents at midnight, and that has to be accompanied by food."
As Mrs Sauro is Chilean, the family cooks almost exclusively Sicilian and Chilean food at home, and their Christmas meal is no exception.
Chef Sauro will be preparing sopaipilla from Chile, which is pumpkin fried bread and cucchie, a Sicilian cookie made from almonds and dried fruit to accompany the main course. Both recipes have been passed down through the generations, and refined by his touch.
He explains: "I learnt how to make the cucchie from my mother, who's been making it for as long as I can remember. It was always a must for Christmas. (His wife)'s grandmother taught me how to make sopaipilla because she made it for me once, and I just knew I had to learn to cook it myself."
The star of the dining table is chef Sauro's Sgombro al Forno, which is an oven-baked mackerel in tomato sauce. He says of the dish: "I grew up eating it. A long time ago, mackerel was considered a poor man's fish, and everyone could afford it. Over time, it became traditional to cook it during the festive season. We always use terracotta pots because then the dish keeps for a few days."
Of course, being a chef, he couldn't help but tweak the recipe ever so slightly. "The traditional recipe just requires olives, oregano, fish, and tomato sauce. I've added a sweet-and-sour flavour and changed the colour of the dish a little. I also cook the fish less than the original recipe calls for. It changes the texture of the dish, but the taste is still authentic," he says.
While the Sgombro al Forno is a hearty dish which is best enjoyed in cooler climates, chef Sauro has an easy solution. He laughs: "We just turn on the air- conditioning and pretend it's winter!"
Although he's done his best to hold on to traditions, it isn't always easy. He explains: "In Singapore, we have less time to dedicate to traditions because the lifestyle is more fast-paced. Being in the F&B industry means I get even less time at home, but it's important to my wife and I that we raise our two sons with a good knowledge of their cultural heritage."
Sgombro al forno (Oven-baked mackerel in tomato sauce)
Prep: 20 minutes. Cooking time: 40 minutes. Ready in: 60 minutes. Serves 4
Ingredients
1kg fresh mackerel fillet
4 ripe tomatoes, chopped
1 handful capers (Chef Sauro gets his from Pantelleria in Sicily)
1 leek, chopped
A pinch of oregano
1 cup fish stock
2 cloves of garlic, minced
Flour, to line the terracotta pot
Half glass of white wine
Splash of extra virgin olive oil
Sea salt to taste
Freshly ground black pepper to taste
Parsley for garnish
Method
1. To clean the mackerel, remove their heads before slicing it in half to take out the central spine.
2. Once clean, lightly sprinkle flour on the fish, before placing it in a medium-size terracotta pot.
3. Arrange the chopped tomatoes, capers, leek, and minced garlic in the pot.
4. Add oregano, salt, ground pepper and the olive oil.
5. Cover the pot and bake it at 180 degrees C for 20 minutes. After 10 minutes, remove the pot and splash in the white wine and fish stock before returning it to the oven.
6. When cooked, plate the Sgrombro al Forno onto a serving dish with steamed potatoes. Garnish with chopped parsley.
avantin@sph.com.sg

This article was first published on December 19, 2015.
Get The Business Times for more stories.
The never-ending feast
At Jade Kua and Emil Teo's Christmas parties, homemade meals are the star of the show. By May Yip
WITH the celebration of Christmas said to have been inspired by an ancient Roman winter solstice festival that saw banquets last several days, it shouldn't be surprising that Jade Kua and Emil Teo throw multiple feasts throughout the festive season.
"Typically we host several parties for Christmas week for different groups of friends in our cosy apartment in Tiong Bahru," says Dr Kua, a specialist in paediatric emergency medicine.
"Depending on the guest list, we prepare different menus from Peranakan to French food, paired with wines."
If cooking up a storm for just one Christmas Eve dinner is enough to turn you into Ebenezer Scrooge, consider this: Mr Teo, executive director of wine distribution company Taste of Tradition, would singlehandedly cook every dish for luncheons and dinners held during the holidays, some of which could start from 10am and end only at 6pm. The dishes could range from Peranakan fare like laksa, or French cuisine like foie gras, depending on the guest list of eight to 10 people.
The planning for the couple, a fixture in society events, always starts with the guest list followed by a menu and wine pairing based on their guests' preferences, and whether they are bringing their children. On the morning of the party, Mr Teo would go to the market and then spend the rest of the day chopping, pounding and preparing the various sauces, gravies and soup stock.
"Emil has always done the cooking," reveals Dr Kua, who even created an Instagram hashtag, #emilcooksieat.
"We've had plenty of Saturday parties where we have small groups of friends drop in through the day to eat homemade laksa, mee siam or chicken rice paired with good wine. Emil is a wine merchant so I leave the wine pairing to him. As you may have noticed, he seems to do all the work."
When asked for photos of past feasts, Dr Kua admits that she could not find any shots with both her and her husband of six years as she is often behind the camera, taking pictures of the food, guests, her children and dogs. They have been hosting such foodie parties since they moved into their walk-up apartment three years ago.
"Whatever the cuisine we tend to start the meal with something special like, toast and homemade foie gras terrine paired with champagne," says the mother of five, when asked for the family's signature dishes to treat their foodie friends.
"We also prefer to end the meal with cheese and Armagnac rather than a typical dessert. Emil often makes something thoughtful for our guests to bring home, like packets of homemade curry powder or little jars of achar."
Emil Teo's grandmother Tan Bee Luan's curry powder recipe
Ingredients
5 katis / 3kg biji ketumba (coriander seeds)
1.5 katis / 750g dried chilies
3 taels / 115g jintan puteh (cumin seeds)
3 taels / 115g jintan manis (fennel seeds)
5 taels / 190g kaokao (khas khas) (white poppy seeds)
3 taels / 115g biji sawi (black mustard seeds)
6 taels / 230g kunyit kering (dried turmeric)
2 taels / 75g kayu manis (cinnamon)
5 tael / 38g bunga chingkay (cloves)
Method
Sun-dry all ingredients and mill into a powder.

This article was first published on December 19, 2015.
Get The Business Times for more stories.