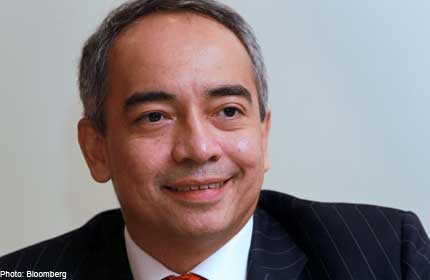 PETALING JAYA - CIMB Group Holdings Bhd is awarding 100 CIMB Group shares to eligible employees in Malaysia as reward for the CIMB 2.0 initiative and the company's sterling performance of achieving a record RM4.35 billion (S$1.78 billion)in net profit last year.
CIMB group chief executive Datuk Seri Nazir Razak said employees who would receive the shares included those em­­ployed under the respective banking entities and its subsidiaries in Malaysia, as well as CIMB-Principal Asset Management and Islamic Asset Management, CIMB Wealth Advisors, CIMB-Mapletree, CIMB Insurance Brokers, CAV Private Equity, iCIMB, Semerak Services and Touch 'n Go.
He said 2012 was all about putting into place the CIMB 2.0 to strengthen the firm for the future.
"As the Board reflected on all the efforts behind CIMB 2.0, the management takes the initiative to enable all staff to become shareholders of the company," he said in an open letter to the staff.
A copy of the letter was obtained by The Star yesterday.
Employees, who would be eligible are as follows:
> All employees in Grade D/ Grade 39 or below (or its equivalent) who have been confirmed in their positions as of Dec 31, 2012.
> All contract employees in Grade D/Grade 39 and below (or its equivalent) who have served a minimum six months with CIMB as of Dec 31, 2012.
A CIMB Group spokesman said the scheme was "about enabling staff to share more in our successes and also strengthen the alignment of staff with shareholder value creation."
CIMB Bank Jalan P. Ramlee branch customer service representative Shiza Abdul Rashid said it showed the management's sincerity towards recognising the hard work of the bank's staff.
Her colleague at the Jalan Duta Branch, Othman Yunus said that the company's decision allowed him to be a long-term shareholder of the company he worked for.