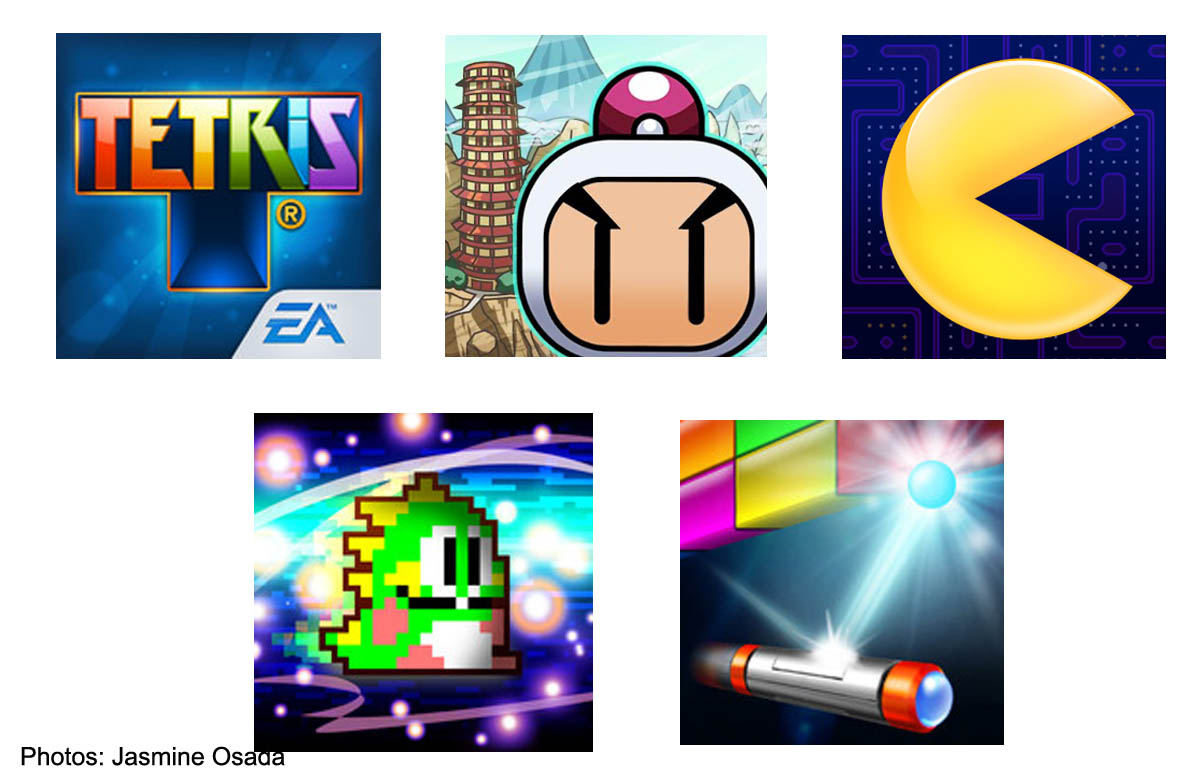 Remember those good old games you used to play in the 1980s and 1990s? Your Nintendo Entertainment System and PS1 may no longer work, but the best games of that era are still around.
Tetris, Pac-Man and Bomberman are among the classics which have found new lives as mobile games. If you enjoyed playing these bestsellers during your childhood or school days, you can now relive the good times on your smartphone.
Some of the most iconic games, including Super Mario Bros, Donkey Kong and Ice Climber, have yet to make the leap to mobile. These are Nintendo titles and the Japanese game maker has yet to release any of its games on a non-Nintendo platform.
So, no, you cannot get Super Mario on your smartphone, but other titles that have made the leap to mobile phones will provide plenty of room to indulge your gaming nostalgia.
Jasmine Osada is a freelance writer.
Tetris, Free (Android), $1.28 (iOS)
If you have ever played this classic block-stacking title on one of those cheap, single-game handheld devices, you are old-school.
With gaming giant Electronic Arts' (EA) official mobile version of Tetris, you can now test your puzzle-solving skills again.
Touted as a "re-imagined" remake of the classic, this game is run on a completely different control system which you will either love or loathe.
Instead of controlling the falling blocks using a direction pad and buttons, the new game offers you the choice of placing each block and tapping the screen to set its position.
While this speeds up gameplay, I miss the ability to finely control each block as it descends and the feeling of accomplishment that comes with skilfully easing blocks into hard-to-reach corners.
Besides the new control system, EA has added several new gameplay styles, including puzzle-based and marathon modes.
With jazzed-up graphics, a catchy remixed soundtrack and new play styles, this game is definitely worth a look if you like puzzle games.
Bomberman Dojo, $6.85 (Android), US$3.99 or S$5, 400 yen or S$5 (iOS)
(iOS version available only from the US and Japan App Stores)
Nowadays, you cannot go around saying you enjoy planting bombs without inviting unwanted attention from police or security forces.
But the 1980s and 1990s - during which the Bomberman series was a hit - were a more innocent time.
Bomberman Dojo is essentially a mobile version of the series' PS1 games. Just as in the console version, you get to play an explosive-toting ninja tasked with bombing your way out of a maze.
Along the way, you will encounter enemy monsters, which you can annihilate with strategically planted bombs.
Many an old-school gamer will also fondly remember instances of Bomberman suicide when you could blow yourself up with a misplaced bomb.
At $6.85 for the Android version, Bomberman Dojo is a little pricey for a mobile game, but the engaging main game mode and an extra edit mode, which lets you create your own stages, promise hours of fun.
Pac-Man, Free (Android), $3.98 (iOS)
(The Android version is titled Pac-Man + Tournaments)
For those of you who remember spending all of your school pocket money playing Pac-Man at the arcade, this mobile version might be a dream come true.
Re-released by Pac-Man's original publisher, Namco-Bandai Games, the smartphone Pac-Man is a faithful copy of the original.
Expect to play all of the game's original stages, as well as a number of new ones. The game's well-loved ghost villains - Blinky, Inky, Pinky and Clyde - still wander the mazes in pursuit of their yellow pellet-gobbling adversary.
Even the controls are authentic - you move Pac-Man using a virtual arcade machine joystick, which was surprisingly responsive and easy to use on a touchscreen.
The Android and iOS versions of this app are slightly different, even though both offer the same game.
The Android version is free, but gives you limited play turns which will recharge over time.
If you want to play continuously, you will have to purchase in-game credits. It includes a tournament mode which ranks you against other players worldwide.
On iOS, the game does not sport a tournament mode and is a one-time purchase with unlimited plays, although new mazes cost extra.
Bubble Bobble Double, $5.98 (iOS)
Gamers of the PlayStation era will probably remember this game's more famous spin-off, Puzzle Bobble.
But for fans of the bubble-blowing dragons, the original Bubble Bobble still remains a classic favourite.
Bubble Bobble Double on the iOS offers two gameplay modes - a classic style and a new style.
Gamers, who enjoyed this title on arcade machines or the Nintendo Entertainment System, will probably prefer the arcade version. Everything from the pixel-based graphics to the retro-style direction pad controls has been ported to the mobile platform.
In the new style, the game pits your character against waves of enemies.
This game mode makes full use of the touchscreen controls for a more fast-paced experience, complete with snazzy graphics.
Arkanoid, $5.98 (iOS)
Better known as that "game in which you destroy blocks and enemies by bouncing a ball off a sliding bar", Arkanoid is one of those classics everyone remembers playing, but whose name no one ever knew.
For the smartphone version, the original publisher Taito has preserved the classic gameplay mechanics and art style, while adding loads of new features.
Graphics are now spiffier. An interesting storyline complements your progress through the 100 stages. A versus mode lets you compete with a second player.
Fans of the classic arcade or Nintendo Entertainment System version will be delighted to know that the game's iconic boss, DOH, makes a return on their smartphones. To make this re-release even sweeter, the game also includes a bevy of new stage bosses to defeat.
This article was published on May 14 in Digital Life, The Straits Times.


Get a copy of Digital Life, The Straits Times or go to straitstimes.com for more stories.