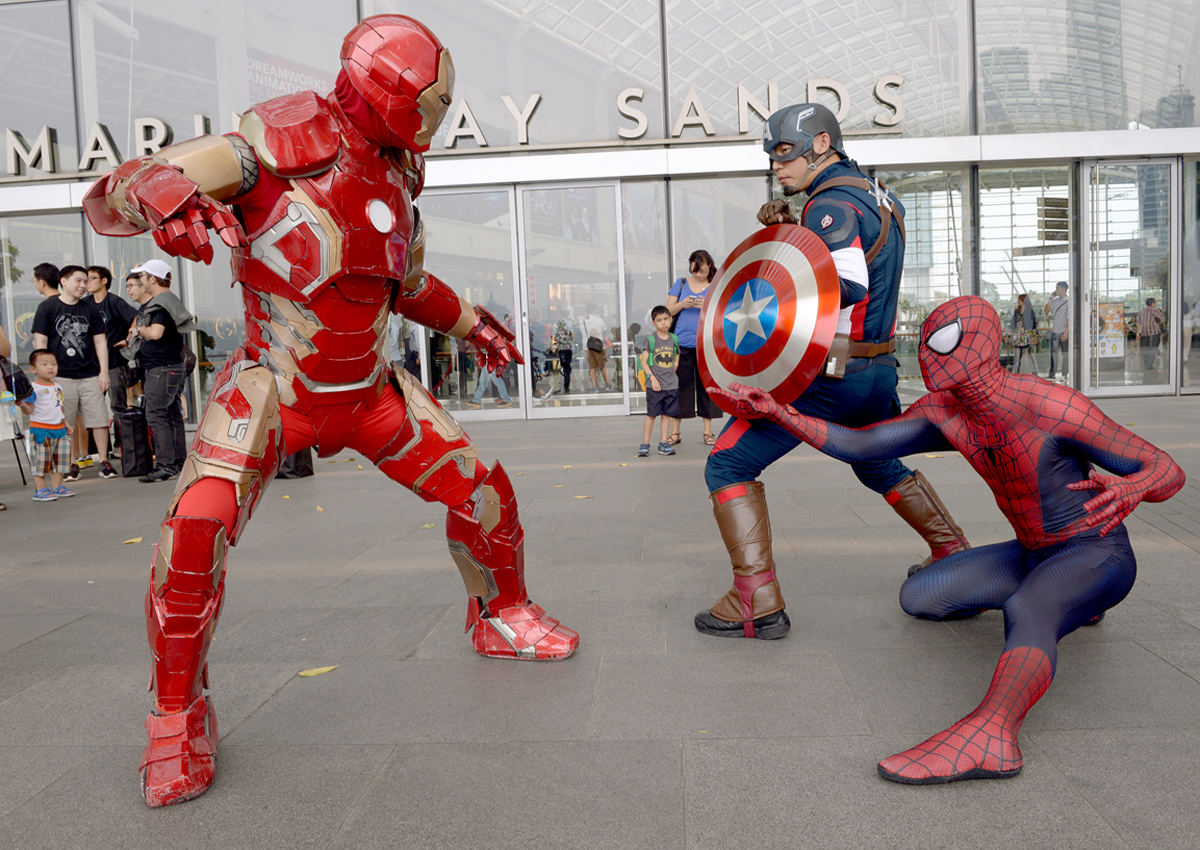 The normally business-like convention centre at Marina Bay Sands was overtaken last weekend by superheroes and anime cosplayers at the annual Singapore Toy, Game & Comic Convention.
Fans of Western and Asian pop culture turned the first level of the Sands Expo and Convention Centre into a riot of colours and action as agile Spidermen walked around with puffed-up chests in skin-tight leotards, while giggly manga girls travelled in packs, showing off their candy-coloured wigs and sexy dresses.
Toy launches were also a mega draw. In particular, Iron Man fans went wild over Hong Kong-based company Hot Toys' world premiere of the 1/6th scale Iron Man Mark III (Stealth Mode) collectible.
More than 70 fans queued overnight last Friday to get their hands on the shiny blue toy as well as make pre-orders for other new Iron Man and Star Wars figurines, which they are scheduled to get by the first quarter of next year.
The convention ended its eighth edition yesterday. Organisers said that 45,000 visitors turned up for the two-day event. Last year, they drew 40,000 at the same venue.
Ms Lin Koh, assistant project director of organiser Reed Exhibitions, said: "The show is pretty different from others. It has a good mix of Asian and Western concepts. Usually, other conventions are angled at one or the other. This helps to draw visitors from Singapore and all over the region too."
For many cosplayers, it was a chance to show their love for particular characters and have their moment in the spotlight.
The four-member Payday Clowns - criminals in a co-op heist video game - gamely took visitors hostage, shouting for them to get down on their knees while pointing guns at their heads, all for a photo opportunity. The Clowns were dressed in suits and had resin masks on.
Ms Luann Xiao, 23, an operation specialist in a bank who was dressed as Wolf with her half-white, half-red mask, said: "We get to be celebrities for the day. It's fun, especially when the crowd plays along with you."
Others, such as Ms Andrea Ladstatter, 21, took the chance to show off their impressive costume- making skills and creativity.
With her ice-blonde hair, mediaeval princess dress and a crown of twigs and berries, the Lasalle College of the Arts fashion design student modelled herself as the wife of Thranduil, the king of the Wood-elves, a character in J.R.R. Tolkien's The Hobbit.
Ms Ladstatter created the look of the character herself as Thranduil's wife has never been featured in a movie.
She said: "It took me a month to make the costume from scratch. So I'm flattered people want to come up and take pictures with me. The work paid off."
Fans also mobbed booths of popular cosplayers such as Stella Chuu, who has made her name as a geeky burlesque cosplayer.
The American was on a panel discussion about the differences between cosplay cultures in the East and West and one of the judges for a cosplay competition.
Decked out as the midriff-baring ninja Yuffie Kisaragi from Final Fantasy VII, Ms Chuu, 26, said: "It's my first time in Singapore and I didn't know what to expect or that cosplay would be so big here. Fans here are so nice... There's one who kept buying me food to make sure I ate during the convention.
"I would love to do my burlesque act here if I'm allowed, but with more performers as well."
There were also large figurine displays that drew shutterbugs such as a 7m by 8.5m installation of Hulk vs Hulkbuster.
As for toy launches, there were 180 exclusive toys and new products from 240 exhibitors.
Ms Anita Wong, manager for marketing and business development for Hot Toys, said the convention is a big event for the company. Hence it decided to launch new products here.
She added: "We see that people are willing to queue for toys they want in Singapore. The collectible market is very mature here and still expanding. It's the best in the South-east Asian region."
It was not just products from recognised labels and companies such as Bandai, Simply Toys and Funko Pop! Life that were popular. Indie toys were also selling fast at Artist Alley, where 180 retailers sold everything from umbrellas to posters to caricature portraits.
Local toy design company Pobber, for example, did brisk business with Paco Taco, a $50 figurine with its head modelled after the traditional Mexican dish.
It was a collaboration between American toy designer Scott Tolleson and Pobber.
Mr Jake Lee, 34, Pobber's owner, said: "There are fans who want more than just popular toys. They appreciate artist originals. Being here is also a good way to hear from the fans who they want us to work with next time."
Primary school teacher Riaz Ahmad Senthil was one of the last few shoppers who made it out with a good haul of toys last Saturday night. He has been to all the editions of the convention.
Among other things, the 31-year-old bought a 12-inch Ghost Rider model for $100, which would have cost him $160 at retail shops.
He said: "I still think it's a fun event. Even though I'm old, I'm still a geek. You get to see huge character statues you won't see elsewhere and check out new products."
natashaz@sph.com.sg

This article was first published on September 14, 2015.
Get a copy of The Straits Times or go to straitstimes.com for more stories.