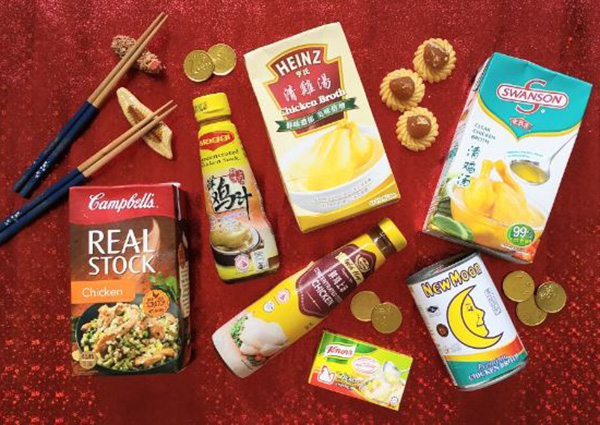 Looking forward to reunion dinner steamboat with the family? For a healthy hotpot meal, choose the right ingredients and a clear soup base, since it tends to be lighter than spicy ones.
Even better: make your own steamboat broth from scratch (see easy and flavoursome broth recipes from hotpot restaurant Jpot).But for those of you really rushing for time, we've picked our favourites from seven brands of ready-made chicken broth.
The overall nutrition scores of the seven hotpot soup bases we tried are indicated below (each column's lowest value is in blue, highest value in red). Be warned though, they all packed a punch of salt - even before we factored in soya sauce dips!

A comparison of the nutrition scores across chicken broths we tried.
As for flavour, here are our picks for the best tasting hotpot soup base (chicken broth).
#1 Hotpot Soup Base: Heinz Chicken Broth ($4.15 for 1L)
Review: A unanimous choice, this tasty soup base has the strongest flavour. Also, we started salivating once the steamboat lid was lifted - the smell was that good! Though it tastes salty, Heinz Chicken Broth - surprisingly - has one of the lowest sodium count of the broths we tasted.
#2 Hotpot Soup Base: Swanson Clear Chicken Broth ($3.90 for 1L)
Review: Swanson Clear Chicken Broth is light on the palate and brings a slight sweetness. The natural, clear colour of this soup base also wins hands down for the best looking broth. Nutritionally speaking, this broth has the lowest calorie count of the lot (yay!) as well as some of the least fat and sugars compared to the rest.
Now that you're all ready for your steamboat meal, make sure you set these golden rules for guests around the common hotpot to prevent food poisoning!
- Use separate utensils for raw and cooked food.
- Use tongs to put food into the pot instead of your chopsticks (which you eat with) or bare hands, especially when picking up vegetables.
- Avoid double dipping if an item is not cooked. Toss it instead of putting it back into the pot.
- Make sure the soup comes to a full boil for a few minutes before taking items out to eat. Same goes for if you add in any raw food (with items already cooking in the pot).
- Wash your hands - especially after a trip to the loo!