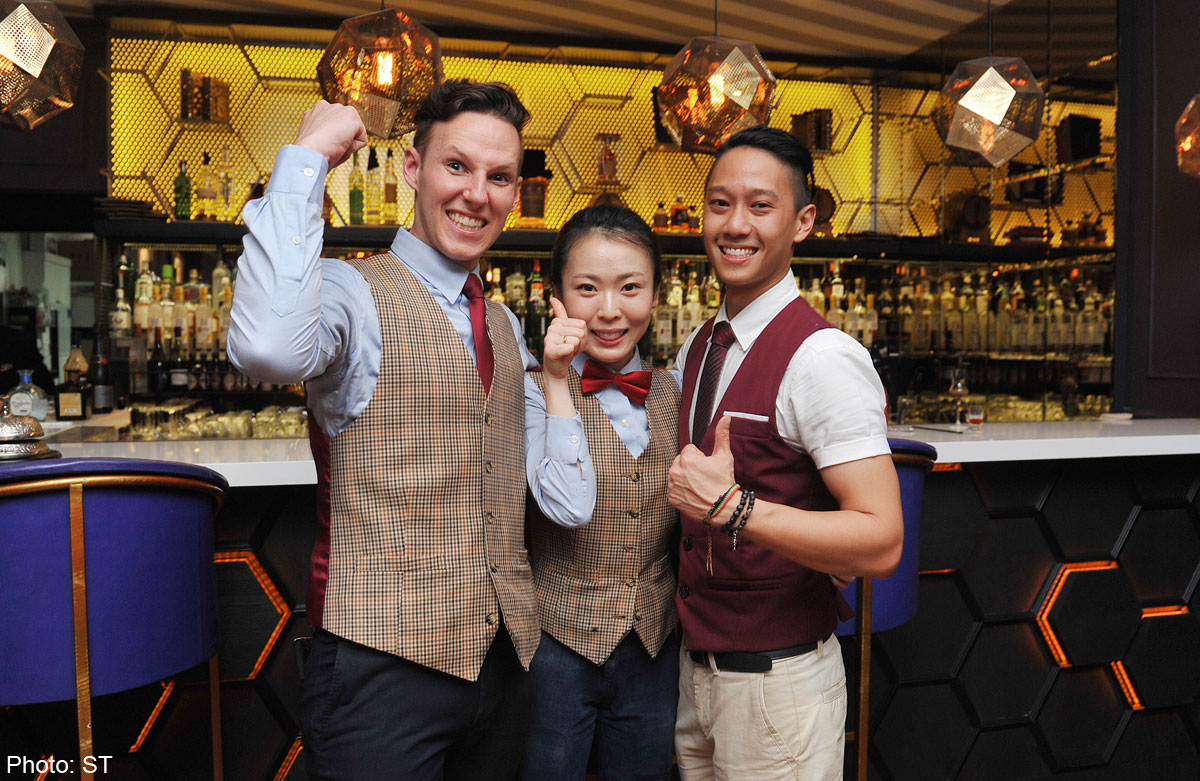 Muscles were flexed, bottles were tossed and drinks were poured "teh-tarik" style as 10 of the best bartenders in Singapore duked it out in the Diageo Reserve World Class Singapore competition last Friday.
The three winners who emerged tops were Peter Chua, 26, from cocktail bar 28HKS; Bannie Kang, 24, from cocktail bar Anti:dote; and Tom Hogan, 28, also from Anti:dote.
Now in its sixth year, the event is considered one of the most prestigious national and global competitions for the bartending industry.
Chua was voted overall champion by a panel of judges that included Mr Lam Chi Mun, director for Diageo Bar Academy Asia Pacific.
Mr Lam says the standard of bartending in Singapore has "improved tremendously in the past five years", adding: "The competition truly tests the calibre of the bartenders, their knowledge and personality and, together with the recent cocktail revival, the competition will continue to grow."
Indeed, the cocktail bar scene in Singapore has exploded, with at least a dozen new watering holes specialising in bespoke cocktails sprouting up over the last couple of years.
At the competition held at cocktail bar House Of Dandy in Tras Street, contestants had to complete two challenges.
They had to show their creative skills and technique to come up with two cocktails using "mystery ingredients" presented to them - Italian prosciutto ham and cinnamon sticks were among them.
The winner for this challenge was Chua, who created a twist on the classic Old Fashioned cocktail - called John "Old Smoke" Morrissey - by infusing Becherovka herbal bitters with Italian prosciutto ham and smoking the serving glass by burning the cinnamon sticks.
His second cocktail, called Tequila Flappy Bird - a play on the 1960 Harper Lee novel To Kill A Mockingbird - mixed Don Julio Blanco tequila, Licor 43 Spanish vanilla liqueur, passionfruit, lemon juice and citrus.
Says Chua: "It was extremely difficult, all the guys stepped up their game... there's a lot of talent around here and they definitely gave me a run for my money."
The top six selected from that challenge then moved on to compete in a time challenge, where they had eight minutes to whip up at least five cocktails and up to a maximum of 10.
Their drinks were then judged based on technique, presentation, creativity, complexity, aroma, taste and flavour.
Hogan says of the competition: "I think it was extremely fair in the way it was designed... there's less flair and it's more stimulating than other competitions, more creatively energising."
Next month, another cocktail challenge will be held by Diageo to pick a fourth bartender to join the three winners announced last Friday.
The four will then move on to compete in the South-east Asia finals to be held here in May. The bartenders will be vying for the title of Bartender of the Year South-east Asia.
They will go head to head with some of the best bartenders from six countries in the region, including Malaysia, the Philippines, Indonesia, Thailand and Vietnam.
melk@sph.com.sg

Get a copy of The Straits Times or go to straitstimes.com for more stories.