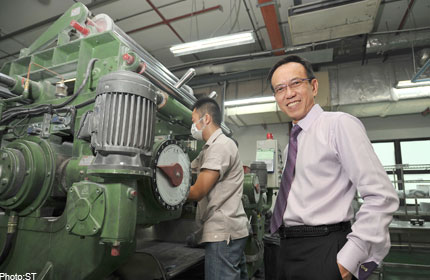 Precision engineering company Armstrong Industrial reckons forming partnerships with its international rivals is a better strategy than going head to head.
The approach has certainly paid dividends - with the home-grown business, which started in 1974, evolving into a global multimillion-dollar operation by forming joint ventures with overseas partners.
All of its overseas ventures - in China, India, Indonesia, Thailand and Australia - were initiated through cooperation with at least one other company.
Deputy chief executive and executive director Steven Koh said partnerships can create "win-win situations", even if both parties are in the same industry and would usually be competitors.
Having a local partner helps offset some of the challenges a Singaporean firm faces when venturing abroad, including financial risks, adapting to cultural differences and hiring competent employees.
"Partners can provide market access, technical knowledge and local knowledge," said Mr Koh.
"We want partners that are related to our business, who are competing with or completing our business... They must know the business and understand the industry."
Armstrong Industrial specialises in making noise, vibration and heat management components for automobiles and hard-disk drives.
It supplies 38 to 42 per cent of the global market for crash-stops - a rubber component in hard-disk drives - making it the world's leading producer.
The company's first venture abroad was a partnership with tyre and rubber firm Bridgestone in 1994 which involved setting up factories in Singapore, Malaysia and Thailand.
Bridgestone has since liquidated its stake in these factories while Armstrong has gone on to a number of other partnerships, including a joint venture with German foam and microfibre supplier Odenwald.
Armstrong initially concentrated on supplying hard-disk drive components, but wanted to get into supplying foam products to the automotive industry - an area where Odenwald was well-established.
Mr Koh, who spent 25 years in the banking industry before joining Armstrong in 1998, said: "From a banker's perspective, the company had to diversify... We piggybacked on Odenwald's experience from supplying to car companies in Europe.
"They were looking for an Asian partner with local knowledge, and we needed them to bring us market access and technical expertise in the automotive industry."
They formed the subsidiary Armstrong-Odenwald (Asia) - 20 per cent owned by Odenwald - which now manages five factories in China producing automotive foam products.
The partnership has given Armstrong access to Odenwald's European automotive customers in China while Odenwald has strengthened its China presence.
Armstrong, which recorded revenue of about $216 million last year, has three other factories in China - two that it wholly owns and a joint venture with a Taiwanese firm.
"Our partners have almost always been our competitors, doing the same business in their respective geographical regions," said Mr Koh.
These partnerships have helped the company widen its reach abroad. In 1998, 78 per cent of Armstrong's business came from Singapore but now 76 per cent comes from overseas, a share the company hopes to increase.
Armstrong found most of its partners through business contacts.
"If they are competitors, they should not be competing in the same geographic area," he said, adding that with partnership also comes an agreement to introduce potential customers in respective geographic regions to each other.
But finding the right collaborator can sometimes prove challenging. Mr Koh related a bad experience the company had with a partner in China, which owned a stake in one of Armstrong's factories there. It eventually came to light that the partner had been overcharging Armstrong for the factory's rent.
The Chinese firm has left the partnership. "Partners must be sincere, open and trustworthy," said Mr Koh, adding that maintaining the connection between partners also needs work, which means extending the relationship beyond business.
He meets his business partners whenever he travels to the countries where they are based and Armstrong has even trained some of their children in its Singapore offices.
"I bring them down to a personal level... I know all my partners' dates of birth and I send them birthday messages," he said, adding that he also exchanges family photos with business contacts.
"To be able to do well internationally, you need to have local knowledge and the right partners, and be able to maintain the partnership and bring benefits to both parties."
chiaym@sph.com.sg

Get a copy of The Straits Times or go to straitstimes.com for more stories.